A quest for experience
Students film advertisements for EducationQuest
Preparing for college takes time and guidance, and there is no better way to obtain that experience than by creating educational videos on the topic. Seniors Anna Blumenthal and Ceibhionn Stevens are the star leads in a number of EducationQuest videos advertising steps meant to prepare students for college like the completion of a students' FAFSA. 
EducationQuest Foundation is a non-profit organization whose mission is to provide free college planning services, need-based scholarship programs, college access grants for high schools, and outreach services for community agencies. With four locations throughout Nebraska, the organization has created programs to make higher education more accessible for its participants.
"I heard about these opportunities because a close family friend works in marketing at Education Quest," Theater Director Brooke Phillips said. "They are always looking for people to help make ads or instructional videos for high school and college students, and they find working with people who are actual students but who have been trained in the theatre, have been the best people to work with on their video materials."
The opportunities provided by EdQuest are only good if there are students taking advantage of them, which is where Blumenthal and Stevens come in. By making these advertisements, the pair is able to help connect students to the organizations while also being able to express their creative insight and control over how the videos turnout. Their efforts don't go unpaid and each actor can make up to $50 per video.
"I usually ask my family to help me film the videos," Blumenthal said. "Once I get the topic for the video, I try to find an eye-catching background or gimmick to catch people's attention when they watch the video. I chose to participate in this because it seemed like an easy and fun way to make extra money. With college coming up, it will be nice to gain a lot of time management from it because I have due dates for each video and need to make sure it's done on time."
Creating the videos themselves is relatively easy; however, it still requires a lot of time and dedication. But the experience gained makes the effort put in worth it.
"The biggest challenge was time," Stevens said. "As a busy senior, it can be difficult to have time for filming and getting the videos to EdQuest. I would film them each month, and they were shown on platforms like Facebook, Instagram and Youtube. I had decided to do it because a few other West alumni had participated, and there are some that still do. It seemed like fun. I hoped to also gain a bit of experience with a more professional or job standpoint."
Both Blumenthal and Stevens hope the opportunity to create these videos can help guide other students through their educational careers and beyond. The skills and knowledge they gained will greatly help them in the future, not only in college but in their chosen professions as well.
About the Writer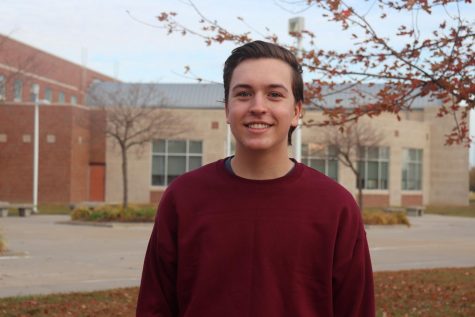 Kaden Roth, Staff Reporter
Kaden is a junior at Millard West and this is his second year writing for The CATalyst. His interest in discovering new stories and finding unique ways...