New to the 'thru
Foxy Sushi provides the best (and strangest) of both worlds
Emma Baker, Catalyst Editor-in-Chief
March 10, 2021
Sushi and drive-thru: two words not commonly found in the same sentence. Yet, at Foxy Sushi, it isn't so unusual.
The small eatery opened up in late February and combines fresh, made-to-order sushi with a fast and convenient dining experience. Currently, it only offers drive-thru service, but their dining room is set to open soon. With its prime location across from Village Pointe Shopping Center, this place has already grabbed tons of hungry customers — including myself.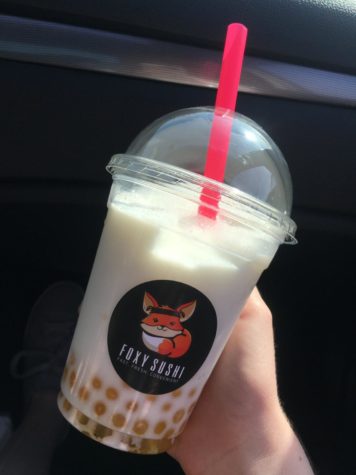 I stopped by for a bite to eat around 2 p.m. on a Saturday, and to my surprise, there were only one or two cars waiting in the drive-thru line. I pulled right up to the speaker, placed my order and a little over five minutes later, I drove away, goods in tow. 
I first sank my teeth into one of their appetizers, the Sweet Crab Egg Rolls. The fried outer wrapper delivered the crunch I was looking for and the mild spice of the crab hit the spot. The soft tofu, seaweed wrapper and sweet eel sauce (similar to hoisin) also added to the rich flavors and textures of the egg roll. However, it seemed a little greasy, and for the seven-dollar price, I wish there were more than two in an order.
The next thing I tried was their Crunchy Hollywood sushi roll. Past the exterior of crumbly panko and sticky rice, the cucumber and avocado inside sang of summer. But the menu also promises a creamy crab mix in the roll, which I couldn't detect through the abundance of avocado. The dish pairs with a Thai sweet chili sauce, as well, that adds a greater depth of flavor beyond the lackluster notes of cucumber and avocado. At $7.59 for eight pieces, it's a steal, but I still hoped for a more flavorful experience, especially with a name like Hollywood.
The second roll I got was the Crazy Salmon roll. This roll was also tossed in crispy panko, but provided significantly more flavor than the Crunchy Hollywood. The cooked salmon was spicy — spicier than the egg roll, but still pretty light — and didn't have any of the common "too fishy" taste. With the sweet eel sauce, this $7.99 roll got even better.
Last, but certainly not least, was the very delicious Coconut Bubble Smoothie with popping passion fruit bubbles. The coconut flavor was perfect; it was rather light, reminding me of a well-balanced coconut snow cone. And even I — a bubble/boba scaredy-cat — found the bursts of citrusy passion fruit enjoyable and valuable to the refreshing nature of the drink. The only thing that put me off about the smoothie was the price tag, $5.59, but even then, it was worth every sip.
All in all, I think the strange combination of fresh sushi from a drive-thru works. I'll certainly be back soon, ready for a bubble smoothie and some made-to-order eats. 4/5