Retro reemerges
Trends high schoolers are adopting in their personal styles
It turns out your mom's old windbreaker and sorority shirts from the 80s and 90s aren't as weird as you once thought. In fact, now students are begging their parents to wear old sweatshirts, scarves, mom jeans and more from their closets. Trends nowadays draw from styles as early as the 60s up until the early 2000s. Generation Z is swapping their patterned leggings from middle school with trends of past generations. 
As trends like claw hair clips and mom jeans come back to once again dominate the hallways of high schools some teachers are reminded of their teen years when they wore similar pieces.
The pandemic has also brought along the increased popularity of online shopping, which has been a fast growing place to start a business, especially with the influence of social media that students utilize in their free time. Scrolling through Instagram and TikTok, students have been inspired to boost their wardrobe by supporting small businesses and online boutiques like Princess Polly. Instagram has also helped students make money by selling clothes they no longer wear on "closet" accounts to their followers. This keeps people's clothes fresh and unique as they are no longer all shopping at the same local places. Students look to more sustainable ways of finding the most "vintage" pieces. Some go thrifting, a method typically more budget friendly for a high school student, on websites like Depop or in person at Goodwill and Scout in the Omaha area in order to reuse items from the past and put their own twist on them in an attempt to defeat fast fashion.
After 2020's spectacle, many realized the comfort of staying in leggings and sweatpants over skinny jeans or restricting pants. Skinny jeans were thrown out the window and in their place a 90s staple — mom jeans — are back. Mom jeans are high waisted, ankle length pants with a looser fit around the legs. While jeans serve as a classic item to have in the closet, many complain skinny jeans are restricting and the looser jean look is much more breathable and comfy while still staying fashionable.  
Continuing on the comfort wave, athleisure has become a big trend with companies like Lululemon and Gymshark reimagining gym wear for both girls and boys. While athletic leggings, sweatpants, athletic jackets and gym shorts used to be specifically for working out they have now become a closet must for more casual places like school and completing errands. Nike has also stepped up their comfort game with their logo being repped on crewnecks and sweatshirts in styles for all genders. While people have not shown up in full out sweat suits yet, the early 2000s has certainly shown how fashion can also be comfortable. 
Some trends are newer approaches and don't dip into trends of past decades. For instance, neutrals have become all the rage within the wardrobe along with colors like sage green and baby blues. These more toned back colors are a natural shift from the bright reds and yellows trending in 2018. People have realized that browns and beiges give a more sophisticated look. It's also possible that the neutrals are only in because of the dreary state COVID-19 has left us with as we scramble to pick up and put together pieces of our "old" life before the pandemic hit. 
While some trends emerge and then fade away, flannels have been a go-to for students for some time. It's a clothing piece which provides comfort and brings some style to an everyday outfit for both boys and girls. People tend to wear them over hoodies or tanks now, but five years ago, people wore them around their waist. In essence, the piece stays current — it's the way you wear it that matters. T-shirts are a must for everyone's wardrobe, no matter the decade, but similar to flannels, the size, fit and way people style it has altered. Wearing oversized t-shirts, tying them up or tucking them into bras have been seen recently. Some pieces serve as staples rather than trends, but their versatility is what makes them popular. 
All in all, fashion is an ever changing aspect of high schoolers lives. Some may care little about the details of their wardrobe, but for others, they want the newest trends to stay in style and gain the approval of peers. Right now, we are time traveling to the past, and who knows, in five years high school fashion could time travel to a more futuristic look, and in 15 years it could be taking trends from right now.
About the Contributor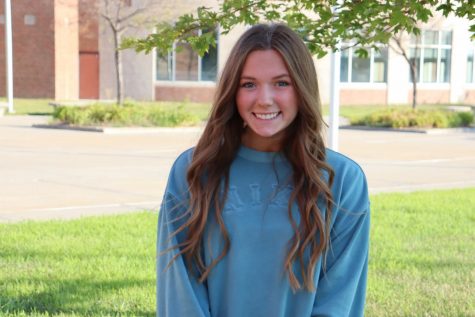 Jenna Reynolds, Features Editor, co-anchor MWHS Wildcat News
Jenna is a senior at Millard West and this is her second year on the Advanced Journalism staff. Her favorite part of Journalism is filming and editing...