Pep band's anticipated return
The Millard West student section now has more support in the stands
The Millard West Pep Band has always been an essential part of every sporting event, with students collaborating to bring the crowd together through music, as well as putting on performances during halftime. Compared to past years, this year has stuck out to all students, especially because of the large number of restrictions.   
From these new regulations, the rehearsals for pep band included social distancing, sanitizing hands, avoiding close contact, however, this posed a huge setback for the program as many of the students would lose out on their traditional experiences. 
"Band has been hit pretty hard with regulations and had a pretty rough start," senior Allison Neuman said. "We weren't able to rehearse until only weeks before band camp and found out over the start of band camp that all of our competitions had been canceled, which was indescribably hard for all of us, especially the seniors, knowing we'll never get to have that competition feeling again. Lots of restrictions were in place for how many people can be in one area, sanitizing, distancing the chairs, bell covers and others, which restricted a lot of what we've been able to do. Thankfully all of us have been able to perform at concerts, but at pep band, there is a cap for the amount of people who can go in order to be able to fit all of us in the section."
For seniors especially, the changes implemented left a lackluster season for their last year, as the loss of pep band performances was also followed by cut downs in concerts and competitions. Even more so, the band program has lost opportunities to fundraise at the College World Series, creating a tighter situation for their budget. 
"For pep band, we were not allowed to attend the majority of the basketball games," senior Emma Cavalier said. "For the last four or five games, the administration allowed us to attend."
While many other programs at Millard West have been able to maintain their school year restrictions, the pep band's program was shortened. For each game, the student section had a limited number of tickets available, making it difficult for the school to have a large attendance. 
"Having the pep band at the games and activities creates a welcoming and fun atmosphere for everybody," Cavalier said. "For pep band, we do not specifically fundraise for this activity, or hold extra practices. We use class time to focus on pep band music. But now since we are able to attend, the maximum amount of players we can have is 50."
After the turnover in rules, the pep band has reestablished tradition with a few new factors including a set number of players and social distancing between each student. Along with this, the pep band's students alternate between games. Instead of the program having two pep bands rotate between the games, students now volunteer when they're most available to attend each sporting event. 
"What I look forward to at pep band is having more direct engagement with our audience than we do during concert or marching season," senior Natalie Jaworski said. "We're right next to the student section, which is a lot closer than audiences in a darkened auditorium or the stands of a football field, and we're playing pop songs everyone knows. It's really rewarding to see the students have fun with the cowbell players during Low Rider and hear them sing along to Sweet Caroline."
With the return of the band at sporting events, the gyms are now louder with both the student section and songs, cheering in support of Millard West. This time, with more energy than in past years. While the number of students is smaller, the spirit is still the same. 
"Now that we're allowed to perform at games, I think we're trying to savor every moment more," Jaworski said. "It's a bummer we haven't been at as many games as normal, but at the games so far I think the fans have been a lot more vocal with their support than in the past. After the first game, one of the cheerleaders told us we did a great job and they missed us when we weren't there, and it really meant a lot. In the same vein, on Saturday a group of guys from the student section came up to us after the game and told us we did a great job." 
For the pep band, returning to the stands has been an enlightening change as these students can maintain their involvement with Millard West, as well as supporting our athletes. 
About the Writer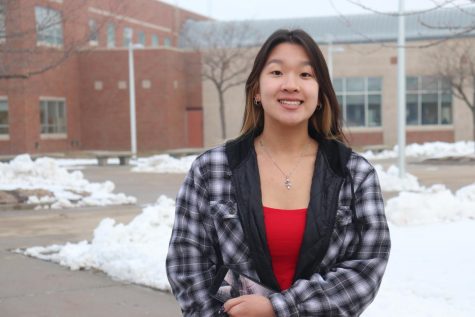 Michelle Zhang, Staff Reporter
Michelle is a senior back for her third year on The CATalyst. She enjoys writing opinion and entertainment stories. Outside of school, she works at a daycare,...