The girls, the gays and "The Prom"
Musical adaptation falls flat and disappoints
As a lover of movie-musicals, I knew I had to watch "The Prom." The movie has some wonderful and heart-warming moments, but it tended to be cliche. The story follows a high school senior Emma Nolan (Jo Ellen Pellman) as she navigates being out in a conservative town. 
"The Prom" was directed by Ryan Murphy and was released in early December of 2020. The movie was based on the 2018 Broadway musical of the same name.
"The Prom" begins with the PTA president (Kerry Washington) calling off the high school Prom because Emma wants to attend with her girlfriend Alyssa (Ariana DeBose). No one in the small Indiana town seems to be outraged about this injustice. Then the movie takes quite a turn and the audience is whisked away to the Broadway stage. Dee Dee Alan (Meryl Streep) and Barry Glickman (James Cordon) are the stars of a failed Broadway show. They decided that they need to find a cause to help them restore their reputation, and that is how they find Emma. Dee Dee, Barry and their team of thespians then travel to Indiana to "save the day." After this, the movie seems as though it is more about them rescuing Emma and less about her struggle as an out lesbian. 
The movie seems to take a positive turn when the state attorney rules that the school must hold an inclusive prom that Emma is allowed to attend. This was no thanks to the Broadway stars, however, they did claim full responsibility. 
This movie hit the nail on the head in terms of cliches, as the Broadway stars show how they are just like everyone else under their fame. The open-minded New Yorkers teach the conservative midwesterners about accepting different kinds of people. "The Prom" does include a positive message of inclusion in a light-hearted way, but regarding positives, that's about it.
"The Prom" has one major flaw. The movie does not focus on the person that is actually overcoming something difficult, but instead on the people who came to rescue her. 
While Emma was overcoming injustices left and right, the stars of the show seem to be Dee Dee and Barry. They tended to feel like the center of attention when I would have loved to have seen more of the plot focusing on Emma and her girlfriend Alyssa. 
Although the movie is titled "The Prom," it is about almost everything but. It felt like they talked about the actual prom for less than half the movie. 
Overall, I would give the three out of five stars. There were some impressive musical numbers and performances, but the plotline was at times predictable and didn't authentically represent the struggles of the LGBTQ+ community. 
About the Writer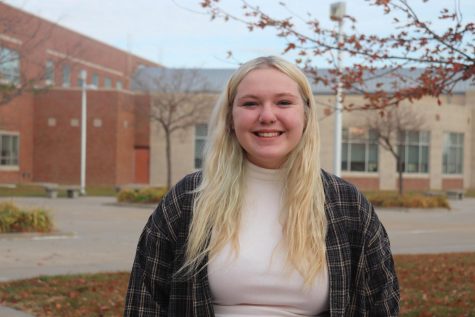 Annabelle Harshbarger, Staff Reporter
Annabelle is a junior and this is her second year a part of the journalism staff. She enjoys writing opinion stories and creating broadcasts. When she's...