New Year's Resolutions don't work out
Ringing in the new year has always been a time for excitement, new beginnings and celebration. Every year, resolutions and new goals are set and shared with others, yet the new goals repeated every year almost always fall short of their expectations. People forget to pace themselves in the marathon of the new year, so they start out strong and either give up or feel exhausted. 
The burst of new energy coming in with a new year should always be welcomed as people can establish a new reason for starting up a new activity, however, a lot of the goals set are unrealistic or broad. As Susan Weinscheck described on Psychology Today, one reason why new year's resolutions fall short stating, "if it's a habit and you want a new one it MUST be something really small." Often, people are committing to picking up new activities with general goals. While getting more exercise, for example, may seem simple because it is just one activity, the action is not a small goal. Specifying what habit someone wants to introduce could include walking for 10 more minutes every day. If they want to eat healthier, incorporating extra vegetables or finding new recipes for lunch would narrow down the spectrum of goals. Starting out small for some people feels too easy, yet having a big goal could result in someone losing the willpower to continue working on their objective as it feels like there is a demand for a lot of work to be put in. 
However, from these broad ideas, companies are able to profit off the people who want to get a head start on their new year's resolutions. Gyms and fitness programs introduce new deals around the beginning of January where the cost of getting a membership is cheaper as opposed to the rest of the year. In their ads, the advertisements of cheaper membership plans or as Lifetime Fitness advertised their 'Year of Personal Training Package,' the cost of the whole program is "just $99 (over $1000 value)." Planet Fitness also offered a sale with an ad on the homepage of their website, displaying bright yellow and white letters "$0 enrollment fee, $10 a month." In some cases, people make commitments to gym memberships but end up going only a handful of times a year for various reasons from tight work schedules to uncomfortable environments in the gyms themselves. Especially now – during a pandemic – exercise is not the top priority for everyone. 
This year, in particular, expectations for these objectives feel like a new start — almost like 2021 is a clean slate with no pandemic insight. While this feels true after the ball drops into January 1st, realistically, cases are still on the rise with unpredictable new numbers and potential exposures to the virus. As of January 13th, Nebraska has reported 177,670 positive COVID-19 cases. Because of this, people are once again less inclined to complete goals, especially as individuals are put into situations of stress – whether that be beginning a quarantine or a recent job loss. Even without the pandemic, many of these new year's resolutions get set onto the back burner, especially with goals that incorporate new dieting or exercises. As psychotherapist Jonathan Alpert discussed in a Business Insider article, goals – in this case, goals being the new year's resolution –  must reflect the person. He goes on to say, "so often, people seem to be influenced by their friends, their family, what they see in society." During a time of social distancing and less interaction with individuals around us, our motivation toward completing our goals decreases, especially since much of our day to day lives have changed to better suit the safety and precautions recommended by health departments. 
While 2021 is a new year for new beginnings, people shouldn't have to worry about obligations nor should they feel pressured to complete a tradition that is left to fall between the cracks of their day-to-day lives. 
About the Contributor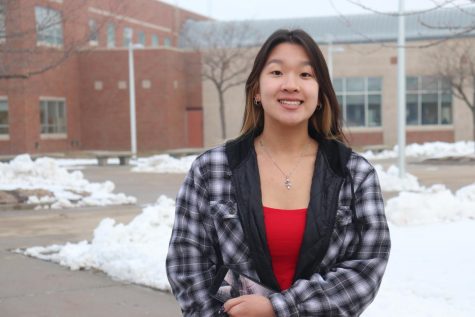 Michelle Zhang, Staff Reporter
Michelle is a senior back for her third year on The CATalyst. She enjoys writing opinion and entertainment stories. Outside of school, she works at a daycare,...