Wildcats wrestle in home invitational
Four athletes place top two in weight class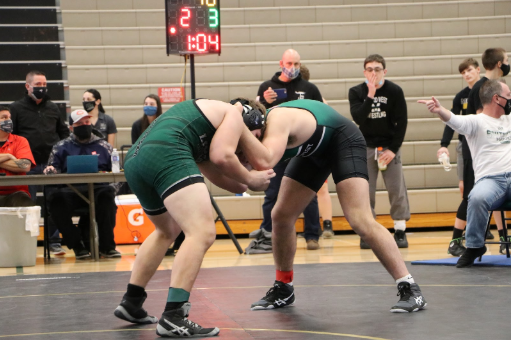 On Friday, January 8, the Millard West Varsity Boys Wrestling team hosted the Millard West Invitational Meet which included tough competition. Other schools competing in the invitational were Gretna, Lincoln Southwest, Papillion La Vista, Papillion La Vista South, Westside, Burke and South Sioux City. The Wildcats sent a total of 14 wrestlers to the meet, and four of them finished in the top 2 for their weight class.
In the 113 pound weight class, sophomore Avery Russell was able to wrestle his way into the championship match and came up with a second place finish. Entering the invite he had a solid 15-3 record. In round one, Russell won by major decision over Aiden Brakenhoff from Papillion La Vista South, he won again by major decision in round two, this time over Micah Bern from Gretna. In round three, he captured a win over Amir A. Rasulov from Westside by tech fall. In round four, Russell went back to his method of victory from the first two rounds and won again by major decision against Tony Phillips from Lincoln Southwest. In the championship round, Russell battled hard and lost via decision to Jacob Campbell of Papillion La Vista. Although Russell came up short of the win, he was still able to capture 16.5 points for Millard West.
In the 182 pound weight class, senior James Vawter was able to fight his way to a second place as well, coming into the invite his record was 10-4. In round one, Vawter got a bye which automatically sent him straight to round two. Going into round two, Vawter was able to get a very quick win over Christopher Villicana from South Sioux City, who fell at the 50 second mark. In round three, he defeated Noah Ference from Gretna by decision. As championship bracket play began, Vawter faced off against Jaiveonce Mitchell from Burke where he won by decision again. In the championship match, Vawter was matched up against Alex Morris from Papillion La Vista whose record entering the invite was 18-4. Vawter ended up losing via decision, however, his second place performance earned 14 points for the Wildcats. 
The Wildcat competing in the 195 pound weight class was junior Charlie Nosal, he had a dominating record of 11-1 entering the invite. Similarly to Vawter, Nosal did not have a match in round one so he was sent straight to round two as well. In round two, Nosal forced a fall from Blake Baker of Lincoln Southwest at the 2:47 mark. During round three, he was able to get another fall, this time against Niman Siidow of South Sioux City, at the 2:32 mark. In round four, Nosal was able to out wrestle Alex Mainor from Omaha Burke and won yet again via fall. During the championship match, Nosal faced off against Cole Haberman from Westside and lost via tech fall. Even though Nosal was not able to win the championship match for his weight division, he was still able to earn the Wildcats 12 points.
"Overall, this was not one of my best meets," Nosal said. "I think that if I slowed down and really worked my stuff and stayed in a better position, I could have closed the gap and won. I am gonna continue working hard to get ahead of the competition, watch film and lift and run on my own."
In the 285 pound weight class, senior Ryan Kocovsky competed for the Wildcats and was the fourth Millard West wrestler to capture a seventh place finish. Kocovsky's record entering the invite was a strong 15-2. Kocovsky received a bye in round one which sent him directly to the second round. In that second round, Kocovsky won via fall over Caleb Hardy of Gretna. This sent him to round three where he beat Aaron Thiemann from Papillion La Vista South by major decision. When championship bracket play began, Kocovsky faced off against Mwanba Ngeleka from South Sioux City and won by decision. In the first place match, Kocovsky was matched up against Cade Haberman and lost by the ultimate tie breaker round. Kocovsky's second place finish earned himself and the Millard West team 15 more points.
"I think in the finals I would've won if I was better while on top," Kocovsky said. "I will continue to work hard at practice and drill at match speed to improve."
Once the total match points were added up, the Wildcats' total came out to 237 points. This was good enough to earn them a fifth place overall finish. The invite was won by Papillion La Vista with a total of 293 points. Lincoln Southwest came in second place, Gretna in third, and Westside in fourth. 
"I think we performed very well as a team," head coach Scott Townsley said. "We need to move some of our young guys along a little quicker and develop our depth a little better so we can compete at a higher level. Athletes need to prepare everyday, we will continue to get better each day."
The Wildcats will be back in action on Saturday, January 16, where they will face off in the Metro Duals, where the Wildcats will look to improve upon their fifth place showing and wrestle even harder.