First public transportation we have seen in decades
Where will ORBT take you?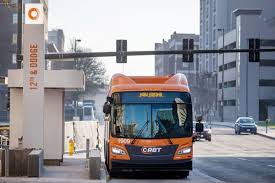 As of November 18, 2020, the Omaha Metro area launched the Omaha Rapid Bus Transit, otherwise known as the ORBT. Costing a total of 37 million dollars, this is one of the first bus lines Omaha has seen in decades. This will replace route two, providing rides every 10 minutes on weekdays between 7 a.m. and 7 p.m. The ORBT busses will help Omaha's transit network run smoothly and more efficiently.
 Construction began in late 2018, with full service beginning in the fall of 2020. The bus stop site at 62nd and Dodge street was one of the first sites to undergo construction in the middle of September. 
"We had some utility conflicts upfront," the ORBT construction manager Joy Willoughby said. "Then with September and October being extremely wet, we weren't able to get as much done as we anticipated." 
 ORBT uses new technology for faster, more affordable travel. This high tech project offers an eight-mile route along Dodge and Douglas from downtown Omaha to Westroads Mall. The route features dedicated lanes, signal priority for ORBT vehicles and a park and ride lot at Westroads Mall. This park and ride feature is just what it sounds like, park your car in the lot and ride around Omaha. 
The ORBT is really simple to ride and cheap to pay for. During your first four months, you are able to ride for free. Once your trial is up, ticket vendors, at each station, will require payment to continue using the system.
"It's going to be something that Omaha has never experienced before," ORBT project manager Dave Fanslau said. "I want Omaha to take advantage of this opportunity."
Many features of this bus make the ride comfortable and enjoyable for all. The raised bus platforms let riders walk straight onto the buses, without having to step up or down. That makes ORBT suitable for customers of all ages and abilities. Riders toting bikes can wheel them into the bus and hang them on racks inside rather than hanging them from a rack on the front of Metro transit's traditional buses. Along with these many helpful features, at the entrance of each bus are screens that display the time, date and weather.  Each bus also comes with WIFI. Tuesday was the first time Omaha's Mayor Jean Stothert had ridden one of the ORBT buses.
 "The bus felt clean and modern," Stothert said. "It was a very smooth, very quiet ride." 
Technology is what sets the ORBT buses apart from the more traditional rides. It uses new technology for faster, more affordable and comfortable travel. 
About the Writer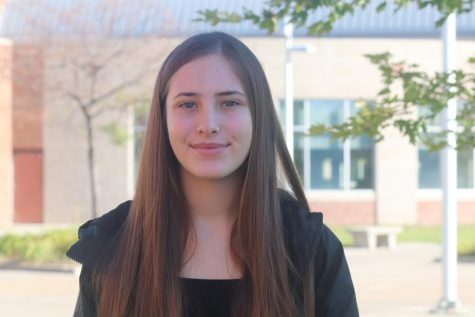 Madison Brandis, Staff Reporter
Madison is a junior here at Millard West and is beginning her first year on the Advanced Journalism staff. This year she hopes to create her best work...