Rolling into action
Millard West Bowling teams started their season with a double dual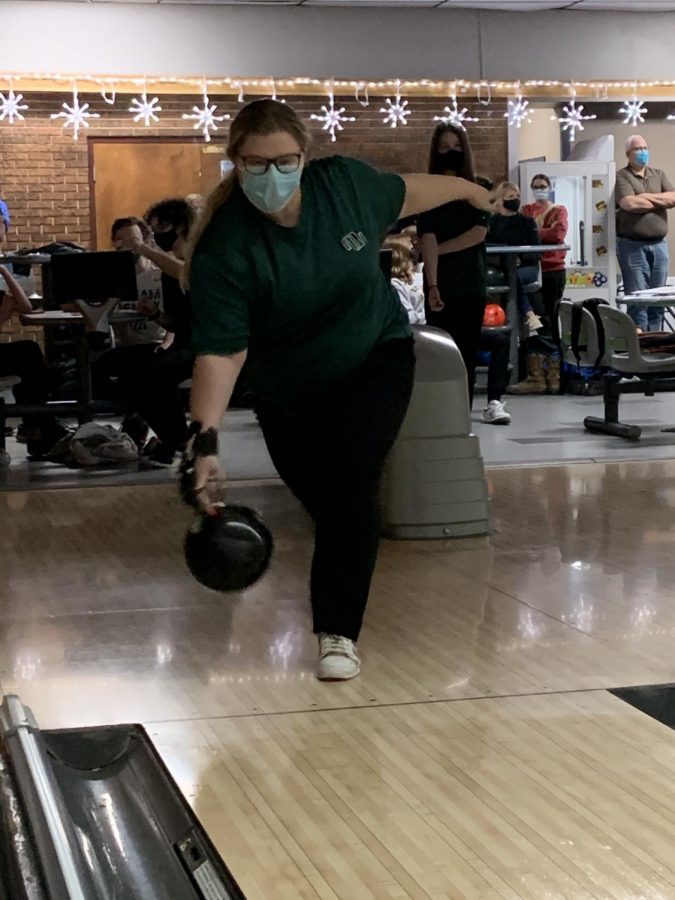 Camille O'Neill, Staff Reporter
December 17, 2020
During their first-ever competition, the Millard West Boys and Girls Bowling teams found some success against their district rivals.
In the double dual on Thursday, December 3, the Wildcat girls went 2-0, beating Millard South 19-2 and Millard North 20-1. The boys team went 1-1 on the day, winning against Millard North 14-7 and falling to Millard South 11.5-9.5. Head coach Megan Smith was excited about both teams' performances in the first meet, and she likes the way that they are improving every practice. The team hopes to improve their skills throughout the season.
"We have some seasoned bowlers and some brand new bowlers, and all of them did great at our first meet," Smith said. "We've seen a lot of improvement since the beginning of practices, and I look forward to seeing that continue through the rest of the season."
On Thursday, five bowlers competed on each team. During each match, there are 21 team points available. In the match, individual bowlers get to roll two traditional, 10-frame games. Teams get one point for every bowler who beats his or her assigned opponent in each game (10 points total over two games). The team that has the highest total score in each game among the five bowlers gets three additional points (six points total). Each team also plays best two out of three Baker games. In a Baker game, everyone bowls two frames. The school that wins two out of three Baker games is awarded five additional points.
Bowlers say that their skills have improved greatly since their first practice, and their teammates have always supported each other throughout the whole process.
"I feel like my teammates have supported me through cheering for each other," sophomore Emily Cieselski said. "No matter what happens at the meet, they are always there. I think I can improve on my consistency and swing my arm back the same way every time."
COVID-19 has affected what the bowlers can and can't do at meets. All participants must wear masks at all times, and when they aren't bowling, each team member has an assigned place to sit. 
"One thing is that there weren't any spectators at the meet due to the regulations on how many people could be at Western Bowl," senior Kaitlyn Dickmeyer said. "So there were no parents there, which was different."
Both Dickmeyer and Cieselski said that they both look forward to competing in future competitions. Smith says she looks for continued improvement as the program builds in its first year. 
The boys team is back in action on Thursday, Dec. 10, against Omaha Northwest, and the girls will compete against Omaha Marian on Tuesday, Dec. 15.