Not your average cheesy Christmas rom-com
New Netflix series is an original idea with incredible execution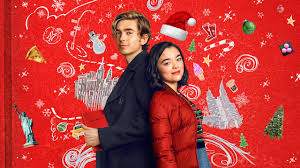 As we enter the holiday season, there is always a surge of new Christmas/holiday shows and movies. This is the case with the new show "Dash and Lily," which premiered November 10, 2020. This series, directed by Joe Tracz, is based off of the book "Dash and Lily's Book of Dares." 
The new Netflix series shows two teenagers in New York, Lily (Midori Francis) and Dash (Austin Abrams), and their adventures that lead to them falling in love. Lily leaves a notebook in her favorite book store for someone to find, and eventually Dash does find it. They take turns doing dares and leaving the notebook for the other to find. They keep their identities secret (besides first names) and don't meet for a while. 
While getting to know each other through the notebook, they both start to like each other. Both of them eagerly waiting to meet, actually accidentally run into each other without knowing because they kept their identities a secret. Eventually, they meet knowingly, but it's not as magical as both of them thought it would be. They mutually agree it's not smart for them to continue their relationship outside of the notebook, and Lily reveals she will soon be moving away.
Then, Dash realizes that they made a mistake and asks Lily to meet him at their favorite library. She makes the big decision to meet him, risking being late for her flight to a new home. When they meet again, Lily finds out she can stay in New York (where they both live) with her grandpa, and they spend the night in the library watching fireworks because it was New Years Eve.
This story does have a pretty predictable ending. Of course like most romantic comedies, the two people end up together at the end, but, obviously, this is after all of the hardships that they face throughout the show. 
There are also lots of discrepancies between the show and the book. Most of the dares completed in the notebook are different. However, I still thought that the dares in the show were hilarious and adorable at the same time. In both the show and book, there are two other possible love interests, Edgar (Glenn McCuen) and Sofia (Keana Marie). But, in the show these characters have a much bigger role than in the novel.
On a more positive note, the plot is extremely original. I have to give credit to Rachel Cohn and David Levithan, the creators of the book, because it's a really interesting storyline. Also, the show was executed very well, and it was truly about their story and not just the spirit of Christmas like these types of movies/shows tend to be. 
I also thought the acting was phenomenal. Lots of rom-coms turn out very cringey but the directors did a great job of making sure this is not the case with "Dash and Lily." The character development was also really nice and showed just how much two people can change each other. Great character development is also shown with Lily's brother Langston (Troy Iwata) and his boyfriend Benny (Diego Guevara) and how their relationship expands throughout the show.
Altogether, this was an exceptional show that I would recommend to lots of people. Even if you might not like traditional rom-coms it is still a cute show to watch. It could easily put someone in a good mood heading into the holiday season.