Netflix series "Trinkets" comes to an end
This captivating show brings light to several tough topics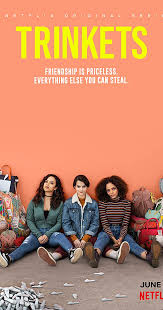 Several teens are used to being held to high standards. Whether it's being pushed to pursue academic internships, be the model kid your parents want you to be, handling an abusive relationship or even curbing an addiction, "Trinkets" has served as an aid for several teens throughout the world to feel heard. 
"Trinkets" follows the story of three teenage girls, Elodie (Brianna Hildebrand), Moe (Kiana Madeira) and Tabitha (Quintessa Swindell), who meet at a Shoplifting Anonymous meeting. The girls come from completely different backgrounds but have more in common than they first thought. Initially, each character is hesitant to accept help from the support group. They want nothing to do with each other, nor do they attend the meetings for the sake of finding new friends. It's already awkward enough that they go to the same high school and all struggle with the same issue, but as the meetings progress, the trio bonds over their addiction, and the viewers are able to see their relationship blossom into something deeper.
One of the many amazing things about this show is the light it brings to accurately representing addiction. It shows the good, the bad, the messy, the struggles and everything in between. We see the girls having the best days of their lives together, laying out under the stars, and we also get to witness the heartbreaking moment when Elodie relapses after being 30-days clean of lifting.
"Trinkets" isn't like every other stereotypical teen TV show. Unlike "Riverdale", it's not corny or cheesy; Unlike "Outer Banks", it's not nostalgically driven by hot hunky male leads; and unlike "Stranger Things", it's not incredibly unrealistic. "Trinkets" has a bigger, better purpose than cinching your quarantine boredom. The show is much more than just a rabbit hole of episode after episode. Each and every scene has a purpose and is finely crafted to get the most possible meaning out of its screen time.
On the topic of remarkable storylines, it was refreshing to see Moe, a female, taking the lead and outdoing her male counterparts in both her science and math classes. But when she took initiative to beat some much-needed sense into Brady, Tabitha's abusive ex-boyfriend, she was suspended. I felt myself feeling for Moe when her suspension resulted in the loss of her STEM internship. Moe is a dedicated friend, always sacrificing the things most important to her to protect her friends. Equally dedicated is Elodie, who later helped Moe steal a teacher's exam in order to protect Moe's reputation. All in all, the girls always have each others' backs, no matter the drama they might get into.
Adding to the list of things Director Rebecca Glashow nailed is the respectful use of BIPOC characters. This summer during the Black Lives Matter movement, many people pointed fingers at Netflix for their lack of diversity. Even in shows such as "Outer Banks", the writers failed to develop their BIPOC characters, who are pushed mostly out of the spotlight and are used as supporting characters for the white male leads. In "Trinkets", both a Portuguese (Kiana Madeira), and a mixed actress (Quintessa Swindell), were cast as lead roles, who, unlike Kie and Pope of "Outer Banks", have their own carefully chosen backstories that make them the wonderful characters they are. The show even addresses the racial profiling Tabitha faces as a mixed woman as well as how she overcomes it.
The cherry on top here is the positive use of the LGBT community. In most shows where the audience gets representation (such as "Glee"), it's not always a happy ending for those who are different. It seems like these shows always tend to show the negative aspects of being part of the community, but never seem to create happy moments for the well-deserving characters like most other relationships have. "Trinkets", again, isn't like other shows. Elodie doesn't get shoved to the side, her screen time isn't compromised, nor are her relationships deemed any less valid than Moe and Tabitha's. Her friends and family support her for who she is and her character isn't exposed to excessive bullying.
Sadly, as the saying goes, all good things must come to an end. "Trinkets" wrapped up its second and final season this past August. It earned itself a 7.1/10 on IMDb, which is a great score when taking into account the highest review for any show or movie on IMDb is a 9.2/10. "Trinkets" was an exceptional show while it lasted and while I don't often rewatch series once they're done, this Netflix series is definitely worth a rewatch.
About the Writer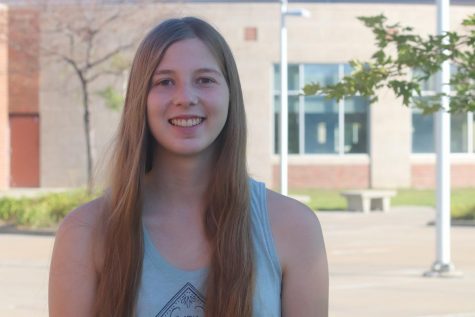 Olivia Edwards, Staff Reporter
Olivia is a senior at Millard West and is beginning her second year on the CATalyst paper. She enjoys writing stories for the paper and is passionate about...