Rewriting the history of Hollywood
Netflix's newest series gives a new take on making movies in the 40s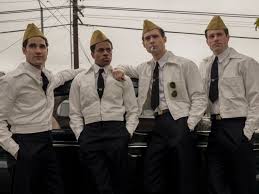 The United States in the 1940s was a much different place than it is now. Just coming out of World War II, many people were practically restarting their lives. With this time also came increased popularity in films, leading to all different types of people moving to Hollywood hoping for their chance to make it. In a time of discrimination against different races and sexualities, many were cast out from these opportunities. Ryan Murphy's newest limited series, Hollywood, gives audiences a look into this time and the hardships that people went through to make their dreams come true.
This series shows what Hollywood could've been like if people back then were willing to push the boundaries of what was accepted at that time. The whole story starts with Jack Castello (David Corenswet), an aspiring actor, who is new to Hollywood and trying to get his big break. He eventually ends up working at a gas station to make ends meet and provide for his pregnant wife. When sent to look for new recruits for his boss, Ernie (Dylan McDermott), Jack finds a new recruit in Archie Coleman (Jeremy Pope), who also happens to be a screenwriter. He is working on a script for a film called "Peg," detailing the life of a failed actress that jumps off the Hollywood sign. 
All the while, Raymond Ainsley (Darren Criss), aiming to be a director, meets with Dick Samuels (Joe Mantello), a producer at Ace Pictures, hoping to score a green light on a film idea with an Asian lead, which wasn't typical at the time. Instead, he is handed a dozen scripts to possibly direct, one being "Peg." Raymond chooses that idea and it is greenlit. The rest of the show follows the making of the movie, with Jack, Raymond's girlfriend Camille Washington (Laura Harrier), the daughter of the Ace Studio head Claire Wood (Samara Weaving), and Archie's new flame Rock Hudson (Jake Picking) all auditioning for lead roles in the film. 
The biggest appeal of this show is its overall theme. Each and every character is trying to make their dream come true. They all keep pushing forward through their setbacks. For example, Archie is black and part of the LGBTQ+ community, both of which were highly discriminated against during that time period. Those parts of him threatened getting credited for his work or even making it in Hollywood. 
Camille is a black woman trying to become a serious actress, but most of her roles include her being a maid who is a little ditzy. This was due to the racist and sexist stigmas of the people in the 40s. These two have the odds stacked against them, but they manage to make names for themselves and are unafraid of what their race or sexuality means for them while in the public eye. Stories like this are inspirational to people who identify with these characters and show viewers that their dreams can come true if they work for it.
One of my favorite parts of this show was the strong female leads it provided. Obviously times have changed and the society we live in is much different than that of the 40s. Back then, women were expected to stay at home and take care of the housework. This is the reality of Avis Amberg (Patti Lupone), the wife of the studio head at Ace Pictures. Avis was denied a career in acting due to her being Jewish. She is actually quite the outspoken person and gets the chance to be a leader when her husband has to step down from his position at Ace Pictures due to a health crisis. 
When "Peg" was rewritten to be "Meg" and changed to a story of a black girl's struggle in Hollywood, it seemed to have no shot in being approved. Avis came through, taking a chance on a progressive idea that gave a race typically discriminated against the spotlight. Her bravery to do what's right even if it risks the image of the company is a testament to her character. She was my favorite in the whole series and it was satisfying to see a woman in charge, especially with the show's time period being set in the 1940s.
Another intriguing part of this series was the mix of fact and fiction. The incorporation of real Hollywood figures of that time was a fascinating way to learn more about their stories. People like Hattie McDaniel (Queen Latifah), the first black actress to win an Oscar, and Anna May Wong (Michelle Krusiec), a notable Asian-American actress, were woven into the plot seamlessly, with their storylines involving the main characters. 
Along with them, Hudson and his manager, Henry Willson (Jim Parsons), were also based on real people. The fiction is in how their stories are told, as each is involved with the core characters, who are not based on actual people. I thought it was genius to add some reality to it because it makes the show feel connected to the real world and events that actually happened.
The costuming of this series was unbelievable. Each character had their own distinct style, but it stayed true to the time period. Same goes for the music, which fit the feel of the show and the situations taking place. However, what outshined both of these was the stellar performances of the actors in this show. It was clear that each actor and actress put their heart and soul into their character. It was so convincing that each emotion they felt in the show matched my emotion while watching it. 
The biggest surprise was Jeremy Pope's incredible performance, as this was his first TV role. He played Archie in such a raw way and made his pain felt by anyone watching. He gave the audience someone to root for.
This series shed a new light of what Hollywood was and what it could've been. Ryan Murphy did a beautiful job with this show. Hollywood is a limited series, so it likely won't come back for another season, but the ending shows potential for another installment. Personally, I would love to be able to spend some more time in Hollywood, so I hope it comes back. This show was wonderfully done and provides a story of dreams coming true that is powerful enough to inspire anyone who watched it.
4.5/5
About the Writer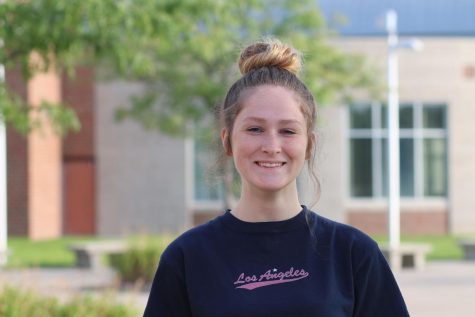 Elizabeth Hahn, Entertainment Editor
Ellie is a senior and this is her second year being on staff. She loves to write in general, but specifically, she likes to write reviews and Opinion stories....