New Boots: Maddie & Tae
County music is primarily dominated by men. Almost all country radio waves opt for a make voice over their female counterparts. They turn down the volume on women. This is the exact issue that duo Maddie & Tae have faced in their infant career. 
The female duo began pushing out music in 2015 with their debut album Start Here. With this album they held a lot of hope of not sounding like most other artists on the radio with songs such as "Girl in a Country Song" and "Shut Up and Fish." With the closure of their first Record label Dot they became radio silent.
Now they are making a comeback with their single "Die from a Broken Heart" which is featured on their second album The Way it Feels. The album was released Apr. 10, 2020 featuring 15 songs.
The first song on the album is "Everywhere I'm Goin'." This song was originally released back in September of 2019. It didn't really catch much traction with the airwaves. The song is as simple as it comes. The love interest is their world. They remind them of everywhere they have been and everywhere they're going.
This next song is a more upbeat breakup song that more so encourages girls to wipe their tears away and get back into the game. The title is promptly named "Bathroom Floor" as this is where many are thought to escape to when they feel their life is a mess. It's songs like this that originally put Maddie & Tae on the radio.
"Tourist in this Town" is a simple breakup song. So many memories were made in this town that after the breakup it felt alien. Despite having lived there their whole life they feel like a tourist in this town. Everywhere they look, looks just like their lost love. The only thing they have now is "a broken heart for a souvenir." 
Maddie & Tae throw in a cute love song about a young couple taking that next step in "Trying on Rings." This couple goes from being complete strangers exchanging numbers to spending a few years together to trying on rings. They were told they were too young to stay in love but they made it past the "close calls and almost walking out the door." 
The female duo hits home with the song that but them back on the map "Die From A Broken Heart." This is a wonderfully crafted post breakup song that entails the raw emotions and questions one may have. In the beginning the questions are phrased in a way they just sound like little accidents happened such as spilled wine on your favourite dress. Then the real story comes out when she asks "How does he sleep at night? Mama the nerve of this guy, to leave me so easy. Am I gonna be alright?" This was anything but a good breakup too considering the front door was slammed and she asks that her daddy doesn't take the pistol out of the drawer. 
This next song is about friends denying their obvious chemistry. They call themselves friends but yet they get a little too close and call each other in the middle of the night. Both try to tell themselves that whatever they're feeling might be nothing but then again they're thinking if they walk away they might be throwing away something.
This album was an album about the ups and downs of love. It takes you through the falling in love, getting into the relationship, and the heartbreak stage. Personally I felt the album was a little heartbreak heavy. Overall, this album was hit or miss. It only had a few good tunes here and there.
3/5 
About the Writer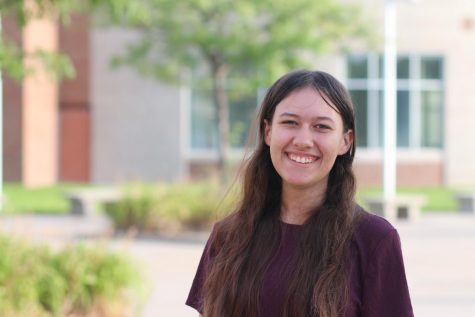 Mackenzie Gonzales, Cartoonist
Mackenzie is a senior entering her third year on the CATalyst staff. Her favorite stores to write are Entertainment and Features. She loves photography...