Policing during a pandemic
Public safety measures are breeding a health crisis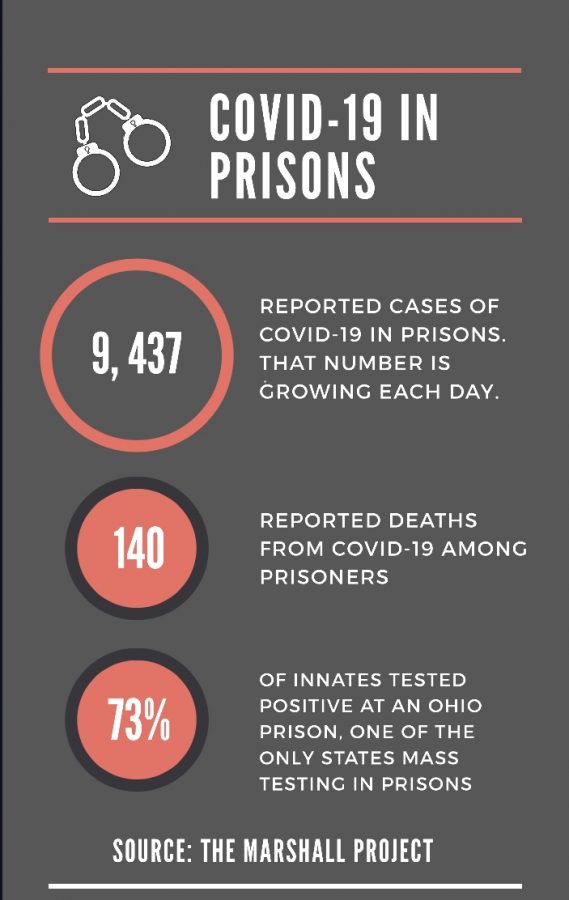 In the midst of a public health crisis, people are reimagining what "normal" should look like. Schools, jobs and politics are all facing changes that are leaving people to wonder if there's a better way. When it comes to public safety in America, it's difficult for most to imagine any other way than the modern prison system. However, COVID-19 poses real threats to those within the system. It's time for society to rethink justice and policing, especially during a pandemic. 
Now more than ever, we're seeing that public health and public safety are intrinsically connected. For example, people are realizing that public health depends on everyone working together. Everyone has to play their part to flatten the curve and slow the spread rather than depending solely on nurses, doctors and other healthcare workers to keep us healthy. In the same way, everyone has to come together as a community to ensure public safety rather than relying on police and the criminal justice system. Similarly, in both public health and public safety, it's critical to center the needs of the most vulnerable. 
In regards to COVID-19, that means staying home to protect those most at risk,  such as the elderly or immuno-compromised. The same must be done to ensure public safety and protect those who are most vulnerable, such as mentally ill people. 
Because of their interconnectedness, it's becoming clear that there will be major consequences for public safety as a result of this health crisis. Governor Andrew Cuomo of New York, for example, doubled fines earlier this month for those who violated social distancing rules from $500 to $1000. Many state and local governments are using similar policing tactics to discourage people from violating guidelines. 
However, at a time when many people are out of work and strained financially, fines are a cruel form of policing. Not only are fines generally ineffective at discouraging behavior, but there are serious concerns about marginalized communities being disproportionately fined. Poor neighborhoods tend to have a heavier police presence in the first place, and countless studies have shown that minorities are targeted more heavily by police for these low-level offenses. Fines and other forms of policing during this pandemic will only further burden minority and low-income communities, who tend to work in essential jobs where working from home isn't an option and are already bearing the brunt of COVID-19 in many ways.
With the highest per-capita incarceration rate in the world, prisons are a cornerstone of America's justice system. During a global pandemic, mass incarceration has become a public health crisis. Social distancing has been one of the main ways to slow the spread of coronavirus and protect vulnerable people. But what happens to those in overcrowded prisons or jails who are living in close proximity to other people? A New York Times analysis found prisons and jails to be one of the top transmitters of COVID-19. In Ohio, one of the only states that is mass-testing prisoners, a horrifying 73 percent of inmates tested positive. 
The Nebraska Department of Correctional Services (NDCS) announced during a press conference on April 10th that they would be implementing several safety precautions, such as temperature readings for staff and cancelling visitations. However, they are not releasing their full plans to prevent or treat a potential COVID-19 outbreak in prisons. They have also refused to release any inmates, including those at high-risk for dying or becoming severely sick from coronavirus. 
Many have argued that the NDCS is not doing enough. Nebraska has a unique issue with prison overcrowding, as the state with the 2nd most overcrowded prison system. Their solution of building more beds and creating dorms where over 100 inmates are in close proximity is posing a unique problem during the pandemic. In crowded spaces with unreliable access to medical care, soap, clean water or COVID-19 testing, inmates are at high risk. 
The American Civil Liberties Union of Nebraska has filed an emergency motion on top of their 2019 lawsuit which claims that Nebraska prisons do not provide adequate healthcare to inmates, citing things like long wait times for in-person treatment and delays in receiving emergency care. The motion asks NDCS to release their pandemic response plans. 
Beyond providing transparency and releasing their plans for treatment and prevention, the NDCS needs to release vulnerable inmates who can safely return to their community and urgently address the overcrowding issue by prioritizing only violent offenders, releasing those who are already on work orders and working to expand probation. Whatever solutions are adopted, Nebraska needs to implement them urgently, before their prisons start turning into tombs. 
It's easy to write off the importance of protecting incarcerated people during a pandemic by asserting that they deserve what comes to them, but the truth about who is incarcerated is much more complex than most people realize. Around forty percent of cases in the NDCS are for non-violent crimes. Home confinement and parole are viable options at this time. On any given day, around half a million US inmates have not been convicted of a crime. In the majority of cases, these people are in jail simply because they can't afford bail. At Rikers Island in New York City, for example, where the infection rate is 9.86 percent, around 85 percent of inmates have not been convicted of a crime. By keeping these people locked up, the government is essentially sentencing people to death before they even get a trial.
This isn't just a matter of safety within prisons and jails but within our communities. In the case of an outbreak, guards and other staff will inevitably become infected and take the virus back to their family and community. As outbreaks occur in prisons and jails, local hospitals will have to care for large spikes of sick inmates and staff, leaving them with fewer resources and potentially sick healthcare workers. 
In the current craziness and panic, it's easy to ignore anything that isn't directly affecting us, but every single one of us—including high schoolers—needs to pay attention and speak up for the greater good of our communities. The people involved in the justice system are not criminals; they're fathers, mothers, artists, workers, students and people. In American society, we reduce them to numbers. But the 2.3 million people incarcerated have names. They have families. They have favorite colors and favorite foods and hobbies. They don't deserve to die from coronavirus just because they're incarcerated. 
About the Writer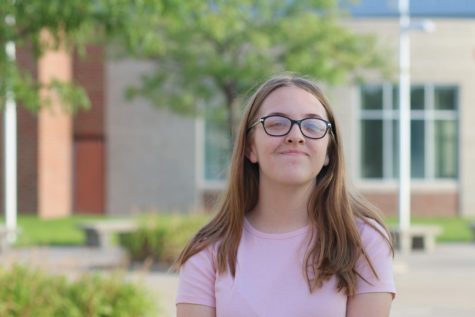 Morgan Weir, Opinions Editor
Morgan is a junior returning for her second year on staff. She has a lot of opinions and loves sharing them through her writing. In her free time, you'll...