Social distancing: An essential act
Students have a great responsibility to their fellow Americans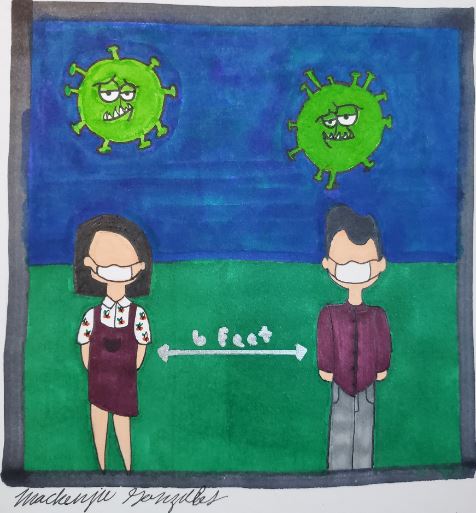 Dear Millard West students,
Stay inside.
Due to the recent direction of the governor, Nebraska finds itself in a precarious situation. Accompanied by six other states that have refused to issue a legal stay-at-home mandate, citizens of Nebraska now own a greater responsibility to uphold for our fellow Americans during this pandemic. The warming weather and expanded free-time with the school building shut down naturally prompts many to enjoy their days unrestrained from the confines of their homes; however, this should not be an invitation to endanger our neighbors.
The desire to visit with friends is understandable. Many class schedules allow students to spend their time as a preview of summer vacation; it invites social interaction. No one would rather stay inside than see his or her friends, especially during this continuous period of isolation where the need for interaction is greater than normal. Despite this harmless motive, it is essential for public benefit we reserve direct interaction for a later date.
Wholly participating in quarantine exhibits a great deal of selflessness and care for fellow citizens in not only Omaha, but also those across the country. As Nebraska begins to reach its peak – late April or mid-May according to Dean of the University of Nebraska Medical Center of Public Health Dr. Ali Khan – it is our responsibility to ensure the safety of those vulnerable to COVID-19. 
"The real data are telling us that it is highly likely that we're having a definite positive effect by this mitigation things that we're doing — this physical separation — so I believe we are going to see a downturn in that," director of the National Institute of Allergy and Infectious Diseases Dr. Anthony Fauci told NBC's "Today."
Our ability to social distance and quarantine greatly improves public health, evidenced by Fauci. Yet, many disregard both. Selflessness and care for each other – especially those whom we do not know – lie at the core of these practices. Caring about the livelihood of other Americans should motivate those who choose to leave their homes when presented with the options.
Of course essential workers or those strained financially need to leave their homes to maintain their lifestyle. It is even more reason why those who have the means to stay indoors should choose to social distance and self-quarantine. When many are not backed by a vast amount of health care benefits or lack government support, it is the responsibility of other citizens to create a less deadly work environment by choosing the sensible and selfless option of staying home.
Nebraska could see near 500 deaths, according to the latest model from the Institute for Health Metrics and Evaluation at the University of Washington, one of the nation's best public research schools. To keep on that pace – or better lower it – Nebraska citizens who own the choice to stay indoors need to social distance and self-quarantine. 
Many people do not have access to tests for COVID-19, all the more reason why social distancing is crucial.
"One of the pieces of information that we have confirmed now is that a significant number of individuals that are infected actually remain asymptomatic," Centers for Disease Control and Preventions director Robert Redfield said in an interview with National Public Radio affiliate WABE. "That may be as many as 25 percent," Redfield said.
Especially as teenagers, many of us can serve as carriers. It is our responsibility to stay inside, so we do not transmit the disease to people who could be seriously affected. When there is a blatant lack of resources to test for COVID-19, we cannot take chances to go outside and spread the disease to others. To do so would be irresponsible for our fellow Americans and Nebraskans.
It will be difficult to stay inside for so long, but at the expense of the lives of other Nebraskans, that is a price we should all be willing to pay. A month or more of isolation pales in comparison to losing family members or friends to a disease we can all work to prevent. Our shared empathy for one another will help us through this difficult pandemic. 
These times are a test of our selflessness and care for each other. We should be jumping at the chance to provide a safer workspace – and make other public areas safer – by staying indoors. Many people are more than capable of giving back to their fellow neighbors. 
Now is the perfect time to demonstrate our care for one another on a state and national level.
Sincerely,
The CATalyst Staff