How is Lauv feeling?
Lauv's new debut album release expresses his personality and excites fans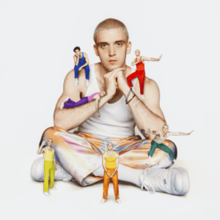 This past week Ari Staprans Leff, better known as Lauv, released a debut studio album titled  ~How I'm Feeling~. This album contains personality, emotion and many different aspects of life. "I created six different characters represented by purple (existential), blue (hopeless romantic), green (goofy), yellow (positive), orange (**ckboy), and red (spicy), all of which make up my identity," Lauv stated with GENIUS. This can be seen on the album's cover art.
To promote this album, Lauv released tour dates and also dropped many singles before the actual release date. The album contains 21 songs and features a few other familiar voices. 
"Drugs & The Internet" is the first track on this album. This song was released prior to the album and gained much attention. I enjoy this song a lot and the chill tone of it. In this song Lauv reveals his personal struggles with anxiety and social media. Earlier in the year Lauv Tweeted about his struggles with depression after releasing his first album I met you when I was 18. By the end of the song his courage and confidence is revealed and I think this song includes a really strong story.
"Lonely Eyes" is the third single on this album. Lauv talks about how he cannot connect with anyone besides for the girl with the same "lonely eyes" as himself. This is one of my favorite songs on the album because of its slow melody that grows into a more upbeat song.
Single "Feelings" was another pre-released song on the album. I fell in love with it the second I heard it. It's a very relatable song to many. Lauv explains how he wrote this when he unexpectedly fell in love with someone and tried to make them do the same. "I'm single now but the song will forever remind me of the most love I've ever felt," Lauv stated in an interview with GENIUS.
"Canada" featuring Alessia Cara is a calm and smooth track. Alessia and Lauv talked about how the song came about due to a screenshot on Twitter that said how perfect life is in Canada. I feel like I didn't connect to this song very much but it's still very well written. I love Alessia Cara, so I was very excited to see a song featuring the both of them. 
"Mean It" featuring LANY was a very popular pre-released song. This was the first collaboration between these two and the song interprets the feeling of wanting to to mean more to someone when being viewed as a second choice. I loved this song when it was initially released. The message is very powerful and I love the vibe it gives off. 
"Sad Forever" will FOREVER be one of my all time favorites. This single was written when he was feeling down and considering antidepressants, even though he believed those were an enemy to mental health. Lauv announced on Twitter that all proceeds from this song would be donated to organizations looking to fight mental health. This song is so powerful and even though it talks about being sad, makes me so happy to listen to it. 
The last track of this album is "Modern Loneliness." Fans have described this song as the "modern way" of being lonely despite being around friends all of the time. This was the tenth and final pre-leased single on the album. "This is my favorite song I've ever made and the most important song of my career so far," Lauv Tweeted. The lyrics in this song create a different feeling, but it's something I think a lot of youth can relate, too. 
Lauv produces music that has a different style and vibe, but I think that's what connects his audience to him a lot. He is currently touring across America and I hope to make it when he arrives in Council Bluffs, Iowa. A year ago I got to attend his concert here in Omaha and it was one of the best I've ever been to. Lauv continues to surprise fans with his new music continuously and I'm very excited to see what else he has in store.