Best fish in the west
Delicious seafood restaurant opens in downtown Omaha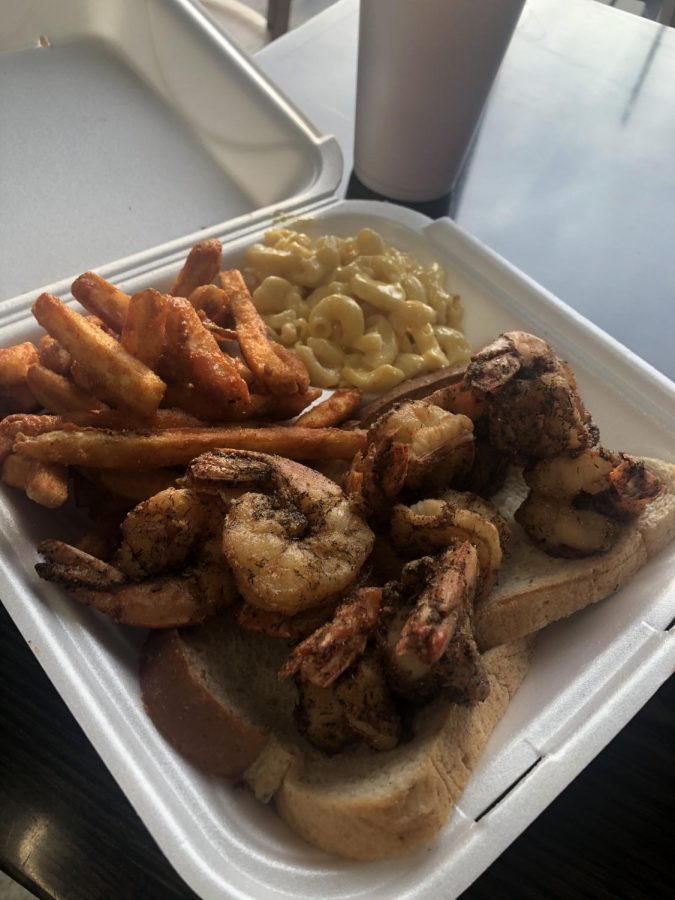 Fish  has been served on plates of Americans for over two million years, according to Seafood Source. There are various ways to create the perfect fish meal that has been altered and changed throughout the years that include: steaming, baking, broiling, grilling, rolling it in rice, eating raw and frying.
The sizzling of oil as the pan heats up and the smell of fresh fried fish is a love of many Americans and people around the world. Many restaurants open up in towns, trying to feature their fish specialties and friendly service. In Omaha, few restaurants have both fresh fish and a fun atmosphere that makes the customer feel welcomed and loved. Lutfi's Fried Fish, a recently opened restaurant, can give both to their customers, making it the best fish in the west. 
Opening in May 2018, Lutfi's is the first of the chain to come to Omaha. With seven locations in Missouri and one in Kansas, the owner decided to spread out along the Midwest to introduce people to the delicious food. It is located on N. 72nd Street and Ohio Street. 
The owner, Eric Austin, didn't always want to be in the restaurant business. He dreamed of becoming a basketball player in college. Sports were his first love. Instead of getting to his dream, Eric was in a tragic shooting accident that left him paralyzed and his friend dead. Eric didn't give up on becoming successful; he instead went on a search to find his future career.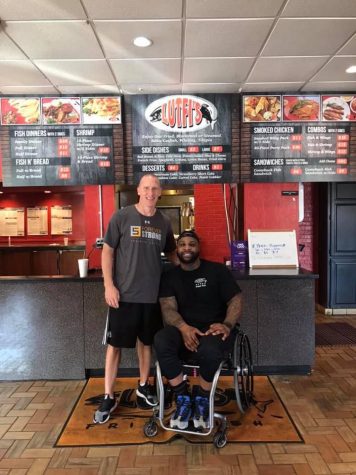 When he was 19, he met his mentor Lutfi, the original owner of the Kansas and Missouri locations, who taught him about the restaurant business. He was inspired to overcome his obstacles, his main one of being in a wheelchair, and becoming an entrepreneur.  
After much deliberation, he came to Omaha to open up Lutfi's Fried Fish and became the owner of his restaurant. 
Lutfi's is a cute little restaurant that has people waiting in lines out the doors for it to be opened at 11 am. It features a big white sign in the front, introducing the name with a fish going through it. 
The restaurant has multiple meal options for people to choose from. They have different kinds of fish, ranging from Catfish to Shrimp. One of the most popular meals is the Fish Dinners, which come in three different sizes: family for $28, full for $15 and a half for $11. The customer can choose the type of fish they would like and then choose two sides. The sides include beans and rice, cole slaw, mac n' cheese, french fries and green beans. 
If someone isn't a fish fan, Lutfi's still provides an alternative to their customers. They have chicken options that are just as delicious and juicy as the fish. The most popular chicken meal is the smoked wing pack that includes one side for the cost of $11. 
Lutfi's additionally has delicious cakes that are made to go for $4 each. The favorite cake of the restaurant is the strawberry shortcake, a light, fluffy cake with cream and strawberries on top. 
After hearing about the restaurant and the reviews that highlighted Lutfi's, I knew it was time I tried it to see how good it was. 
Walking in, the aroma of fish cooking and the friendly smiles made me feel at home instantly, and I didn't feel pressured to have my order right away. Instead, I was able to look at all the options and take in the restaurant. 
Lutfi's had about five to six tables to sit inside. A long bench was placed at the door for customers to sit at if they are picking up and going home to eat. I chose to sit at one of the tables and eat at the restaurant. 
After a long decision on what I wanted to eat, I decided on the 10-piece Shrimp Dinner for $15. It came with two sides, and I got the mac n' cheese and french fries. I got a drink along with my meal from their soda fountain for $2.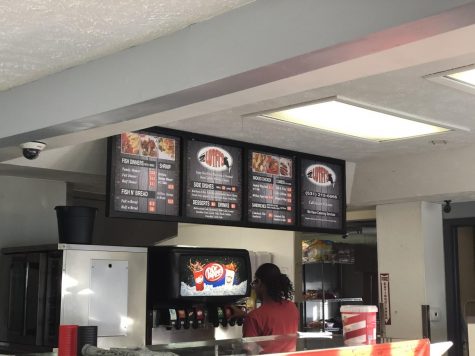 In about 10 minutes, the food came out piping hot and smelling of heaven in a box. Instead of coming on a plate, it came in a to-go box. I thought this was a brilliant idea as there was no way I could finish this meal, and I could get up and leave after becoming full instead of waiting around to get a box. 
As I opened the box, steam appeared, entered my nose and made my mouth water. The shrimp was seasoned and was laid on top of two slices of white bread. I was given a side of Cocktail sauce on the side. 
The shrimp was the first item I tried. Biting into it, I could taste pepper and spices that had been rubbed and soaked into the shrimp. I first had it with no sauce so I could get a chance to try the spices. Dipping it into the sauce, a sweet, bitter taste melted on my tongue, and I was overwhelmed with how delicious the fish was and was grabbing for more with each bite.
 I then tried the mac n' cheese. The noodles were cooked to perfection, firm, but not overcooked. They were quite hot, so I had to wait a little bit to take my first bite. As I picked up my spoon with the mac n' cheese on it, a strange piece of cheese fell off the spoon. My mouth was watering in anticipation as I brought the spoon up and took a bite. The amount of cheese on the noodles was perfect, and the noodles were soft in my mouth.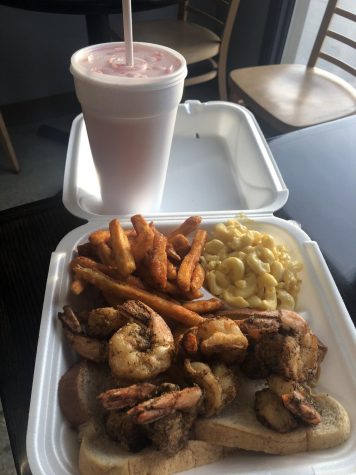 The fries were next to come for me to try. Looking at them, I could tell they were fried to the crispiest they could. They were seasoned with pepper and salt and were cut into thick strips. Biting into them, I was greeted by a crunch and then a soft texture from the inside. I love fries, and I am always looking for new ones to try, and these made my list. They were perfectly cooked, and I enjoyed them a lot. I was surprised that a restaurant that serves mainly fish could make other items so luxurious. 
Before I left, I decided to get one of their cakes, the Sunshine Lemon Cake, to try at home. The cake was a very bright yellow and was covered in lemon curd and lemon frosting. It was light, which I loved as many cakes seemed to weigh me down since they were dense and creamy. This cake was delicious and tasted of sweet lemons. It reminds me of the lemon tree my grandmother had in California that we would pick fruits from and squeeze to make lemonade. I was able to share the cake with my friends, and they all loved the texture and the sweet, strong flavor of the cake. 
Overall, I loved Lutfi's, and I plan on going back again and again. I will be bringing my family next time so they can try the delicious fresh food and experience the love and smiles the cooks have for their customers. I recommend this place to anyone who loves seafood and wants to be in a place that makes them feel at home.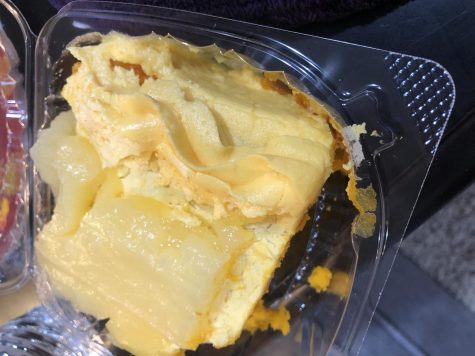 About the Contributor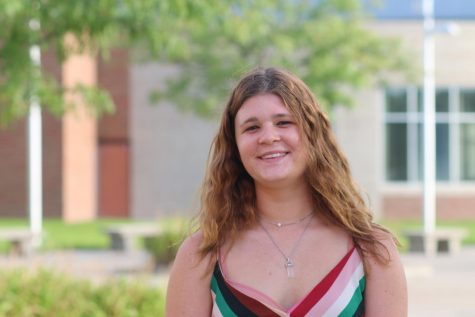 Annalise Smalley, Staff Reporter
Annalise is a junior this year, and is in her second year of Advanced Journalism. She runs in her free time and loves to cook and bake. Annalise has two...