The game of the year
Omaha Central beats Millard North in an overtime thriller
On Friday, February 21st, the Omaha Central Eagles boys basketball team took on the Millard North Mustangs at Millard North in front of a sold out crowd. The atmosphere was electric, with all fans cheering loudly and on their feet a majority of the game. Both sides had their sections completely full, making for standing room only when it came time for the game.
Both of these teams went into this game as a top 5 team in Nebraska, so everybody knew it would be a good game. The other thing that made this game so glamorous was the matchup between two of the best players in the country, senior Latrell Wrightsell from Central and junior Hunter Sallis from North. Both of them average over 20 points per game, and have led their teams to where they are right now. Central went into the game at 17-3 while North was at 20-3. 
Fans were lined up immediately after school to try and get into the gym. They had to turn people away at the door after a certain point because they couldn't fit anyone else in. Every seat was occupied, and there were people everywhere standing, trying to see the action. 
"I like when there's a lot of people cheering and yelling," junior Saint Thomas said. "It just makes me more focused and brings more fire to my game."
Tip off started right at 7:15, with Central taking the first possession. Central's speed seemed to surprise North at first, and Central got off to an early lead. Wrightsell knocked down a few threes, and got the offense going. North turned the ball over a lot, which gave the Eagles a lot of opportunities in the fast break. They knocked down threes and scored quickly in transition, which got them to a 22-11 lead at the end of the first quarter. 
"Our game plan was to stop Hunter mainly and not let him get going," Wrightsell said. "We were physical, pushed the pace, played to our strengths, and most importantly defended and rebounded due to the size differential."
North started to get going in the second quarter, but couldn't seem to slow down Central's high speed offense. Wrightsell, who ended with 37 points, took over offensively in the period for Central. He made a one handed slam over a North defender that really got the crowd loud and energized. Sophomore Jasen Green, who ended with 20 points, was the main scorer for Millard North in the quarter. The Mustangs outscored the Eagles 20-16 in the second quarter, but still went into the half down by 7. 
"In that type of game, you just feed off the crowd energy," senior Max Polk said. "I was just telling our sophomores to embrace this moment and that games like this are why you come to Central."
Central took over again in the third quarter, outscoring North 17-13 and making it seem like the game was all but over. Polk, who finished with 28 points, really took the load in the third quarter for the Eagles. He got into the paint with ease, using his speed, and got easy buckets for Central. Central went into the fourth quarter up 55-44, seeming to have all the momentum. 
"Going into the fourth we knew we had to limit our turnovers," Thomas said. "Sprint back on defense, close out on shooters, and get rebound to try and run and make it a track meet."
Sallis absolutely took over in the fourth. He ended up scoring a total of 35 points, a majority of them coming in this period. He was a man on a mission, seeming to make every shot he took. North still found themselves down by 2 with 12.1 seconds left in the game. Junior Fasiaun Germany was at the line to try to make it a three point lead for Central, but missed the second free throw. Sallis grabbed the rebound, took the ball down the court, and right before the buzzer, hit a step back jumper to tie the game at 74 and send the game into overtime. The crowd absolutely exploded and the building was shaking. 
"We just know that big time players hit big time shots," Wrightsell said. "That was unfortunate for us, but we just had to get back together and focus up on the next 4 minutes in overtime."
Overtime went back and forth. Both teams were in the double bonus the whole period, so a lot of foul shots were taken. Sallis was a total of 14-20 from the line, and missed some free throws in overtime that could've iced the game for North. With about 2 minutes left in the game, Wrightsell commited his fifth foul of the game, and fouled out. Central had to finish the game without their star player.
"It was great to see," Wrightsell said. "I love how all my teammates stepped up even though I was out of the game."
 The game kept going back and forth, and was tied at 81 with 13 seconds left. North had the ball, and of course got it to Sallis. Sallis tried to drive into the paint, but lost the ball. Sophomore Jay Dawson stole the ball, threw it ahead to Polk, and Polk layed it in as time expired in overtime. 
"I promised my teammates I would make up for those missed free throws," Polk said. "In my head it just felt like everything was in slow motion, just me and the rim, so I got myself under control and just did a routine lay up." 
Central won a sensational game at the buzzer, and their student section exploded. You could hear chants of victory all the way until you left the parking lot. This was probably the most exciting high school basketball game this year in the state of Nebraska. 
"It just proves to us that we can beat anyone," Polk said. "That's all you need heading into March, the belief that you can win."
Both teams will definitely be in the state playoffs which start March 12th at Pinnacle Bank Arena in Lincoln. Both these teams are extremely talented, and will be tough to beat by anyone in the state. Don't be surprised if these are the two teams that end up playing in the state championship.
About the Contributor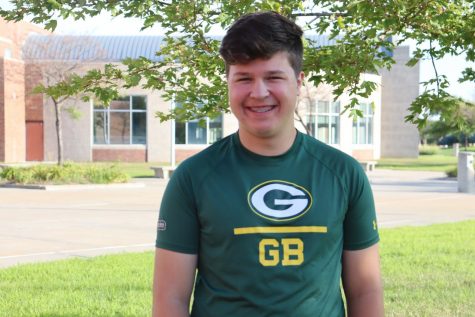 Jonathan Willis, Striv Executive Producer
Jon is a senior and this is his second year on the Catalyst staff. He loves sports and spends most of his time watching and studying them closely. He commentates...