A trip down memory lane
The Jonas Brothers' first tour after reuniting
The Happiness Begins tour came through Omaha on Wednesday, December 4th. The Jonas Brothers put on one of the most memorable shows after bringing the band back together six years later at the CHI Health Center. With guests that included Bebe Rexha and Jordan McGraw, the brothers put together a comeback concert that will be remembered for years to come.
Since the Jonas Brothers had released a new album on June 7th, earlier in the year, fans were more excited than ever to see what they would bring to Omaha. With returning to the city after numerous years, everyone had high expectations as they would be seeing them in concert once again.
After announcing the stops for the tour, the band initially sold over 500,000 tickets, nearly selling out all 44 concerts. Because of the high demand for tickets, 23 more shows were added throughout the nation. 
Deleasa, Kevin Jonas's brother in law who is also the DJ for the tour started off the night with playing lots of well-known songs to warm up the crowd for a wild night that would give them a blast from the past. 
The first opening act, a new artist, Jordan McGraw started off the night with some of his music including Flexible, Too Good, We Should Still Be Friends and Met At A Party. Despite many not knowing who McGraw was, the crowd was still able to get a taste of his music, while still having a good time. After his performance he announced that he was going outside of section 113 to be able to meet as many fans as possible to talk to and get to know them. I thought that it was a very cool and unusual concept and as an unfamiliar artist; it was great to see him try to expand his audience while on tour with the band. 
Brooklyn upstart Bebe Rexha took the stage next and began with her well known original songs. It included Me, Myself & I, In The Name Of Love, Call You Mine and I'm a Mess. She continued her performance with singing cover songs by Rihanna, Post Malone and other big artists. During the production lots of lights, background dancers and videos were included to add a wow factor to the night. Later on, Rexha randomly picked a fan from the general admission section to join her on stage. For this fan, it was a once in a lifetime experience. She danced her heart out with the backup dancers and harmonized with Rexha. The crowd loved this special guest and even took pictures with her after the concert. This was a very fun aspect of Rexha's set and she was able to get all of the crowd involved for an amusing segment. 
As soon as Bebe had finished up her setlist, the crowd went wild with excitement knowing that the band would soon be making their first appearance of the night.
The brothers came from above the main stage making their way down to the ground level. During this time, lots of special effects with multi-colored lights, fog and exploding fireworks made this entrance exciting for everyone.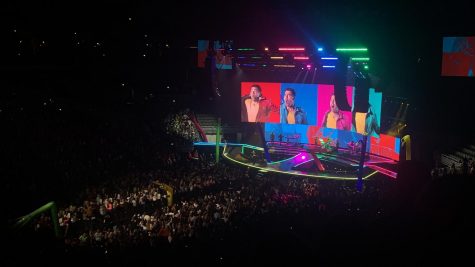 The group started by singing some songs from Happiness Begins, their latest album that was released in 2019. Some of these songs included Only Human, Sucker, Cool and Hesitate. These were more popular songs among members of the crowd that had only known the more recent tracks. 
From here, the brothers continued the concert with throwbacks that they had produced between the years of 2006 and 2010.
They sang classic Jonas Brothers songs such as S.O.S., Lovebug, Burnin' Up and Year 3000. Along with these they also sang some of the songs they had featured in Camp Rock. The set up for this section was very intriguing, as there were old music videos and iconic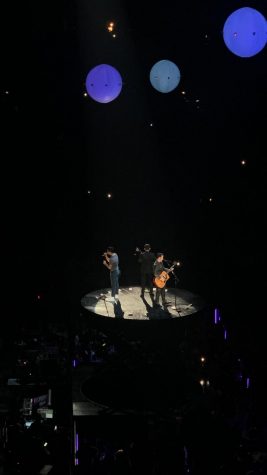 movie scenes playing on the screens around the arena. 
This was a great part of the concert that everyone, including myself enjoyed a lot. It had brought me back to a time in my life when I was younger. These times had been when the band was first formed and they starred in many Disney movies including Camp Rock. 
Solo songs that had been produced, Jealous by Nick Jonas and Cake By the Ocean by DNCE, which was a group Joe Jonas was in during the bands break were performed to show off some of their solo careers that had also been created at the time. 
Overall, the concert was amazing. I loved being able to see one of my favorite childhood bands perform once again and sing along to every song. The crowds atmosphere added to the whole aspect of the concert. The special effects and creativity from the crew was unbelievable. 
The Jonas Brother definitely lived up to the expectations once again and this was truly a night to remember.