A Magic Trip
How a senior won a chance trip of a lifetime
Hang on for a minute...we're trying to find some more stories you might like.
Everybody wonders what their hero is like in real life, but very few get to actually meet them. Even fewer receive an all-expense paid trip to LA from them, but that's exactly what happened to senior Gavin Peterson.
Last April, the Millard Business and Logistics Management Academy took a field trip to Promat, a business convention held every other year in Chicago. Peterson heard ahead of time that the key speaker would be the former Lakers NBA All-Star and current president of the team,  Earvin "Magic" Johnson.
Magic spoke about his childhood, his time playing basketball and how that all affected him as a business man after his retirement from basketball. He answered questions and took pictures with the audience. He even had a drawing for a signed jersey; was won by a student from Ohio University.
Magic said he wanted to have one more drawing for a chance to win a trip to LA to tour the Lakers facilities, the Magic Johnson Enterprise Building, and even go to a Dodgers game.
He reached back into the bowl, pulled out another slip of paper and called Peterson's name.
"At first I was mad because I wanted the jersey," Peterson said. "That's only because I didn't think I would win the next giveaway. I got way more than just a jersey."
Peterson and his plus one, his father Kent Peterson, flew to their hotel on July 24th.
"We started at 9 a.m. and we were driven to the Lakers building and he told us about what he did for the Lakers, what his plans were for the team and what he wants to do with the team," Peterson said. "He introduced almost every staff member that worked for the Lakers and then he gave us a tour of a tour of the buildings and facilities."
Peterson got to meet several of the Lakers players like Lonzo Ball, Kentavious Caldwell-Pope and Brandon Ingram. He also was introduced to the current owner of the team, Jeanie Buss.
After the tour of the Lakers Building, the trip continued at the Magic Johnson Enterprise Building where they got see more of Magic's staff and business locations. There the group had lunch and Magic while talking about his many life lessons.
"He told us to always over deliver when doing anything and to go out and do something we enjoy and be good at it no matter what," Peterson said. "He said we can be average people, but it takes someone to lead those people and we could do that."
After receiving his own signed Magic Johnson jersey, Peterson attended the Dodgers game with his dad in the owner's suit to finish off the day. Unfortunately, Johnson couldn't attend with them because of his busy schedule that afternoon.
"He was very nice," Peterson said. "He never even touched his phone. He could not have been any more respectful to us kids."
Peterson had the time of his life and it was all thanks to the small chance of his name being pulled from hundreds of others. When it comes to his hero, not only did he just meet Magic, but he got to spend a day in the city of angels, touring his facilities and meeting stars and it all started on a field trip. 

About the Writer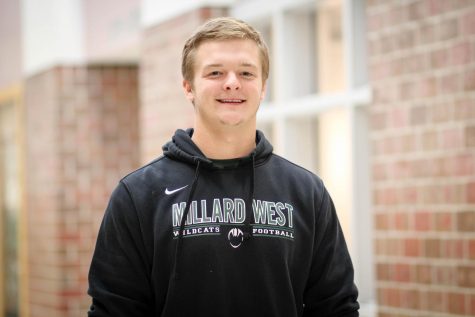 Jack Ward, Cartoon Editor
Jack is in his first year of working on the newspaper and is the new cartoon editor. Outside of cartoons he also enjoys writing about sports, news and...