International Strike
Omaha joins in with global climate strikes
On Friday, September 20th, a large group of citizens in Omaha gathered outside the Douglas County Courthouse to protest climate change. Activists of all ages joined forces to raise awareness of the growing threat of climate change and how the government refuses to acknowledge it.
Omaha's strike was one of thousands around the planet that took place with more than 150 countries participating. Students for Sustainability (SFS) were the core organizers of the strike that took place as well as other major climate related events in Omaha. SFS is a group comprised of high school and college students that focus on sustainability and combating the rising threat of climate change.
"SFS obviously organized the climate strike, which took place directly in front of Omaha City Hall," UNO freshman and SFS member Corah Johnson said. "Aside from the Strike, SFS organized Omaha's Rally for the Planet and worked in the Omaha City Hall in an attempt to pass the pro-planet legislature. We are currently working with big-box corporations to find sustainable alternatives to current practices."
Many students around the Omaha area and the world skipped classes to attend the demonstration in an effort to bring attention to  political leaders the importance of climate change. Junior Ashlee Mitchell was one of the Millard West students that took part in the strike.
"During the strike we basically missed our school lessons in order to help show our governor Pete Ricketts that we do care about our environment and that we believe Nebraska should be aiming to be more eco friendly," Mitchell said. "I personally was there because I know that even though I am one person, I still could do my part to make the world a better place- starting in Omaha."
One of the main inspirations for the strikes was climate activist Greta Thunberg, a 16-year old that recently spoke to many world leaders at a United Nations conference. She gave an inspiring speech on the global threat climate change and the urgency that needs to take place in order to combat it. This young advocate has motivated millions of teens around the globe to raise up and participate in combating climate change. Many of the protesters hope that the strikes will gain more following for the issue as well as inspire others to make a change.
"I believe the strike and other strikes have a huge impact on the globe," Mitchell said. "Hundreds of thousands of people gathered in their cities worldwide to show that our world isn't to be messed with and climate change is not a joke. I believe an idea starts with one person and if me going to the climate change rally started this idea of being more eco-friendly in Millard West then I've done my part."
The strikes have inspired many to help the cause and empower those already a part of it. During the Omaha Strike Adam Met, famous musician a part of the band AJR and sustainable advocate, gave a speech to the attendees. Met spoke about the increasing dangers of climate change and how to be more sustainable and later that week gave a speech to the UN about climate change. Many of those who attended the Omaha strike left feeling motivated and eager to continue to aid the cause.
"Everybody stood around the stage and watched the people speak about what to do about change and how to be more sustainable," junior Kelsie Hansen said. "It was really nice to go and see all the inspirational things people had to say and everyone was very kind, it was very empowering."
SFS does not plan on stopping here though. The group plans on greater and more large scale projects to help raise awareness to people around the area as well as teach others on how to be more sustainable. They hope this strike influenced other young activists to volunteer or fight along with them.
"I believe that getting educated should be the first priority. It is hard to not be outraged when you know the facts. Know who your elected officials and demand that they take a stand- or vote them out," Johnson said. "Becoming an active member of a community that demands change is as effective at bringing about change as being an activist. Of course, join climate action organizations, such as SFS, and volunteer your time towards their cause."
As the issue of climate change begins to unfold in the political field, many advocates want to remind people that climate change should not be an issue between political parties. The strikes that occured around the globe have rapidly increased conversation on the topic and activists hope to bring a solution and peace very soon to the earth.
About the Contributor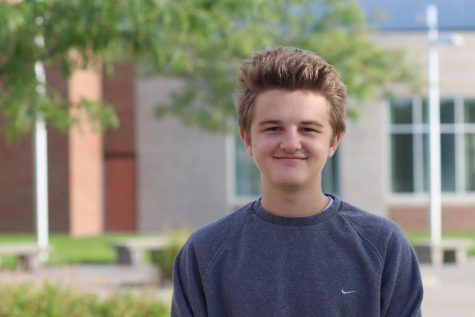 Logan Berggren, Features Editor
Logan is a senior and this is his first year on The Catalyst staff. He enjoys writing Opinion and Feature stories. When he is not writing, he is out taking...