Good Ol' American food
Small bistro strives to give off the goal of grandma and mom homestyle cooking
New restaurants open everywhere, but many are expensive, fancy and similar in what they serve. They don't put the love and care as family puts into food, but rather into how it tastes. Not many can bring back memories of cooking with family, and if they are, they come at a cost. That is where Jean's Bistro comes in. 
Jean's Bistro is a smaller restaurant located off of Fort street that opened up during the 4th of July weekend.  Jean, the owner and cook of the restaurant, makes all the meals and desserts for the day from scratch and sells them to her customers for a reasonable price. Her hours are from 11 a.m. to 8 p.m. 
Her idea for her restaurant was to bring back simple, yet delicious food to Omaha and not having something so expensive that not everyone can enjoy the flavor-bursting food she makes. 
The bistro is located in a small hidden area in Omaha. The outside of the restaurant is elegant and fancy, giving off a welcoming vibe. The inside includes multiple tables, a glass container including all the bakery treats and her menu options.
Jean's goal for the restaurant is to have the "Grandma and Mom homestyle cooking". When customers come in, she wants to have them recall those memories of eating warm cookies straight out of the oven or coming home to a warm bowl of chili and freshly made bread straight out of the oven after a long cold day. The taste of fall can be found in her pumpkin cake with spiced frosting, perfectly cooked with walnuts on top. 
I went to the Bistro to see how delicious the food was. Walking in, the place seemed a little empty as my friend and I were the only customers in the restaurant. The place was filled with about 10 to 12 tables with two people per table. 
Instead of the normal menus on paper or printed on a board, she had a chalkboard on the floor containing her specials and a long chalkboard menu that included all her food, desserts and drinks as well as prices.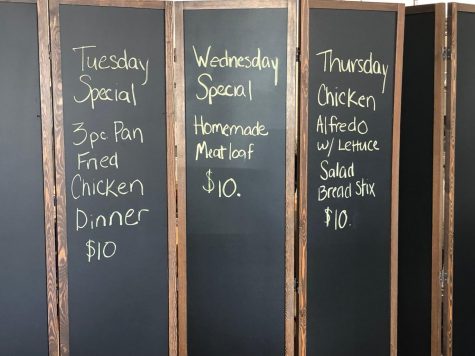 Some of the options included corned beef and cheese sandwich for $11 or a ham and cheddar sandwich grilled to perfection for the cost of nine dollars. If you aren't a fan of sandwiches you can get a wrap for seven to eight dollars and she includes vegetarian options in her menu. Jean makes all her food in the morning so each item is fresh and warm. The chili includes beans, meat and corn, giving off the good ol' American taste. The bread isn't packaged but rather fresh from the oven, soft and warm. It can be used as a side for soup or chili, or made into thick slices for a sandwich. 
Her dessert case includes brownies, rice krispies, cupcakes and pumpkin bread. All her bakery items are made throughout the day so they can stay fresh and warm. Her brownies are chunky and filled with lots of large chocolate chips. They are cut into decent sized squares, enough to eat a little and still have leftovers to take home. Her rice krispies include the regular recipe, but also some marshmallows that aren't all the way melted, making them thicker and chewier. Just looking at the case of desserts, I knew I was going to have a hard time choosing. I have a huge sweet tooth, and seeing the portions and the perfection of each dessert filled with mouth-watering tastes brought back memories of being in the kitchen with family. 
I selected the pumpkin cake with fluffy, spiced frosting and a little bunch of walnuts in the middle of the cake. Taking the first bite of the cake brought me back to the kitchen where my Grandma and I used to bake together. The cake was perfect, it was soft and not too heavy. Buttery, fluffy, white frosting seemed to melt on my tongue. The cake was a dull orange color, and was solid, non crumbly dessert.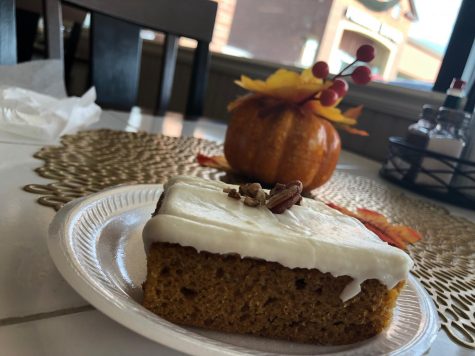 I sat down with Jean, since she is the baker and cook of all the food. She was very welcoming and was thrilled to give me information about her food and restaurant. When she heard I was doing a review over her place, she was even more open and tried to give me the most information possible. She even gave us free dessert to try since we were giving her restaurant more publicity to people, especially high school students who are always looking for a new place to eat that will satisfy them. 
Besides just making food, she also has a small section in the corner of her bistro that includes clothes, lotion and items that aren't edible. The clothes are all one size fits all, and include sweaters and cardigans. She has more item coming in too that are fall styled. On the shelves are her velvet purses and jewelry. This is her boutique section of the restaurant and she hopes for it to grow and become a popular spot to eat and shop. 
The special they are having for the month of October is every night on Tuesday, Wednesday, and Thursday they will be serving dinner from 5 p.m. to 8 p.m. each meal for $10. Tuesday nights will include a three piece pan-fried chicken dinner with potatoes. Wednesdays will serve homemade meatloaf with a side of ones choosing choice. Sides can include chips, potatoes and vegetables. Lastly, Thursdays will have chicken alfredo with salad and breadsticks. She hopes by having these specials three days a week will boost her up and make her bistro more widely known. 
Though she has only been open for a few months, Jean has had many customers and is happy with how she is doing in the food industry. She hopes to have a grand opening with many people in the next month, to make herself more public to Omaha and its surrounding area.
About the Contributor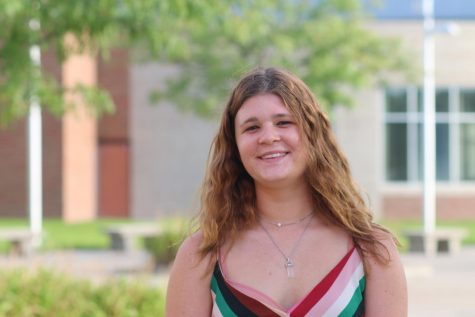 Annalise Smalley, Staff Reporter
Annalise is a junior this year, and is in her second year of Advanced Journalism. She runs in her free time and loves to cook and bake. Annalise has two...