Wildcats control the Islanders
Grand Island struggles with turnovers and West's pressure defense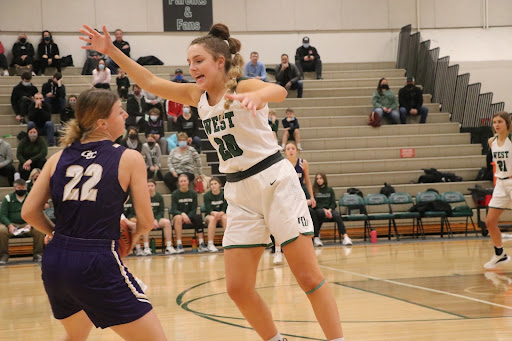 With several steals and fast breaks, the girls varsity basketball team took an easy win this past weekend. Right off the bat, the team came out fast and was able to shut down the Islanders.
The game began with a long stretch of no scoring and several turnovers. This was broken with junior shooting guard Elizabeth Hoffman knocking down a three to give the Wildcats the first points of the night. Following this, Millard West played tough defense, not letting the Islanders score and putting up four more points of their own. After a Grand Island timeout, the Wildcats came out even stronger, taking a 13-2 lead with four minutes left in the quarter. This led to the Islanders stepping up their defense partially, but not enough to stop the Millard West run.
"The way that we gained the initial power to take the lead in the first quarter was just going into the game confident, but calm," Hoffman said. "Our press break really helped us gain momentum because it allowed us to get easy, wide-open layups."
Going into the second quarter, the Wildcats had a lead of 22-3. At the start of the second, Grand Island had several issues with getting the ball past half court and turned the ball over many times. Although the Islanders were struggling with ball handling, it was more of the Wildcats' press defense that caused several inbound pass interceptions and more. This led to a score of 35-3 midway through the quarter. The last couple minutes before halftime were filled with Wildcat mistakes and miscommunications. Due to this, they only hit one more three before half and let up an Islander three creating a score of 38-6.
"Creating turnovers led to a lot of easy baskets," head coach Marc Kruger said. "The girls did a good job of finishing those shots at the rim and in transition when we had numbers advantages like a two on one or three on two."
Coming out of halftime, Millard West was quick with their passes and had improved their ball movement. The first shot was made by freshman point guard Norah Gessert and gave the Wildcats a 34 point lead. Almost one minute later, freshman shooting guard Neleigh Gessert converted a layup on a fast break. Following this, senior power forward Gwen Stocker made a layup to give herself six points on the night and the team a 40 point lead. Throughout the last couple minutes of this quarter, Millard West let up more points to the Islanders, while continuing to expand their lead. This quarter ended with a score of 53-9, leaving no hope for Grand Island.
"We needed to stay focused and finish the game," junior point guard Grace Kelley said. "At halftime, we were up by quite a bit, so our game plan coming out was that we were gonna use this time to make ourselves better for the tougher teams that we have coming up."
This final stretch of the game started with Grand Island stepping up their defense and stopping a Wildcat three. Directly following this, the Islanders slowed their pace down and started playing a smarter ball game. They were able to create more opportunities for shots along with stiffening the Millard West momentum. Ending out the game, Grand Island only gave up a few more points along with scoring some more of their own. The slow game they attempted to play before stopped working close to the end due to Millard West picking up their intensity. The game ended with a score of 61-16 Wildcats.
"In games like that you want to be sure you don't create some bad habits by doing things that you can get away with," Kruger said. "We talked about staying focused and disciplined, and it was great to see some of the kids on the bench get in the game and take advantage of the opportunity."
Although Millard West played a fast-paced, score-heavy game, they will need to continue this throughout their next couple games to make state. The next game will be against the 10-2 Thunderbirds and will take place on Saturday, Jan. 22.