Synergy has taken over
New grading system replaces Infinite Campus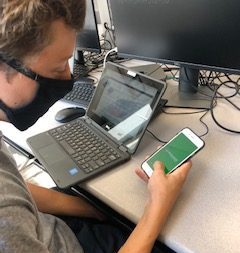 Over the summer, Millard Public Schools decided to use the application Synergy to check grades and transcripts. This application has many new features that differ from the previous Infinite Campus Portal. 
Synergy retains many of the same features as Infinite Campus, but utilizes more modern technology. It helps admin users improve the way they can check information on students and teachers. For example, if a teacher needs to send out an email blast to all of their students in one class and their parents, they can access that information quicker than using the old portal. 
Another thing that Synergy did to improve their system is create contact tracing. This is what schools need to track what students could have been potentially affected by a sick one. This technology revolutionizes the way teachers and administrators can access information. For example, if a student got sick in the front row of their class, it can instantly track which student sat around the sick one.
"Synergy has a modern look and feel to it, and it ultimately makes our collected data easier to access," assistant principal Casey Lundgren said. "It is more efficient and better for the user's experience."
Some of the apps Synergy offers are StudentVue, TeacherVue, HealthVue, CounselVue, and AdministrativeVue. These are apps used to help others access information. If a student wanted to check their grades or schedule, they would use StudentVue. If administrators wanted to check which teacher had an open block, they could use AdministrativeVue. Although these apps sound a lot like the previous ones in infinite campus, they are structured differently. Synergy's apps are updated frequently and have people monitoring its data daily. Although it might take some getting used to, the information it gives is in much more detail.
"Synergy is a positive influence on scheduling, student data and helps bring a more comprehensive story for our student population," counselor Shawn Juricek said.
Synergy is used to help many people access information, and improve the speeds and details that come with it. This site is updated frequently by the people who run the app themselves, and with a lot of help from teachers and administrators at Millard. Millard is using it now because it is more user friendly, along with providing more comprehensive data. Formatting, contact tracing, and the new apps all play a big role in how this site is being introduced to students. They can provide scholars and administrators with details that the old portal didn't offer.