Millard West Takes On Pius X In First Round
Wildcats look to a early tune-up game before the heat of the playoffs begin
Hang on for a minute...we're trying to find some more stories you might like.
On Friday, November 1st, the Millard West Wildcats hosted Lincoln Pius X at Buell Stadium in round one of the NSAA State Football Playoffs. Coming into the game, Millard West had the first seed, while Lincoln Pius was the sixteenth. After an undefeated regular season for the Wildcats, Millard West was ready to finish what they started. For Pius, they were looking to make a monumental upset to keep their season alive.
In the start of the game both teams had a drive, but neither executed to put points on the board. From here it was a defensive matchup for both teams. Holding teams to zero points was nothing new to the Wildcats, as Millard West had shutout two other teams this year. The first quarter was a battle, but neither offense could get into the endzone. The first quarter ended with both teams knotted at zero.
With 7:34 left in the 2nd quarter, senior quarterback Tristan Gomes had a 49-yard touchdown run to put the Wildcats ahead. After a successful PAT, the Wildcats were in front of Pius with a score of 7-0. 
"It felt like a complete relief," Gomes said. "We just couldn't get the ground game going, so it felt like a weight lifted off our shoulders when we were finally able to score."
Millard West wouldn't slow down after that. With 4:27 left, Gomes connected with senior reciever Kaedyn Odermann for a 37-yard passing touchdown to take the lead 14-0 over Lincoln Pius. The Thunderbolts were completely shut down by the Wildcats defense, as they forced a fumble late in the 2nd quarter and got the ball back with 2:56 left in the half. After a quick drive, Gomes rushed for his second TD of the night. Millard West led Pius 21-0 going into halftime. 
After halftime Millard West had all the momentum to finish off Lincoln Pius. Millard West started off with the ball and score right away. With 9:22 left Gomes found senior receiver Dalys Beanum over the top down deep for another TD. The Wildcats lead 28-0 as the hopes for a Lincoln Pius upset were nearly gone. 
"It was a good boost to get that fourth touchdown," Beanum said. "We had all that momentum from the first half and we just had to keep it going. They played us tough early on, but once we got into a rhythm, it was easier to pull away."
As the 4th quarter started the Wildcats were dominating. Right off the jump, junior linebacker James Conway intercepted Thunderbolt senior quarterback Matthew Downey and took it to the house.
"I can't explain it," Conway said. "I've worked hard all year and just to have a play like this on a big stage like the playoffs, it feels amazing."
 The Wildcats were up 34-0 after a missed PAT. They would go scoreless the remainder of the game, finishing with a huge 34-0 victory in the first round.
The Wildcats look to continue their playoff momentum, as they will attempt to improve their record to 11-0 this week against ninth seed Elkhorn South. This is the first time these two teams will meet this season and whoever prevails will face the winner of the Burke-Bellevue West matchup in the semifinals.
About the Writer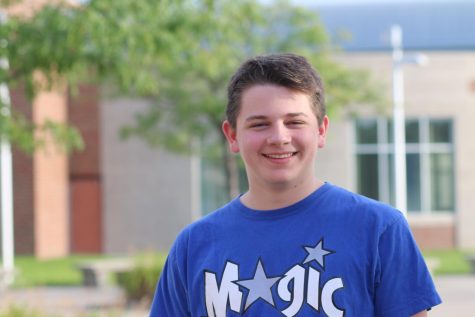 Carson Fox, Staff Reporter
Carson is a junior in his first year of journalism. He is a huge sports fan and loves keeping up with them. In his free time, he likes to hang out with...