From Slums to School Stardom
The story of a boy coming out of some of the worst in the world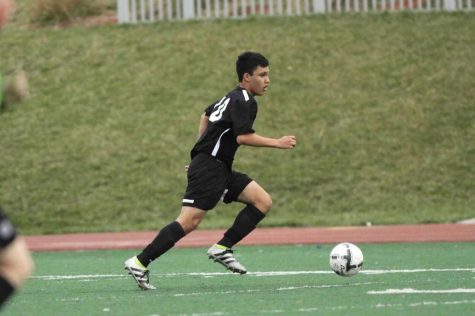 The full time whistle blows and sophomore Daniel Zapata walks off the turfed field of Morrison Stadium at Creighton University. He feels the same as the rest of the team: pain.
He joins the rest of the team lead by then senior captains Erik Fahner and Caden Frank. The team just suffered a defeat in the semifinals of the state tournament to top seeded Omaha Westside, 3-1 in overtime.
This was just another one of the nights on Zapata's journey, one that began when he was a little boy in Guatemala City, Guatemala. A city and country that has been known in the past for struggles in their infrastructure, ruthless dictatorships and bloody civil wars.
"I don't remember much about Guatemala," Zapata said. "Just my family and our house."
Four year old Zapata was now moving into a new house, but the scenery and environment was totally different. This new place, 3,100 miles from where his entire family had been born and raised. That place being San Francisco, California, United States of America.
"It was hard at first and I had to be placed into special classes in preschool to help me learn English since I only spoke Spanish," Zapata said.
One change that Zapata had made when he moved to the United States would end up changing him, and provided him with a new way of structure of life.
"I started playing soccer when I made it to the US at 4," Zapata said. "It was usually as a right winger when I played as a kid."
A winger was a position that was highly coveted during this time, with the best players of this time playing in this position. A player that could fly up and down the sides of the field, scoring, and setting up goals for others. It was only fit for a young player to play in this position that was adored during this time with superstars.
Even though he was really enjoying his time on the West Coast, he found out he had to move, yet again. Another 1,700 miles traveled from home, with the final destination being Omaha, Neb. This time, he was 8 and it was going to be different, moving to a new school.
Finally, August came around, marking the end of a summer of yet another transition. And Zapata knew it was going to be hard yet again, joining a new school and trying to make new friends.
"I remember everyone on the first day was like 'Hey there's that new kid' around school," Zapata said.
Zapata slowly made his way into the social scale in elementary school. And soon enough he was off to middle school, which now creates yet another hard challenge, for someone who had already seemed like he had more than his fair share of those.
This would turn out even better than what most people expected to happen when they transition into a higher school. He now had even more friends that he bonded with but what he always had that brought him to many people was his passion for the same game as always, soccer.
Junior teammate Sam Fedde and Zapata were brought together in middle school.
"We were in the same Pack Time at Russell in sixth grade," Fedde said "We never played with each other until high school though."
Zapata and Fedde continued to hang out and met other friends that they also played soccer with. But when it came to high school, all the gang would be united together playing on the same team, while also making new friends.
"I met Daniel freshman year when we were practicing on the same Elite Omaha FC team," junior Braeden Evans. "I had never known him before that."
Zapata, Fedde and Evans all played together on JV freshmen year, until Evans and Zapata were promoted to varsity at the tail end of the season.
"I started at right back in the semifinals of Districts against Creighton Prep at Morrison in my first game on varsity," Zapata said.
The three went on to all start this past season with Zapata and Evans playing with each other on the left before Zapata moved to the right side of defense. Fedde started at goalkeeper for the second half of the season, due to injuries.
Fedde and Evans praised their teammate because of his great talent with Fedde also adding that he does all the dirty and works really hard in defense to help the team.
But last season ended on a bad note losing in the semifinals of state in a hard fought battle. Zapata is looking forward to a new season starting this spring.
"It is going to be a tough year this coming season," Zapata said. "We lost a few seniors that were good players for us."
And a tough year ahead adds to another challenge to a boy who has moved closed to 5,000 miles away from home to a new country, while under going the same problems of a typical person.