Artist Spotlight: LÉON
Hang on for a minute...we're trying to find some more stories you might like.
Lotta Lindgren, also known as LÉON, is a Swedish-born singer and the daughter of a cellist and a composer. She began her career in 2015, with the release of her first song, Tired of Talking when it went viral on SoundCloud with celebrity pop star, Katy Perry listening and enjoying it. Having just released her debut album, she will be getting more fame to her name.
This album is titled after herself, LÉON. She has been working on her album for three years. It includes 10 songs, touching different genres throughout. From heartbreak melodies to hopeful love songs, LÉON has made a well-rounded album focused on her mental and emotional state at this time in her life.
"I sing so much about heartbreak and stuff, you know? I think I need to like, tie it back," in an interview with Glamour magazine, LÉON said. "I'm in a good space right now, so I think I can just round it out maybe. Put a happy tune on it." She has captured all aspects of love and life with these ten songs. My favorite being Hope is a Heartache.
"Now this hope is but a heartache that lives inside of me." Hope is a Heartache begins with with Leon's voice alone with a soft chord anchoring her voice to the beat. Her voice full of pain as she belts her lyrics about the love who has moved on. She uses her anger and despair in her music creating a melancholy sadness. She sings of a time she was lost in the city of her ex and she had to find her way alone. Her hope is never-ending, even when she cannot see her love. This beautiful song reminds me of Adele's voice. Strong, beautiful and filled with emotion.
Another song from her self titled album LÉON, "Baby Don't Talk," begins with a upbeat sound that sets the tone for this song. While noticeably different than her other material with less soul and meaningful lyrics, this song is very catchy. In her lyrics she is asking her lover to not talk so as to preserve the peace and happiness of them just being together. "I know I need you, So why do you keep moving your lips?" LÉON has mastered lyrics of this song creating a different vibe from the rest of her music. This song shows versatility in her style and that is hard to come by.
"You and I" begins with LÉON singing of her love as a man who used to be lonely before her, but he still goes out. Something is wrong with the relationship from LÉON's eyes. She says that her lover says he wants it but doesn't show and she's hurt that she doesn't mean enough to him. Her lyrics are sad, yet the beat doesn't sound mournful or despair ridden. "You and I, you don't wanna talk about it." LÉON is upset that she has devoted more to this love than her partner, and by more, she means everything.
LÉON has outdone her past songs by far with this album. Showcasing her versatility in genre throughout the album. She has created a work of art and has been working on this for about three years prior to 2019. With her success with her smaller music, she will surely make a splash with this album.

About the Writer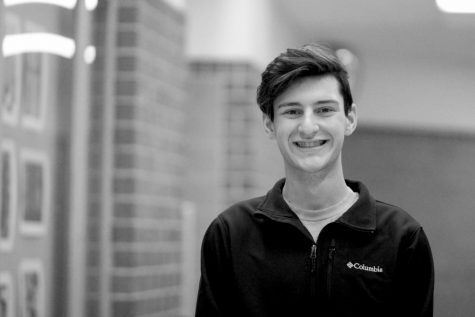 Trevor Lueck, Staff Writer
Trevor is kicking off his third year in journalism as a senior. In his last year, he enjoyed writing columns, hard news, entertainment reviews and producing...