The Return of Our Childhood
Past Disney and Nickelodeon stars hint at comebacks
Teenagers in high school miss the old Disney Channel and Nickelodeon. We all grew up on well-known shows like Hannah Montana, That's So Raven, Wizards of Waverly Place and Drake and Josh. Songs by the Jonas Brothers, Selena Gomez and Hannah Montana were super popular. I even remember riding home from school listening to these artists, grabbing a snack and sitting down to watch my favorite shows. These forms of entertainment helped us grow up and got us through our early years.
Fans of these shows remember when Miley had the confidence to reveal that she was Hannah Montana or when Alex finally became the family wizard after years of studying magic. These plotlines stuck with me as they were impactful and taught me lessons that I could apply to my own life. Teenagers miss these uplifting, comedic and realistic shows that Disney Channel and Nickelodeon used to give us. Over the past few weeks, some of the stars that were popular during childhood have been hinting at or taking part in major comebacks, and we're all feeling the nostalgia.
This new trend of childhood stars coming back started in the summer of 2017. Raven Symone, who starred in the hit show, That's So Raven, decided she would take part in a reboot called Raven's Home. This show follows a similar plotline as the original. Raven is divorced with two kids, and she works with her best friend, Chelsea, to keep her household afloat. Raven's son is trying to live with his visions, and that brings back memories of childhood, as we saw Raven figure out how to control her visions and live a normal life despite them. I think it was a really good idea to bring back this show, but also make it into something new. Though I have never watched it, many other teens have been tuning in each week to see how Raven's journey continues.
This was just the beginning of a flood of past memories.
In March, the Jonas Brothers announced their comeback. This was huge, as the brothers had decided to break up the band about seven years ago. The main part of their comeback was their new song, "Sucker." This song was an immediate hit, and it is now played on the radio regularly. I even added it to my playlists because it is an all around feel good song with a peppy beat. Their song brought back memories of going to their concert and dancing to their songs in the car. Many fans feel the same way as my social media was overflowing with past fans gushing about how thrilled they were that the brothers would be reuniting to make new music. The brothers have also been very active on social media and done a lot of promotion for their reunion. It was announced via social media that they have another song called "Cool" that dropped last Thursday. This song brought a different pace and mood than cool, but it is still worthy of being a hit. It can be expected that many more songs will drop in the future, which makes me incredibly happy. Many of the fans from the past are incredibly excited about this reunion. If a tour is in the works, I know I will be there singing my favorite childhood songs as well as the new ones.
Evidence has been found that other major shows from our past may or may not be making comebacks.
This started with the announcement of a possible Drake and Josh revival. Drake Bell hinted at this in an interview, and the fans ran with it. Many people want this to happen, as Drake and Josh was a hilarious TV show that many kids could relate to. I personally loved this show, and every episode had me laughing a lot, so I would be in favor of it coming back. The two did confirm that they were working together again in interviews and on Josh Peck's YouTube channel, but it is unknown if their collaboration is related to the show.
Hannah Montana is also rumored to have a reboot in the works. This came from a series of Instagram story posts from Miley Cyrus. In these posts, she revealed her new Hannah Montana inspired haircut and was singing along to one of the songs from the show, in order to celebrate the 13th anniversary of the premiere. Since that day, Cyrus has been posting more and more with videos of her singing her old songs. People are speculating that these are the seeds to a reboot, though nothing has been confirmed. Hannah Montana was widely popular, and it taught so many young girls how to grow up into a confident woman. I was sad to see it end, but the possibility of it coming back is really thrilling.
Another example of this has to to with Wizards of Waverly Place, my personal favorite Disney Channel show. In 2017, Selena Gomez and David Henrie, who played Alex and Justin Russo in the show, posted a series of Instagram stories talking about where their characters would be if they were to reboot it. This excited fans, but nothing seemed to come out of it until a few days ago. Henrie had a meeting with Disney+, their new streaming service, a few days ago. He posted about it on Instagram, and fans were led to believe that a revival of this show might be in the works. Jake T. Austin, who played Max, retweeted a tweet about all the past Disney Channel things that were coming back and how Wizards should be next. That furthered fans excitement and suspicion. Henrie quoted that same tweet with a thinking face emoji. If this show were to come back, fans would be incredibly happy, as it was one of the most popular shows back then. I think Wizards was the best Disney Channel series, and it taught me so much about life. I want it to come back more than any other Disney show. There isn't any confirmation on this one either, but I'm still holding out hope.
All of these stars hinting at or even going through with these revivals is so nostalgic for people my age. The Jonas Brothers and Hannah Montana were our main source of music in the past and all of the shows mentioned were fan favorites. Ever since these shows ended, Disney Channel and Nickelodeon haven't been the same. The new shows just don't have the same flair that the old shows had. When I was growing up there was a huge variety of shows we could watch, but now all of them look the same. Raven's Home has started to bring back the flair of old childhood shows, but we need more. The possibility of Hannah Montana, Drake and Josh and Wizards of Waverly place making comebacks makes the old fans feel like they're young again. There's not doubt that these shows would do well if they came back. Many teens on Twitter have already said that they will be watching, when or if these shows comeback. We've already seen it with the Jonas Brothers. They left for a long time, but their first song back launched them back into popularity and was a huge hit. I guess we never completely let go of what we liked as kids, and the nostalgia will always be hitting us.
About the Writer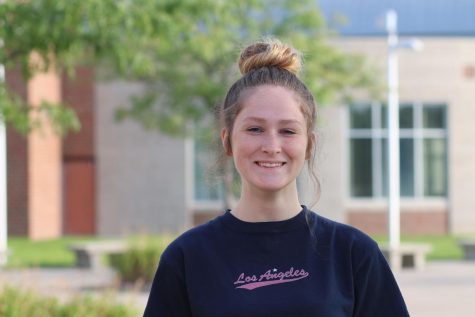 Elizabeth Hahn, Entertainment Editor
Ellie is a senior and this is her second year being on staff. She loves to write in general, but specifically, she likes to write reviews and Opinion stories....