Reunited At Last
The Jonas Brothers release their first song since their split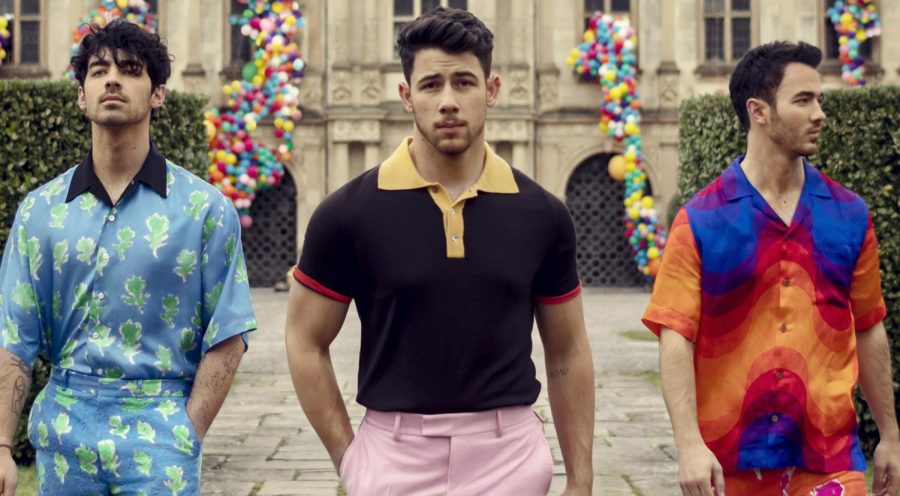 In October, 2013, Jonas Brothers fans across the world were shocked and heartbroken to find out that the band split up. However, after seven years, The Jonas Brothers decided to come back together again, releasing a song "Sucker" on Friday, March 1st, 2019.
Throughout my entire childhood, I loved the Jonas Brothers. I had their merch, CDs and posters. Also, I went to one of their concerts with my sisters, and we had such a great time. My sisters and I would listen to their music constantly, whether it was in the car, at school, or with friends. The second concert of theirs that we were supposed to go to was cancelled because of the break up and we were crushed. We were true fans and had loved the Jonas Brothers from a very young age. Hearing that they were getting back together was such a shock to me and so many others.
It was revealed during The Late Late Show with James Corden that the brothers were actually filming an Amazon Prime documentary over the past few months that inspired them to get back together. They felt that they were missing something in their lives and that something was the Jonas Brothers. Rumors of the band getting back together were always there, but it was confirmed just days before the song was released.
The song itself is truly a bop.
It starts out calm and builds as it goes, which makes for a great musical experience. At first listen, I noticed that as the song went on, it sounded more and more like a true Jonas Brothers song. Obviously, their sound has evolved to stay with the more modern music trends. Upbeat songs with a fun beat are very in right now, and "Sucker" fits this description. The chorus is a fun sound that could have anyone dancing. This song is about the brothers being "suckers" for their wives or fiancés, and the lyrics really display how much that they all love their significant others. Joe and Nick Jonas' voices sound as good as ever in this song, and it really gave me nostalgia to when I used to listen to their CDs in the car with my sisters. Overall, the song is very catchy and is sure to have anyone singing along after a few listens.
Personally, I already added it to my favorite playlists.
What made the song even better was the music video. This video was filmed at Hatfield House in England, which made for some truly beautiful scenes. The house itself looked like a castle, and the whole premise of the video is that the Jonas Brothers are princes singing to their princesses. Most of the video shows them in a hall doing just that. However, there are many other visually pleasing scenes. A favorite of mine was the scene of all of the cast at a dinner table. It featured the brothers and their wives doing different poses on the beats of the song, which was very interesting to look at. Most of the video depicts the brothers and their significant others doing things only royalty could get away with, like bathing outside and wearing extravagant outfits. I have to give props to the costume designers because every single outfit was captivating and fit each person's role in the video perfectly. I think this video was executed very well. Obviously other people did too because it has already racked up 40 million views and 3.4 million likes on YouTube.
Die-hard fans have been living for this comeback. The Jonas Brothers was trending on Twitter for many days leading up to the release of the song. Since I was a huge fan when I was younger, seeing all the previous fans come together again was truly a fascinating experience. Many fans stayed up until the release of the song at midnight on Thursday. My Twitter was blowing up with fan reactions about the new song and how amazing it was. The Jonas Brothers have gotten such a great reaction from fans, old and new.
The song really didn't disappoint, as the Jonas Brothers put a modern twist on their old sound. While songs like "Lovebug," "Year 3000," and "Burnin' Up" will always be iconic, fans are excited to see what this new era of the Jonas Brothers will bring. "Sucker" has been #1 on the iTunes charts since it's release, and the brothers are currently doing a week of appearances on The Late Late Show with James Corden. Go give the song a listen and watch the video because it brings back all the great memories of growing up with the Jonas Brothers' songs. It really will make you nostalgic.
About the Writer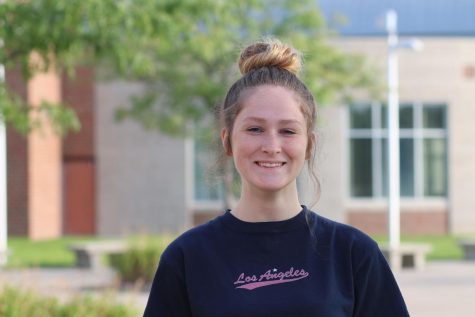 Elizabeth Hahn, Entertainment Editor
Ellie is a senior and this is her second year being on staff. She loves to write in general, but specifically, she likes to write reviews and Opinion stories....