The Price of Being a Woman
Everything you need to know about the pink tax
Hang on for a minute...we're trying to find some more stories you might like.
Any woman knows that even though society tells them they're equal to men, they're really not. Issues such as sex trafficking, unequal pay and more are all a part of some women's experience in America. However, an issue that all women have to deal with is the pink tax, or prices on everyday items that is significantly higher than men's prices. It claimed its name from people noticing the effect of this on products that are pink.
The pink tax is on many items such as razors, shaving cream, shampoo, conditioner, deodorant and clothing. According to a US News article titled "The Pink Tax: Why Women's Products also cost more," a study by New York City Department of Consumer affairs found that 42% of the time women's products cost more than the same men's products. While it may not seem like it, this is a big difference. Products that have the same functions should have similar prices no matter the gender.
It is likely that the price gap has to to with supply and demand. Many women tend to buy the same brand or product every time they go get a replacement for something they used up. For example, a woman may use deodorant from only a certain brand. They begin to trust the brand after a few uses and aren't very likely to venture out and try new products. Many of the companies that sell products with the pink tax know this and know that many of the customers they have will likely buy their product again. This is how they figure out what the demand is going to be. If there's a large demand for a certain product, then companies will raise the prices on it to ensure maximum profits. This process may not seem fair, but unfortunately that is the marketing system. Suppliers have to make enough of a product to satisfy the demand, which can raise prices.
Though the motivation from supply and demand seems accurate, that doesn't mean it is necessarily equitable.
Men also usually stick to the same products, but their prices are still significantly lower. A blue men's razor and a pink women's razor have the exact same function, but the women's razor is, on average, 11% higher in price than the men's according to a Listen Money Matters article titled "The Pink Tax- The Cost of Being a Female Consumer." The razor cartridges have an 11% price difference, as well.  That is a substantial differentiation, and it is unfair that women have to pay more for a product with the exact same function. An even bigger difference is between men's and women's shampoo and conditioner. The price difference is by 48%, which seems like a large amount, but it could make sense. Many men buy the 2-in-1 shampoo and conditioner bottles, which would cost less than than two separate bottles that women buy. Still, it is unfair to have to pay more for women's items that have the same functions as the lower priced men's items.
Another issue that goes along with the pink tax is the price of tampons. Comparing the cost of tampons between genders isn't possible, as men don't have the need to use them. It is considered part of the pink tax because many people believe that tampons are overpriced. Others believe women shouldn't pay for tampons at all because they don't have the choice to not have the medical necessity to use them. The need for tampons isn't something they can just get rid of. It's part of a woman's life. They should not have to pay extra for a product that takes care of something that every woman has to deal with.
It's unclear if this will be solved soon or if there are any steps being taken to make prices more equal. Yet, many women are making their own solutions by purchasing men's products instead of women's. Clearly both versions of the same product have the same function regardless of who it's catered to, so women are completely justified in doing this. Buying products meant for men saves money and gives the exact same service as the higher priced women's product. Honestly, this would be the only plausible solution as of now. It is completely unreasonable that no one has even tried to solve the issues posed by the pink tax.
The pink tax is not fair to women. It isn't acceptable that women's products, such as deodorant, hair care products and razors have significantly higher prices than the same men's products. Although it might have to do with supply and demand, it may also have to to with brands believing they can take advantage of women and their spending habits. However, women are starting to notice. As more and more know about what these brands are doing, change can be expected.

About the Writer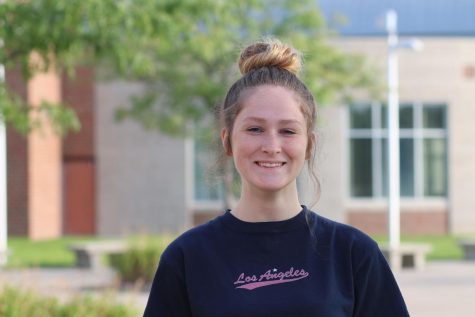 Elizabeth Hahn, Staff Reporter
Ellie is a senior and this is her second year being on staff. She loves to write in general, but specifically, she likes to write reviews and Opinion stories....