The Deadliest Puzzle
An Inside Look on Escape Room (2019)
Hang on for a minute...we're trying to find some more stories you might like.
Anyone who's ever participated in an escape room knows they're very nerve-racking. From the clues hidden in the room to the made-up situations of what would happen if someone wasn't to get out in time, escape rooms are a way to challenge yourself under pressure. Originally, walking into a movie called Escape Room, I thought it would be about one of these rooms gone wrong. Although I was half right, this movie was much more dark and twisted than I thought it would be.
Escape Room, which came out in theaters in 2019, tells the story of six strangers, who all were sole survivors of terrible accidents. Each gets an invitation to solve an escape room for $10,000, in which they attend. All of the strangers show up and sit in the waiting room until the escape room begins. As time passes, they find out that the room they're standing by in is actually the first room. As they move from room to room they realize each has a deadly situation, such as extreme temperatures, poison or the floor dropping out from below them. The rooms also play to their fears from their deadly accidents. As the movie goes on, some characters die, showing who is the most lucky out of all of them.
Each character in this movie is very different from the next. I thought the idea of throwing six very different types of people into an escape room was interesting, as it was fascinating seeing how they interacted with each other.
Zoey was a college student in the movie. I originally thought she would be the one to escape, but there's a very riveting storyline for her character. She was also my favorite character because she never gave up on getting out and had her mind set on that from the beginning. Another character is Ben, who is the type of person that no one would expect to be able to escape these rooms. It was very irritating how selfish he was, and he even contributed to the death of another person. I think his growth was impressive, though. He started to be there for the others more and more as the rooms went on.  Jason was a very arrogant business owner. He didn't really care about anyone else, he just cared about escaping, which made me very annoyed throughout the movie.
Amanda was a war hero, and I liked her character. She was willing to not only protect herself, but the others as well, and that is very respectable. Mike was a truck driver, who really didn't contribute much in this life-threatening situation. Finally, Danny was an escape room expert, who deserved better. He figured out so many clues and remained positive despite what was happening, only to meet a tragic end. The actors brought these characters to life, and it was absolutely captivating seeing all of their very different personalities coming together to try to get out alive.
The movie opened in a very unique way, showing one of the last scenes at the beginning. Showing a scene from later in the movie got me wanting more within the first few minutes. It also foreshadows how the movie will end, which made me wonder how it gets to that point. All the people behind the movie did a great job implementing an interesting order of events.
The most interesting part of this movie was the sole survivor aspect of it. Each of the characters was the only one to survive in a deadly accident. The fears stemming from these accidents were worked into escaping each room. Backstories of each character were told throughout the movie as they were solving different puzzles. As they passed through rooms, it kept me wondering what each of the characters went through and how the room correlates. The sole survivor idea is a key element of the story. The people in the escape room realize that the "game master" is trying to find out who the luckiest of the lucky is and killing off the ones that weren't lucky enough. I personally don't think escaping a room shows luck. It more-so shows problem-solving and strategic skills. Though, I thought that part was a little far-fetched, the sole survivor idea did bring all the characters into one group, which made it more clear why they were specifically sent the invitation.
Another excellent part of this movie was the set designs. The designers, who created the sets, had to put actual clues into a movie set. They had to figure out how to hide needed objects in impossible places. Also, this movie had many sets that I've never seen before. For example one room turned into a giant oven, while there was another was a room where everything was upside down. The sets made the movie visually pleasing, as they looked very realistic. They also added to the overall wow-factor, and kept me interested on what would happen next.
Escape Room had many twists and turns. So many things happened that I would've never expected. In my opinion, this movie isn't really a horror movie, it shows more suspense. My chest hurt from stress, when I came out of this movie. The creators did a really good job of creating a movie that leaves you wondering what will happen next. They also were great at making you think something happened, and then something completely different goes down. I felt that this was one of the most nerve-racking movies I've ever seen. The actors gave incredible performances that made everything in this movie feel real. Overall, it was a shocking movie that was very well put together
I believe that anyone interested in suspenseful movies should watch Escape Room. This movie kept my attention the entire time. It was an anxiety filled experience. I'm actually very afraid of horror movies, but I would say this movie wasn't scary as much as it was stressful. The stress is worth it, though. Escape Room ended with a cliffhanger, so a sequel may or may not be coming. Even though I thoroughly enjoyed the movie, I don't think I will ever be able to participate in an escape room again.

About the Writer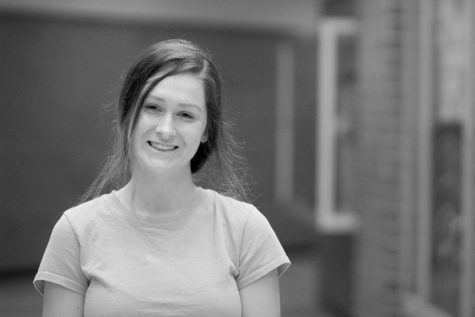 Elizabeth Hahn, Staff Writer
Ellie is a junior in her first year of writing for the CATalyst. She loves to write news and opinion stories. Outside of school, she is involved in all-star...