Dundee Double Shot Coffee Pulls a Win
Omaha's hidden gem of the coffee world
While Omaha is a city with numerous large attractions like the Durham Museum and the Henry Doorly Zoo, the little shops and activities make it a special place to live.  From a place to get your daily dose of caffeine, to a place to take your date, coffee shops are a vital part of city life, and an important part of a successful city. . The atmosphere is quaint and homey while preserving the excellence in their coffee beverages Dundee Double Shot Coffee is the perfect place for any occasion. Located on 50th and Capitol Avenue, the heart of downtown Dundee.
Dundee Double Shot Coffee, while only having seating for around 20 people inside, has a tiled outdoor space with furniture that can accommodate at least another 20 people. This makes the perfect hole in the wall coffee shop that many coffee enthusiasts hunt for. Their menu is written on a chalkboard behind their espresso machines, featuring over 90 prenamed lattes and drinks you can choose from, or you could mix and match to create your own beverage. While in the shop I tried their espresso, and two lattes recommended by their barista.
Espresso alone can be an excellent or completely horrible experience. While many factors go into a good shot, water quality, how long you wait to take the shot and the quality of the beans are the largest. The shot from Dundee Double Shot Coffee packed a punch. While mildly sweet, with notes of caramel, the espresso itself was very smooth. As I later found out this would mix with their flavored lattes very well, adding the caffeine and another layer to each beverage.
The first Latte that was recommended was the Almond Joy Latte. While I chose the iced version, the barista assured the hot beverage meets the same standard. With the initial sip containing mostly chocolate, it tasted like a mocha; Not what I had ordered, but not a bad drink. The second sip however changed completely. The next time, coconut and a sweet flavor made their way through my straw. A great combination, I didn't foresee going well together in coffee. But I was wrong. This drink was refreshing, coffee-y and perfect for a summer morning.
The Turtle Latte was flavorful from the first to the last sip. Having just the perfect enough espresso to balance the caramel, chocolate and praline syrups. This time I chose the hot version. While I rarely drink hot beverages, this one outperformed the Almond Joy Latte. The flavors melded perfectly. Most coffee shops choose to over-sweeten their drinks to appeal to younger drinkers, but this coffee shop didn't. They kept the drinks coffee based with other flavors added to enhance.
In movies, there is always that coffee shop that the main group of friends go to hang out. There they get odd and fun named drinks and hang out to have fun. Dundee Double Shot Coffee is that coffee shop from the movies. It is perfect to drive through to get your coffee, or even better sit and relax while you get your caffeine. Ordering morning pastries and coffee paired together while sitting in the comfortable seating inside, or choosing their outdoor patio seating to feels the sun and air. Dundee Double Shot Coffee is a spot to keep hidden. I would recommend it to anyone looking for a special coffee place to call their own.
About the Writer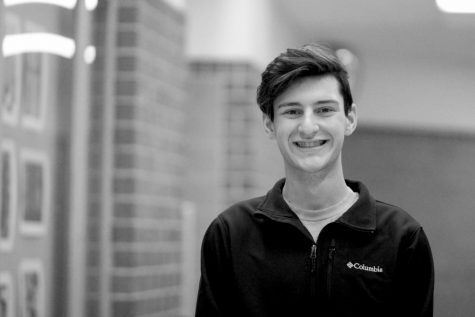 Trevor Lueck, Staff Writer
Trevor is kicking off his third year in journalism as a senior. In his last year, he enjoyed writing columns, hard news, entertainment reviews and producing...