From the Soccer Field, to the Gridiron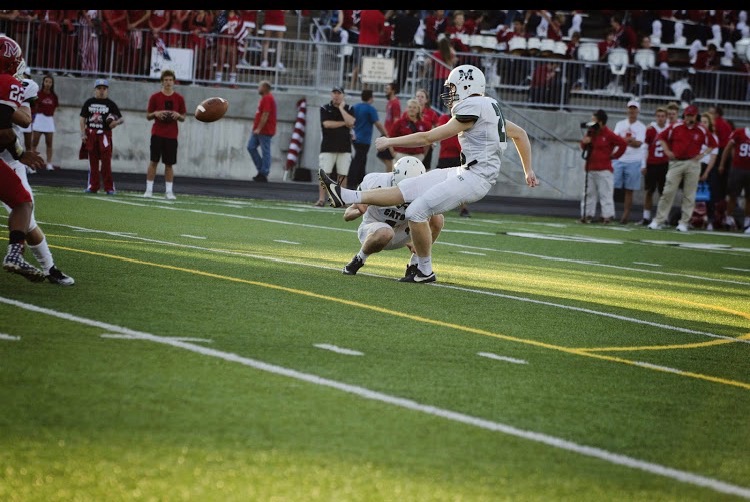 Arms waving, stands roaring and music blaring in Lyle Buell Stadium, he waits for the signal to kick the ball away. Success. The ball sails to the back of the endzone, successfully keeping the other team from any possible return.
As he is the last person off the field, he runs back to grab his tee. He is shortly confronted by his coaches and teammates with high-fives and cheering. He sits back down on the bench waiting for his name to be called up again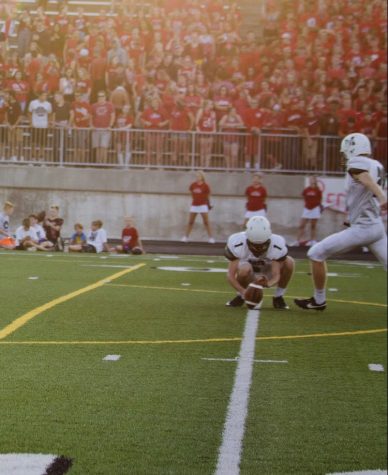 This is a day in the life for place kicker Sam Fedde. Fedde made his debut during the 2016 season for the Millard West football program. Playing football in high school was something he never would've saw himself doing.
"I started kicking field goals on my own for fun, but never really thought about playing for an actual team."  Fedde said. "I hadn't really considered playing football."
Fedde is a soccer player at heart. He's been involved in many clubs as well as being the starting goalie for the varsity team. Today, he is balancing both sports on his shoulders, and his name is becoming known to all coaches and players with his success.
"I've had a very positive experience which has helped boost my self confidence," Fedde added. "I really enjoy being around the guys."
It all started with a flyer. A flyer desperately calling for new kickers to replace the role of Jake Wolfe, the original starting kicker who was a graduating senior. It was now Fedde's turn to shine.
Fedde said he got his motivation to try out from one of his close friends Matt Huser, who is a defensive tackle for the Wildcats. At first he was hesitant, but was soon convinced to go out for the team. Fedde has always enjoyed watching football as a kid, and decided to make on of his small dreams come true.
"When I noticed the flyer for try-outs, my friend Matt told me to go out," Fedde said. "I'm very glad I made the decision to go out for the team."
Many people tried out for the role, but no one could seem to make the right fit. There were multiple diverse athletes across the school, male and female, who tried out for kicker. Yet none of the young athletes still couldn't catch the eye of the coaches.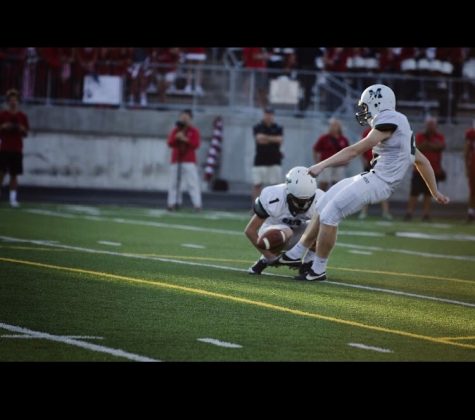 All of that changed when Fedde stepped on the field. He immediately caught the attention of all the coaches after his first day of successful try outs. A couple days in, the coaches awarded Fedde with a varsity jersey. They also gave him a JV jersey to test his skills at the younger level before stepping up in the big leagues.
"I felt great after that field goal because it was against one of our rivals, Millard South," Fedde said. "It was my first attempt at a real field goal."
With success trailing him, Fedde was given the chance to kick-off against Lincoln High for the last varsity home game of the 2016 season. His first attempt was of course successful as the ball flew to the back of the endzone resulting in a touchback.
"Who knew we had a bionic leg for a kicker?," Head coach Kirk Peterson said.
With Fedde's success in the 2016 season, he has earned himself the starting role as kicker for this fall. His potential will shine for the Wildcats as he enters his junior year, with more great things to come.
Fedde will be a strong asset on all special teams, proving that anyone can mount success in multiple sports. The Wildcats next game will be Friday, September 29, against Omaha Bryan. Be sure to watch for the kid with the golden leg No. 28, Sam Fedde.
About the Writer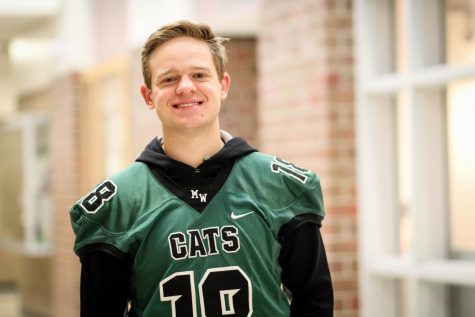 Andrew Pfeifer, Staff Writer
I have been an edition to journalism ever since my junior year. I have been involved in numerous sports writing and broadcasting providing quality information...