Walk-on in the Heartland
Senior football player commits to the University of Nebraska-Lincoln on a walk-on football offer
Hang on for a minute...we're trying to find some more stories you might like.
Jersey number 94 plants his worn but ready forest green and white cleats into the artificial blades of grass. He digs his taped fingers into the ground in front of him as his head cocks up to meet eyes with the familiar patriot blue and red opponent. Only one thought runs through his head and helmet and that's to pursue the pigskin. The ball then swiftly gets flung back to the quarterback while number 94 thrusts into his opponent lifting his shoulder pads and the eyes of the ball carrier. Panic fills the quarterback as he quickly glimpses downfield to only look back and see the feared 94 exerting all his force into his frame. Sack.
In the heartland state of Nebraska, only 2.3% of high school football athletes gain the attention of D1 football colleges, and Millard West's very own, Matthew Huser, is part of that minuscule percentage. The senior d-lineman has managed to attract various college football recruiters, but one school stood out to the proficient athlete: The University of Nebraska at Lincoln. Surely, the iconic figure and Head Coach at Nebraska, Scott Frost, noticed Huser's explosive skills on the field and on September 28th the Cornhuskers decided to deliver him a walk-on offer.
Just 13 days later, Huser and his family decided, after much consideration and visits to other schools, to commit to Frost's offer. Immediately, this news overloaded Huser's social media with warm welcomes to the Husker Ffamily reassuring that his big decision was indeed the right one. The Nebraska Cornhuskers recruiting coordinator, Kenny Wilhite, really pushed for Huser and created a solid bond between the two.
"I talked to Kenny a lot on my official visits and from home," Huser said. "I have to say, he really sold the school to me and I'm super excited for the opportunity."
Huser's family in the beginning of his football career were quite unaware of his natural skills and potential. It wasn't until head coach, Kirk Peterson, had a word with his mother, Ditta, during his junior season and spoke his mind on Huser's potential he foresees.
"Matt's natural ability and size is crazy good," Peterson said. "If he puts in promising work in the off season and more effort overall then he will be something special."
Ditta took that with a piece of mind and the whole family pushed him to do great things on the field as well as in the classroom. That push started to unfold the D1 athlete Huser was bound to become. The summer before his senior season, colleges around the Midwest invited him on visits, camps and college football opportunities.
"This all came up so quick and I wish we would have signed him up for camps earlier," Ditta said. "But Matt made the best out of each opportunity and I'm extremely proud of him."
Along with the offer from Nebraska, Huser got the opportunity to go on four official visits to Memorial Stadium. During his visits, he was in awe to be part of game day and growing up in this state made those moments very special. Connected to the stadium is the state-of-the-art Ndamukong Suh weight room that Huser immediately fell in love with. Just down the hallway from the weight room sits the very effective nutrition program. To top it all off, Huser got the chance to tour the practice facilities that left him intrigued.
"The weight room, nutrition program, the practice facilities and the fans were amazing," Huser said. "Growing up watching this team made those moments surreal and just breathtaking."
The tradition behind Husker walk-on offers and its history has been very strong in the past. Nebraska's very own, Tom Osborne, started the rich tradition during his tenure producing many of his Walk-Ons into All-Americans and NFL players. Twenty-five and counting Nebraska walk-ons have had the privilege to play in the NFL. Many of those players became key starters, All-Pro selections, and even earned some Super Bowl rings. Huser looks to be part of that tradition and with the support of his family and coaches, he hopes to see the opportunity soon.

About the Contributors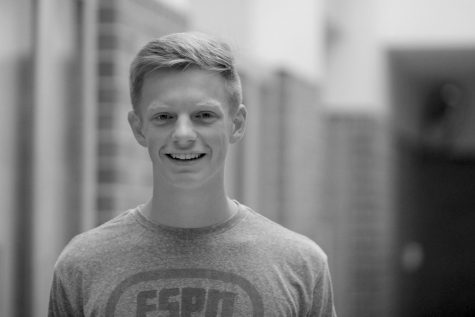 Aaron Mittlieder, Assistant Sports Director
Aaron is a senior and in his first year of journalism at Millard West. He enjoys all sports and loves how journalism can get him connected to athletics...