Urban Meyer: The Latest Misstep
Both Ohio State and the NCAA mishandling Meyer's suspension proves their greed for winning and entertainment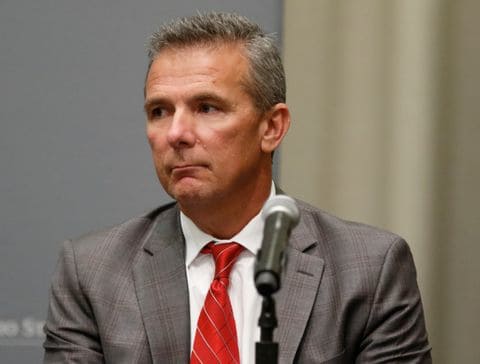 Hang on for a minute...we're trying to find some more stories you might like.
Urban Meyer sauntered to the conference desk, emanating assurance to his supporters. Dozens of reporters seemingly scowling at him, he nonchalantly lowered into his seat and advanced on the microphone. He used all of his energy to suppress his anxiousness.
Meyer sat in restless silence, awaiting the inevitable barrage of interrogations from reporters. When the questions started, the cretinism took center stage.
"I did a poor job at Media Day," Meyer said. "It's a big reason why we are here today. I was not being as complete and as accurate as I should have been on Media Day and afterward but no intent to mislead. My role is to set a good example and in this instance I did not live up to the university's standards. The suspensions are tough but I fully accept them."
Comments like this emphasized the Ohio State coach's attitude toward accusations of him knowing about Zach Smith, his former wide receivers coach, abusing his wife in 2015. Instead of properly addressing the case, he downplayed the immense issue, illustrating his ignorance for attending to controversies off the field. It was clear from the response Meyer had no regard for the health of Courtney Smith. He rather seemed distressed by his chicanery and his image to his alumni and sports personalities. However, that shouldn't have been a worry of his.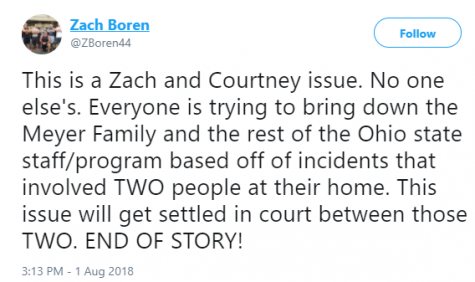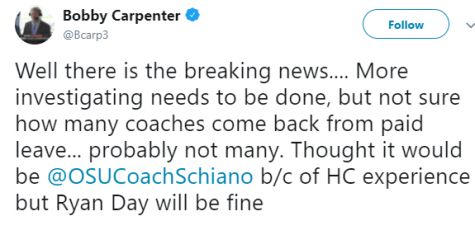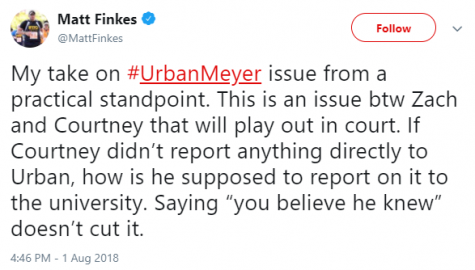 Meyer's involvement is a candid cause for punishment. Evading domestic abuse, whether it be from anxiety or avarice for winning, is perilous and just cause for punishment.  Meyer supporters were skeptical of his knowledge about the case; however, documents from Ohio State's investigation leaked on Twitter.
"At 7:35 p.m. on July 23, Shelley Meyer texted Urban, 'I am worried about Zach's response. He drinks a lot and I am just not sure how stable he will be. Afraid he will do something dangerous. It's obvious he has anger/rage issues already,'" The report said. "Urban did not respond."
This disproves the fatuous idea that Meyer was not involved. Although his response was abhorrent and incriminating information was exposed, the flimsy moratorium did not rest in the hands of Meyer or his critics.
An email sent to Meyer by the university detailed his suspension, proving Ohio State deceived their fans into believing their three game suspension was sufficient.
"The resulting disciplinary actions set forth below are designed to be fair, just, and appropriate, and to provide an opportunity to learn from past mistakes to make our program and university stronger and better moving forward," the email stated.
Regardless of scrutinizing the first three anemic games the schedule starts with, it becomes increasingly repugnant in comparison with antecedent abeyances.
Former Ohio State Head Coach Jim Tressel received a two game suspension from the University in 2011 for his knowledge of five of his players receiving improper benefits. Mike Adams, Dan Herron, DeVier Posey, Solomon Thomas, and Terrelle Pryor accepted tattoos in exchange for autographs. The severity of this punishment is akin to that of Meyer's, yet Tressels also received a fine of $250,000 for not telling the university or NCAA, which can be looked at as even worse.
The bewildering punishments become clear when the résumés are scrutinized. In his 10 year tenure at Ohio State, Tressel had a 106-22 record, leading the Buckeyes to two National Championship appearances and six Bowl game wins. Meyer has been much more productive. In his seven years at the university, he has only lost seven games (which is on pace for losing only 10 games in 10 years compared to 22) while winning a National Championship. Sprinkled in are four Bowl game victories.
Meyer receiving a feeble punishment in comparison to Tressel shows Ohio State's obsession and greed for winning games. The avarice also glows bright when former university members chirp in.
Former deputy athletic director Miechelle Willis released a handwritten letter detailing how the school should respond to the allegations. The information is repulsive.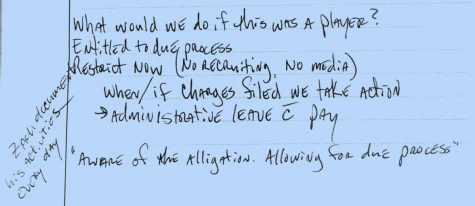 Willis suggesting a player would be handled dissimilarly if in the same situation as Meyer is sickening. This note is chilling, but the most loathsome came later. Willis wrote to herself that Ohio State should only take action if Meyer were charged, even if they were aware of his knowledge of the domestic abuse case. This is a cynosure of Ohio State's greed for championships.
The asininity of Ohio State, however, does not stop the NCAA from handling the situation properly. They have the power to override suspensions as they see fit, and they missed an excellent opportunity. The organization has a history of making absurd rulings, and neglecting to ban Meyer was another misstep.
After losing his home in Hurricane Katrina, former Boise State nose tackle Antoine Turner didn't have a place to go, even when he joined the team. After finding out, affable fans lent Turner their homes, giving him a serene place to rest. The NCAA reacted divergently: they said receiving shelter and meals from fans classified as having improper benefits, a violation of the rules. Despite overturning their decision, the cursory response showed fan backlash was the source of the change.
This entire debacle is a paragon of the NCAA's naive behavior, but this isn't the only time the NCAA has made asinine rulings.
In 2014, former Georgia running back Todd Gurley was suspended four games by the NCAA for accepting more than three thousand dollars for autographed memorabilia. Likewise, former Bulldog A.J. Green was suspended four games for selling his Independence Bowl Jersey to former North Carolina defensive back Chris Hawkins for one thousand dollars. In addition, the NCAA also slapped former Oklahoma State wide receiver Dez Bryant with a suspension, which caused him to miss nine games in his final season, for hanging out with Deion Sanders. Georgia also received an infraction for a picture of a coach and a recruit appearing on their website, and Oregon received an infraction for lending a player's dad shaving supplies on a trip.
The existence of these punishments are preposterous, yet they all are significantly more stringent than Meyer's punishment. The NCAA's passiveness for this case when compared with previous suspensions speaks volumes about their gluttony for exhilarating entertainment.
In the four years that the College Football Playoff has been instituted, Ohio State has appeared twice, and is always in the discussion of inclusion. The 2015 and 2016 semifinals were lackluster in terms of entertainment because the games were blowouts. The NCAA wants to avoid the only draw being the championship game, and supporting powerhouses will turn more viewers to the opening rounds. Many viewers would rather have repeats of the 2018 Oklahoma – Georgia Rose Bowl and the 2015 Ohio State – Alabama Sugar Bowl. No viewer wants to watch Michigan State be blown out by Alabama (2016 Cotton Bowl), and the NCAA allowing Meyer to serve a weak suspension gives Ohio State a better chance to make it into the playoffs and provide improved entertainment.
A coach like Meyer, no matter how decorated he is, cannot retain his job for disregarding serious off field issues. Domestic abuse has a pernicious effect on people that can last a lifetime. Missing games against Oregon State, Rutgers, and Texas Christian comes nowhere close to a just punishment for ignoring domestic abuse for years.
The NCAA taking charge on situations like this creates a brighter image for them. Their history has been full of foolhardy pointless suspensions and infractions, and that needs to change as soon as possible if they want to be popular with fans.
Meyer should not hold a position as an NCAA coach after this embarrassment, and Ohio State needs to be held accountable for their greedy layoff of Meyer. The NCAA needs fair punishment for cases like this to send a warning to other universities that behavior like this will be punished equitably. Ignorance in the face of situations like Meyer's will serve as an epitome for other schools, while also creating a greater divide between the organization and fans.
The NCAA still has the chance to punish Meyer justly, and they had better take advantage.

About the Writer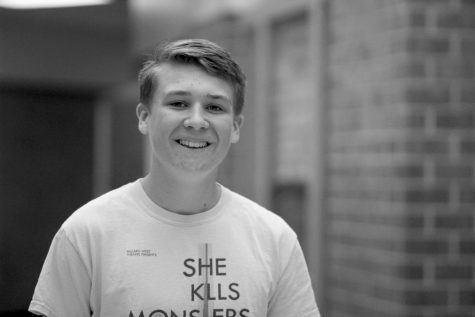 Edison Geiler, Opinion Editor
Eddie is in his first year on the journalism staff. After realizing that writing was a possible future for him, he joined Advanced Journalism forthwith....