The Lorde of Music
The New Zealand singer performs a sincere rendition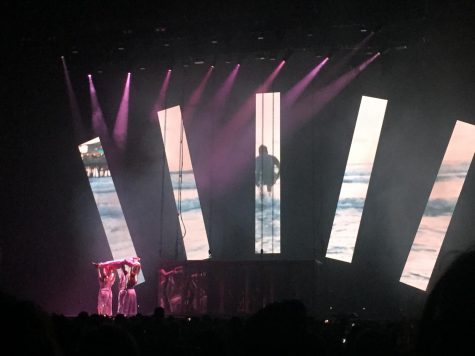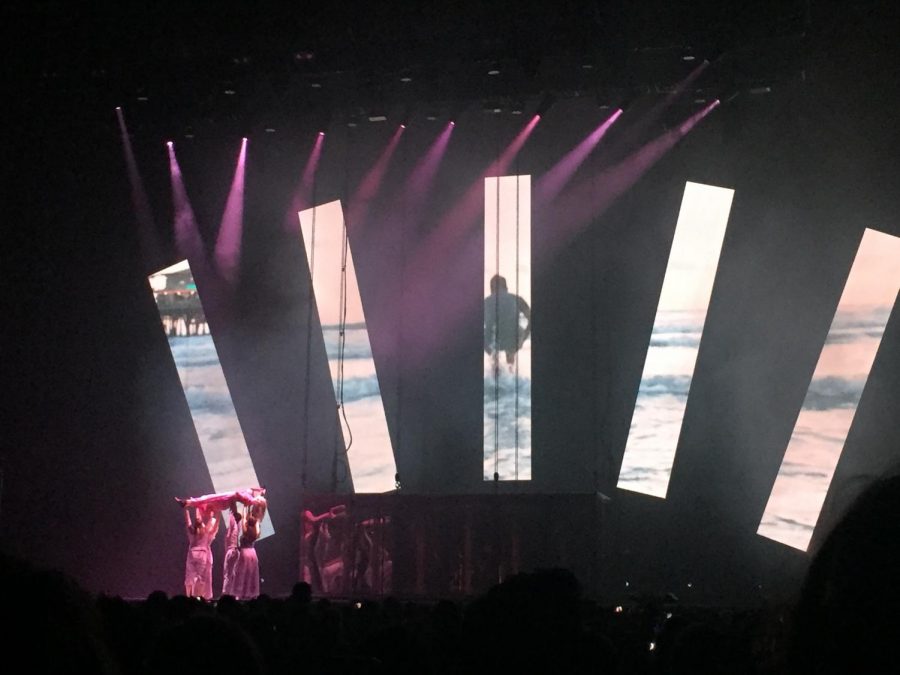 Quirky dancing, moody songs and unbelievable talent. Young pop-star, Ella Marija Lani Yelich O'Connor, commonly known as Lorde, traveled to Lincoln, Neb., on her Melodrama Tour.
Being her second world tour, Lorde came to our neck-of-the-woods yet again. On her Pure Heroine tour she made an appearance at Harrah's Stir Concert Cove in Council Bluffs. This year, she paid a visit to Nebraska's capitol.
The arena went dark and the cheering began. Starting with humming and dancers putting on a show, the audience could sense her presence. Later into her first song "Sober," the light was shown on the queen herself and the stadium filled with screaming and exhilaration.
Within the first verse of the song, the audience began to sing, dance and shout. Shown in a simple black crop top and black loose pants, her vocals rang throughout Pinnacle Bank Arena, keeping her performance simple, yet captivating.
Lorde's authentic personality shined through the way she interacted with the crowd. She even stated that she is "such a not real popstar" due to the distraction of voices in the audience. She reminded her fans how grateful she was to be with them. Making candid small talk with the the people throughout the arena about a topic, usually leading into her next song. She related to the crowd and had a way of appealing to the emotions of many.
The singer-songwriter explained that she poured every ounce of her feelings into Melodrama, being honest, with herself which is shown in her lyrics. What sets this young artist apart from many pop stars is her genuine, simple and relatable songs. Melodies of heartbreak, staying true to oneself and simply living a life that does not have to be extravagant.
Before her memorable solo performance of "Writer In the Dark," she truly explained herself and the meaning behind this melancholy piece, staying true to yourself. Inspiring the audience to be themselves no matter who they are. To embrace the good, bad and ugly. Because that's what it's all about. Being accepting to oneself, not needing anyone else to fill the void.
The last song of the encore was one of her more popular songs from Melodrama, "Green Light."
She encouraged the audience toput all of their emotion into it and dance with her. Her eccentric moves added to the performance. She is not one to be planted in the middle of the stage. Lorde moved her entire body across the stage, and engaged with the mood of the song with an energy that was contagious.
Lorde is different from many celebrities these days and she embraces it. She keeps it real and simple. She's edgy, but elegant. Her outfits being unique to her style, yet not too over-the-top. This New Zealand natives' songs could either be cried to or danced to. Lorde touches so many emotions that are apparent to everyone at some point in life.
I have been to many concerts and this onefelt beyond real. Lorde met the perfect median of performer and singer. Some artists push the limit on visual effects making the performance see busy, but Lorde kept her production pure. Seeing her smile and giggle after every performance truly shows me her love for what she does.
Lorde said she plans to come back to Nebraska and I personally hope she keeps that promise. She sings she'll never be Royal, but she'll always be my queen.