Social Media Gains
Young Entrepreneur Gets More Than Just Muscle Gains
Hang on for a minute...we're trying to find some more stories you might like.
Once deemed the smallest kid around, junior Ryan Nyffeler has made serious changes to his physical image, and is now working on gaining a social following, through his passion for lifting and bodybuilding.
It all started freshman year, when Nyffeler started working out to prepare himself for his first track season. Once the season had ended, disappointed with how the season had played out, Nyffeler decided to focus most of his energy on lifting. Lifting daily made him feel a way cardio or any other hobby ever had.
"I just loved how it made me feel throughout the day," Nyffeler said. "It made me feel prepared and full."
Once he became more serious about gaining muscle, Nyffeler also started looking a lot closer at his diet. He noticed that for his time in the gym to be productive, he wouldn't be able to eat like a normal teenage boy. Nyffeler went on a very strict diet consisting of 4000 calories a day of a very limited list of food such as rice, oatmeal, fruits chicken, and a couple of other meals.That summer after his freshman year, all he would do was eat, sleep and workout.
Coming back to school after his first summer of serious lifting, Nyffeler had gained 40 pounds of mostly muscle. On that first day of his sophomore year, the compliments and comments he had gotten because of his strengthened body, he claims were the biggest inspiration to keep going.
"That first day of school, everyone would come up to me and say, 'dang, you're swole Ryan,' and 'wow you got big,'" Nyffeler said. "It really made me feel good about myself and made me want to try harder,"
Nyffeler still gets many comments and questions about his routine. Some are surprised by Nyffeler's unusual techniques.
"The first question most people ask me is how much I bench which is interesting because I actually don't," Nyffeler said. "Incline bench builds upper chest more. It's for the aesthetics."
After almost two years of lifting, Nyffeler has managed to incline bench 145 pounds, squat 250 and deadlift 360.
Unlike most bodybuilder's his age, Nyffeler is planning and to gain a large social media audience from his hobby. Nyffeler aspires to become a big name in the fitness world and is already making moves towards this envious goal. Nyffeler's Instagram page, @ryan.nyffeler, is filled with pictures showcasing his latest workouts and routines, all in hopes of getting the attention from big companies in the industry such as Gym Shark and BPI Sports.
"What I have to do first is build my instagram." Nyffeler explained. "Once I build my instagram, I will make a YouTube Channel which can get me many more connections in the industry, and then once I have around 50,000 followers on instagram, I will hopefully show up on the company's radars and I can apply for promotion."  
Nyffeler has already applied some techniques to his social media persona, and they have worked out wonderfully. He has been able to almost double his follower count on Instagram to just over a 1000 in just a matter of days. The young entrepreneur has also already managed to become affiliated with BPI Sports as an ambassador.
With those promotions, Nyffeler hopes to take advantage of clothing, gear, and meet ups with his acquired fans.
Nyffeler isn't just taking all the fame for himself though. He is also inspiring and helping others get where he is and where he is going. Ben Blumenthal, one of Nyffeler's best friends, sees him as inspiration.
"Ryan is the most ambitious bodybuilders I've met," Blumenthal said. "In just a couple of years, I've seen him transform his entire lifestyle, and it shows me that anything is possible."
Another one of Nyffeler's best friends and lifting buddy, Michael Hunteman, has also been inspired by his friend's recent success and it has motivated him to grow his own social media following for his bodybuilding.
"I asked Ryan to give me some tips to get started." Hunteman said. "He told me to just start putting thoughtful comments on other people's page and work a little bit more on my captions. It worked wonderfully. I've tripled my follower count in just a couple of hours and I have 600 profile visits in just two days."
The road to social media stardom can be challenging with constant changes in algorithms and trends, but Nyffeler is determined to stop at nothing until he reaches his goals.  

About the Writer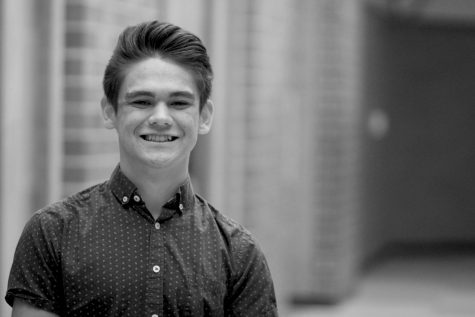 Gabe Paredes, Entertainment Editor
A Venezuela native, Gabe is fluent in both English and Spanish. Gabe's entrance into the Journalism scene was rare and sudden, but he has enjoyed every...