Thousands Gathered for One Cause
Pro-Life men and women participate in the 45th annual March for Life
Hang on for a minute...we're trying to find some more stories you might like.
One hundred thousand people gathered in Washington DC on Jan. 19 and participated in the 45th annual March for Life which protests the Roe v Wade ruling that happened back in 1973. This years theme for the rally was "Love Saves Lives". Thousands of people bundled up and went to DC to make others aware of all the lives lost due to abortion.
Roe vs. Wade was an act passed that made abortions legal during the first trimester of the pregnancy. According to the Huffington Post, throughout the United States 50% of people are pro-choice, 6% do not have an opinion, but 44% of people are pro-life. These pro-life men and women throughout the United States gather every year to make others aware of the cause that they all stand for.
Pro- life president, Trump spoke over a satellite before participants began walking. Trump is the first pro-life president in 16 years and Americans are very excited to see what he can do about the abortion laws.. He talked about his love for this movement and said he enjoys watching all the people who care come together. Also at the rally House Speaker Paul Ryan and Pam Tebow, Tim Tebow's (former quarterback from the Denver Broncos and New York Jets) mom, spoke.
"This movement helps the women who have gone through the pain of abortion find healing and acceptance," Paul Ryan said. "You are marching with joy and hope. Not hate and anger."
People gathered to participate in the march are not there in anger towards all those who have had an abortion. They are there to comfort all the women who have had an abortion and regret it afterward. They make the women feel loved and cared for.
The very first march was going to be the only one, but with the turn out they decided to continue having one every year. Nellie Gray created this gathering and it has been successful even since her death in 2012. People carry out the tradition still. Men, women, teens and children all come to the gathering every year. Many churches take buses of students down to Washington DC every year.
"It was an inspiring way to stand up and learn more about something I care about."  Mary Kay, sophomore at Pius X school in Lincoln said. "I was also able spend time with family and friends who have the same beliefs."
Many people throughout America participate in the rally annually. Marchers make signs to hold while marching. A couple of the signs were "One-third of my generation is missing due to abortion" and "I will not stay silent so that you can stay comfortable".  
These signs show peoples' worry about abortions. The first sign shows that all the lives that have been aborted had potential and they were part of our generation, but were never given the chance to see what they could do. The second sign is responding to the pro-choice activists who believe that all women should be able to have their own choice about this topic. The pro-life activist are indicating that they won't be quiet, or not protest about the topic so they can be comfortable and have a choice.
There were many marches throughout America but the one every year in Washington is the biggest. This year there was one that many people participated in Lincoln. There was an estimated number of around 5,000 people. The speakers at the rally down in Lincoln included Pete Ricketts, Lt. Gov. Mike Foley, Sen. Deb Fischer and Ben Sasse.
According to LifeNews.com abortions have killed more than 59,115,995 unborn children since the act passed in 1973. These marchers every year come together and unite for awareness of all the children who never had a chance at life.

About the Writer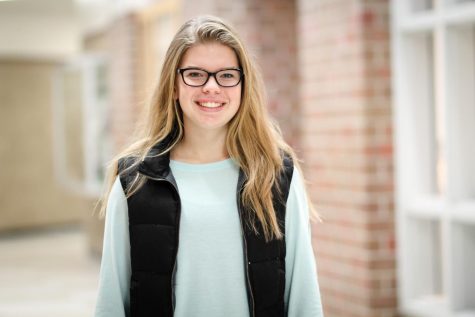 Kaitlin Kocis, Staff Writer
Kaitlin is beginning her first year as a staff writer. She is interested in writing hard news, feature stories and opinion stories. She is involved in...