Harry's homecoming
Highly acclaimed musician Harry Styles releases his third album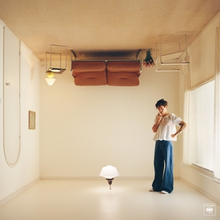 Three years after the release of "Fine Line," a new Harry Styles era crashes onto this scene with a bang. The highly proclaimed album "Fine Line," which debuted in 2019 has 382 million streams on Spotify.  In March of this year, Styles announced his long-awaited album, "Harry's House." He is receiving more appraise than ever with the album debuting at number one on the Billboard 200 chart. 
The record is named after the Joni Mitchel song "Harry's House/Centerpiece " the 1975's "The Hissing of Summer Lawns". Since then, Styles has headlined two nights at Coachella but has stayed relatively under the radar. Only one single was released in anticipation of the album. The pop TikTok hit "As It Was," which has a praiseworthy music video. The album itself is low-key, with Styles celebrating all things domestic across 13 light and airy tracks.
In "Harry's House," self-love and finding pleasure in everyday notions seem to be the overall vibe. The album presents the playful charisma that lifted Styles above his former "One Direction" colleagues and makes him one of pop's more captivating acts. The aesthetics of the record move through folk, funk, and 2010's Tumbr-Pop- which are friendly and breezy and are nice to listen to in passing. With a closer and more active ear, whimsy notes are sprinkled in the mix as well. 
Styles' previous albums seemed enveloped in a desire to demonstrate taste and authenticity through retro-rock, but here he presents his influences more lightly. The mood is constantly light. The opening song "Music for a Sushi Restaurant " kicks things off with open arms. It's scat singing ear-catching horns and amusing food references (fried rice, ice cream, coffee on the stove) that create a childlike bliss. It sets the tone for the joyous record. 
One perspective of Harry's House is the vulnerable and perplexing lyricism. It feels although with every project he releases Styles seems to be willing to be more open about personal aspects of his life. Songs such as "Matilda," "Little Freak," and "Boyfriends" touch on intimate subjects. From a fan perspective Styles' growth as a person over the last three years is apparent.  A personal favorite"Matilda," a symbolic ode to found family, played in a fingerpicked folk style. Styles was careful to leave room in lyrics to make space for adaptations of personal experiences. With sweetly sung lines about a little girl trying to fly away from her childhood on a bike like in E.T; resulting in one of the strongest songs on Harry's House from a storytelling perspective. 
In terms of commercial and chart success, it's clear that Styles' formula works just fine. His first two albums debuted at No. 1 on the Billboard 200 album charts, and Harry's House has done the same- in addition, the single "As It Was" has been No. 1 in the Billboard Hot 100 for over seven weeks. For many Style is a source of simple entertainment, as well as music streamers who discovered "Music For a Sushi Restaurant: on TikTok and now want, Spotify to queue up 20 more songs just like it, to anyone making a playlist of feel-good music, Styles has made a name for himself in that market.
By the third album in an artist's career, an audience should have a pretty good idea of who that artist is and what they are capable of doing. Styles has shown himself well fit for making perfectly suitable, spunky pop songs designed to boost any mood. Intended to be a vibe "Harry's House is often good, always appealing, and more times than not appealing. It can be background music at a summer pool party or something to put on in the car on a drive to school. Overall, I would give the record a 4 out of 5 stars. Since the start of his career Styles has shown his talent as an artist.