Predators with passion
A wrestling club's unique training
There are several wrestling clubs in the metro but just down the street on 180th and Pacific is one of the few year-round wrestling clubs in the city. Wrestling with Character was founded with the intention to be different from other wrestling clubs in that they have multiple teams for different levels of experience and have expanded on their levels of training since starting in 2015.
Many clubs train in very similar ways and are focused on the same goals. Founder and head coach Bob Murphy had a different idea of what is more important than winning in the sport that he wanted to share.
"I wanted to provide a positive training atmosphere for all youth wrestlers," Bob Murphy said. "I have always been passionate about teaching and serving others. As an adult, I realized the most impactful influence that wrestling had on my life was the positive character-building opportunities it provided. I wanted to create a program and organization that focused on these attributes upfront and center as part of the growth process."
Wrestling with Character or WWC is focused on the character of athletes on and off the mat in addition to their training on the mat. With 6 core values written on the mats,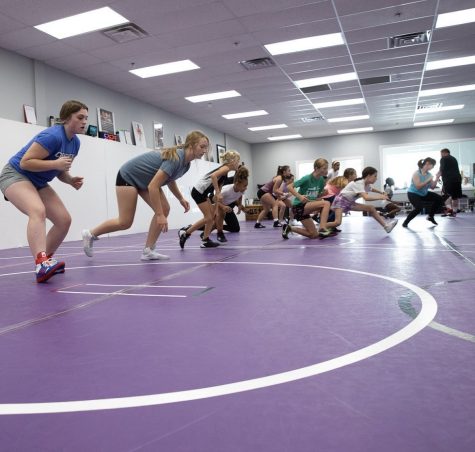 WWC is focused on making these a big part of training.
"We call them CHARACTERistics," freshman Jack Murphy said. " Respect, attitude, passion, integrity, discipline, and honesty, which lead to our decision making to develop a passion first, focus on the process, and Every individual's experience matters."
These values are focused on greatly in practices with a new "word" for each month that the teams learn the meaning of and focus on for practice that month. Athletes end practice with a talk from coaches and a team breakdown ending with the team shouting the word for the month.
"The environment is amazing," freshman Lauren Sash said. " Everyone is so encouraging with getting moves down," Freshman Lauren Sash said. "Everyone is so encouraging with getting moves down and sticking with it to the end. The coaching staff is always there for you through everything and helps me with things I still need to improve on."
Wrestling with character has been very supportive of the growth of girls wrestling. Since founding the number of girls on their passion first team has grown greatly even leading to having a female high school athlete coach and then a head girls coach. Starting March of 2022, WWC starting an all-girls practice twice a week.
"There has been tremendous growth and interest," Bob Murphy said. "The open room was very popular last fall and there are new girls-only practices that started this month."
The club has grown and changed during its time open, expanding on core values and training techniques and well as making more teams, and moving to its own location. The club started with a single team for beginner 1st-5th wrestlers and has expanded to three teams for all levels of wrestlers.
"There are three different teams now," Jack Murphy said. "The beginner's program is Passion First Wrestling Academy that's structured similar to a belt rank program I martial arts. The kids move through three levels of curriculum learning the fundamentals. The competitive team is WWC predator Wrestling, and there is a new WWC predator girl wrestling team."
WWC is unique from other wrestling clubs in the area from its main focus on character as well as its levels and styles of training. With the immense growth in its first seven years, going from four to ten practices a week just in the last year WWC shows no signs of slowing down.