Sculpting a new standard
Senior finds a new passion in Advanced Pottery
For senior Adam Mar, third block has become a time where he can relax and express himself in his Advanced Pottery class. 
This semester Mar has worked hard to learn new techniques to create an array of different sculptures and projects. Mar is setting the bar high by being the first ACP student to take the class; however this has not stopped from achieving his goals.
This class has given Mar the opportunity to step out of his comfort zone and try new things. This semester he created a tile, lanter, a food project and worked with the wheel to make pots and bowls. His projects show off his talents and his interests. Mar's knowledge and interest in the Union Pacific and trains are reflected in his lantern and til. 
"My favorite part of the class is building things, and creating nice images," Mar said. "I like doing interesting things like sculpting. My creativity comes from things I really like in my life and things that I experience."
One unique project Mar got to work on advanced pottery was using soap and paint to decorate a plate he had sculpted. The bubbles created a distinctive design that was different for every student. Mar also got to add his own special touch to the project by carving the Union Pacific logo into the plate.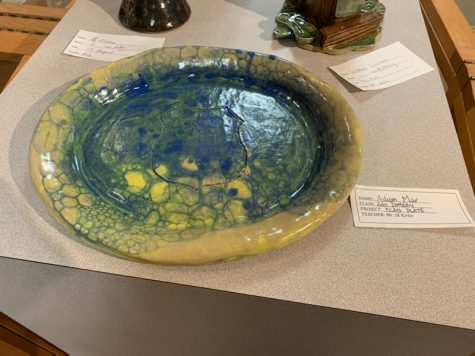 Advanced Pottery teacher John Kirke has grown a bond with Mar as he watched him progress and learn throughout the semester. He enjoys having Mar in his class and watching his confidence grow as he learns more about working with clay and the tools they use in the class.
"Sadly, this is the only experience I've had with Adam as a student," Kirke said.  "But I have seen him around the building and in other art classes. As loosey goosey as I am it seemed that he picked up on it right away and now there are inside jokes. It just seems that he is the one who opened me up to having more of a relationship with him as a student."
The class has opened up Mar to learning new skills like, how to work on the wheel, and using more advanced tools and techniques. While he may have been timid to try new things his freshman year, Mar worked up to more advanced art classes and gained a well deserved confidence in his abilities. This higher level art class has pushed Mar out of his comfort zone and has shown him just how talented and creative he can be. 
"This class pushes his skill level to try new things," special education teacher Danielle Anderson said. "Adam didn't really like to try new things right away his freshman year. I think just watching him evolve from ninth grade to 12th grade and really pushing him outside of his comfort zone. The class honed in on his strength and skills that he has."  
As the semester came to an end Mar was able to show off his hard work in the art show on Monday Dec. 20, he displayed his lantern and plate project for his family to see at the show. Advanced pottery has helped Mar grow as an artist and a person and he will carry the skills he learned in the class with him as he continues to create beautiful masterpieces.