A 911 scandal
Netflix's new realized thriller film captures exquisite moments (Spoilers Ahead)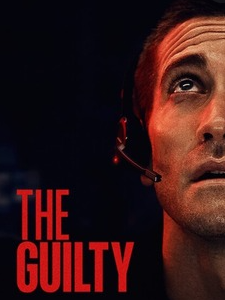 Working as a police detective takes lots of work and is not a job suited for everyone. Taking calls, helping people out, and attempting to save lives takes a big role. Actor Jake Gyllenhaal played the Detective role of Joe Baylor in this role in "The Guilty."
The film launches into the setting taking place in California surrounded by many wildfires causing very many sick patients, and lots of police and firefighters are too busy at work. Joe has not been immune to the sickness of the smoke and is getting terrible ringing in his ears and constant asthma attacks. This moment in his life is very stressful for him due to him being in a bad place with his wife. He is living in a rental apartment away from his little girl that he is wanting to see. 
This is Joe's last shift working in the office, and tomorrow he will be back out saving people in the real world. He has received many unnecessary phone calls like a guy who fell off his bike and a false robbery, but the call from Emily Lighton (Riley Keough) stood out to him. Emily made a phone call in the back of her ex's van. Henry Fisher (Peter Sarsgaard), Emily's ex has been known for a past of sexual assault and criminal records which frightens Joe. 
The other police officers in the emergency response center find it difficult to be able to locate her due to the fact that they are driving on a traffic-filled highway. For Joe, this was different to him knowing that he has a little girl at home and he knew he needed to save Emily and her two little kids. Upon further investigation, It is found that Emily is the one who stabbed her son.
After Joe had found out that Emily had been the one who hurt her own child things changed, but he still needed to put his best effort in to keep Emily alive so her kids have a parent. When trying to calm her down after she found out Joe knew, Joe makes a confession that he killed a man on duty by accident. Joe feels compelled to rescue Emily and reunites her with her daughter Abby (Christiana Montoya) to prove that he can save lives and that he's more than his mistake. 
Emily makes a move and then pulls the parking brake stopping the car, and proceeds to take a brick and smash Henry's head. Emily takes off on her feet and then Joe gets a phone call back. With Emily not taking her meds, her mind is very confused and she is not thinking positive thoughts; it could have even meant she was going physco. She repeatedly says "I'm just gonna jump" and "I wanna be with my little boy Oliver." The phone call ends and Joe thinks he has failed at this mission. Proceeding with a phone call it is heard that the police have Emily, Oliver and Abby and they are all safe and alive. 
The next day Joe goes to court and wins his case and is found to be guilty of manslaughter. This movie is full of lots of action and kept me motivated to keep watching throughout. I would rate this movie at an eight out of ten because it would've been better if they would've shown more of the actions of Emily when she is being held hostage.