Connecting through computer science
A junior expands the participation in student lead cubs through a middle school
On Tuesday, Sept. 28, the Millard West Computer Science Club took a trip over to Russell Middle School to get students involved in software and technology. Starting this new club at West, junior Cecilia Beckerbaur wanted to expand the program further to younger students.
Planning on having eight meetings total to discuss the seven principles of computer science, they meet every Tuesday at 3 p.m. The second meeting for the club happened this Tuesday. At this meeting they discussed software and coding. Going more in depth with each principle every week, Beckerbauer took charge in these meetings and took on the main-role when speaking in front of the middle schoolers. 
Beckerbauer gave a quick presentation to the students about how to code and rules to follow when using certain apps. She then had the kids play a coding game involving Angry Birds, where they had to put blocks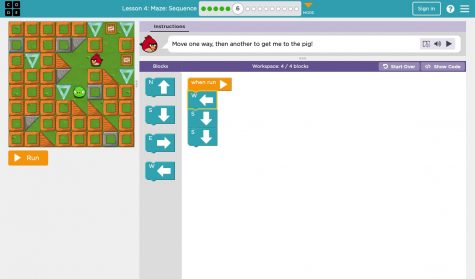 together to create a code and move the bird to the pig.
"Inside the middle schools, there is a severe lack of true computer science," Beckerbauer said. "This caused many of our freshmen to come into our club and drop out because they aren't exposed enough to be comfortable. I wanted to help eliminate that by providing the resources, encouragement, interests and exposure to true computer science."
Getting kids involved at such a young age can produce a stronger interest in certain programs as the kids transition into high school. Many students are unaware that we have a computer science club at school and are losing the opportunity to grow their coding skills and explore the depth of computer science, including junior Thomas Cooper.
"I joined the club because they thought I would be a good fit," Cooper said. "My Computer Science teacher had recommended me to join the club due to my aptitude for coding."
In middle schools, the opportunities for students to explore their interests in certain activities is minimal. Russell principal Dr. Beth Fink researched throughout her school what programs the students would want to be involved in. 
Students responded with a desire for more computer-related science and STEM-related extracurriculars.
"We were thrilled that Cecilia reached out about the idea of creating a computer science club at Russell," Fink said. "Cecilia's idea really came at the perfect time. It not only fulfilled a need we had, but also helped us with our goal to partner more with Millard West High School activities so that our students feel comfortable as they transition to high school knowing how they might like to get involved."
Connecting these middle school students with high school students that have plenty of experience with this type of program will benefit the kids in various ways. Expanding the extracurricular activities Russell Middle school has to offer will help to lead to the future success of these students.