Girls take on Marian and North
Four players on the girl's golf team played in varsity at StoneCreek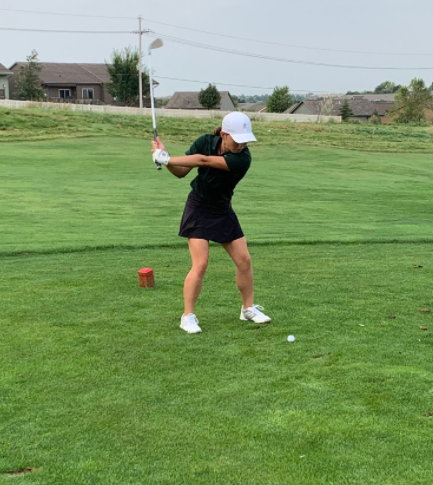 On Sept. 13, Millard West Girls Golf team took on Marian and Millard North, at the Duchesne invite. Players sophomore Lauren Davis, senior Brooklin Oltman, sophomore Olivia Gurley and freshman Addyson Otten all took on the tournament at StoneCreek Golf Course playing Blackstone and Graystone with 18 holes in total. 
With some amazing scores of 101,102,103 and 105, the girls took on the tournament well and finished in less than six hours. Starting with the earliest tee time being 7:30 a.m and the latest of 7:53 a.m they were expecting an estimate of eight minutes per hole. They managed to keep up and excelled in every shot. The course was quite difficult for some of the par fives being almost 500 yards and many sand dunes, but the fairways were very open and there were few trees. 
Oltman led the tourney with a tee time of 7:30 at Greystone. She started with the ball going straight down the fairway for a perfect shot and completed the hole. Doubting herself as some holes might not have been the best, but she succeeded and finished the 18 holes with a total of 103. The top freshman on the team, Otten, had the second tee time and did well with her supreme drives. 
"On Monday, I played at StoneCreek and shot a 105," Otten said. "I started off well with my drives being good and I ended up shooting many pars. On the front 9, I carded a 49. On the back 9, fatigue started getting to me and the fairways were much smaller with lots more water. These caused me to shoot a 56. Overall I am not too happy with my score but I'm not upset with it either."
Gurley was next up and overall played the greatest out of the four. She made confident swings and kept decent putting skills to even her score. She was close to a possible medal score, but came up short. One of her most memorable shots was down the fairway at hole six on Greystone. 
"I shot a 101 at the tournament at Stone Creek," Gurley said. "I thought my front 9 on black stone was ok but my back 9 on Greystone was better. I had fun playing with new people and had a good time."
Lastly, taking on the tee time of 7:53 a.m Davis tried her hardest and made most of her success on the back nine. A lot of what happened was all in her swing and she just needed to put more focus on the game rather than on her last shot. 
"I didn't do as well as I set my goal to be," Davis said. "The first round was not good at all.  I knew that I needed to fix my swing or else it wouldn't get better. The second round was much better, but my score was stained by the first 9. My partners definitely made the experience better. The girls I played with were very nice and easy to talk to. Thankfully, they were not varsity even though it was a varsity tournament. Nothing was different about this tournament except for the varsity label on it."
For the Duchesne invite the girls competed well, and averaged out at an average of 103 per player which means they hit about 5.7 every shot. For a varsity tournament, Gurley and Davis aren't on varsity but had some good potential to get there.