Hippie festival
Family friendly event comes to Omaha
As summer comes to an end, new events start to arise in the fall season. A family-friendly art and music festival known as the "Hippie festival" makes a stop in Omaha on Aug. 28- 29. Featuring many different things to do, this festival brought some light into my weekend.
Back in 1965 was when the hippie festivals started to take place, all because of the band Grateful Dead. As time passed there were many different hippie events and gatherings until the Vietnam war came around. Things started to slow down and ever since we haven't seen many hippies around. Ever since I saw a video on the popular app TikTok about this hippie festival I did some research, found out it was gonna be in Omaha, and immediately bought the tickets. You could either pay $25 for a two day pass, but I stuck with only going for one day and still cherished every bit of it.
Walking in, the first thing I noticed was what seemed like 50-foot mushroom blow-ups. They were right at the entrance along with many signs hung all over the place. They said things like "stay groovy," "don't worry be hippie," "forever young," "groove on". Most were either pinned to a tree, stuck in the ground, and there were even some workers holding them. The best was the few Volkswagen vans there that were decorated with vibrant colors. The environment was stunning, and all the smiling faces and happy people brought so much joy. Right out in the center was a big stage with three people up there playing different instruments, singing music, and overall kept the groove going. They featured lots of hippie music such as Nirvana, Bob Dylan, The Beatles, and many more. 
The first thing I did was head to the food truck area and choose from tofu, homemade ice cream, barbecue, boba, etc. I chose the basic vanilla ice cream and didn't enjoy it much. It was very bland and didn't have much flavor. I then stopped over to wait in the 15 minute line to get a strawberry boba refresher. It tasted amazing and was impressive for being homemade boba. The workers were very generous and made sure to apologize for the wait time. 
I then walked around for a while and stopped at a couple of the shops. There were plenty of little shops and you could easily find something you like. They had a few clothing spots with thrifted clothes, Hawaiian shirts, tie dye, and lots of baggy pants. They ranged from sizes xs-3x, and they had men, women and even kids clothing. Another shop I stopped at was pretty large; they had hippie glasses, T-shirts, sunflower rays, incense, and all the basic hippie items you would expect. My favorite shop was the crystal shop, it was filled with towered crystals, huge pieces, and everything you could imagine. They had many other shops I didn't even have time to stop by like homemade soap, bracelet stores, tapestries, and lots of decor. 
Besides all of the items you could buy, they also had many activities for kids and all ages. In one section they had a huge bubble wing and there was a worker doing it with so many kids around. They also had a whole tiedye section there. First, you would buy a T-shirt that said "2021 Hippie Festival Stay Groovy" for only $10. At that point, you would half to rubber band your shirt up to get it to the effect you want. They had seven different buckets filled with rainbow colors, and after that, it was simple all you had to do was dunk it in whatever buckets you wanted to give it that effect. From what I saw they all turned out well and were way worth the shocking price and the workers helped out the whole time. 
With so much to do, and not even much time, being able to experience and see new things was the best part. I ended up buying two shirts, some food and left with good pictures and a smile on my face.  I'm hoping when next year rolls around a new hippie festival will arrive back in Omaha or surrounding cities. 
One of the attendants of the festival brought in their own miniature home. The outside interior of the van was teal, purple, and a dark blue shade and even had a pullout roof. This Volkswagon is perfect for travel and is decorated with blankets, posters, and all the colorful things you could imagine. 
About the Writer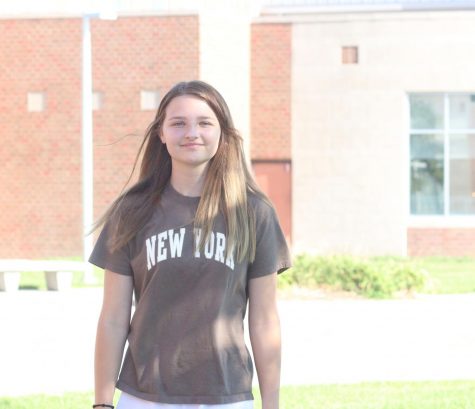 Makenzie Miller, Staff Reporter
Kenzie is a sophomore and is starting her first year on the Catalyst staff. She loves doing all different stories on events in the school, sports, and...