This lover boy is certified
Potential album of the year is breaking records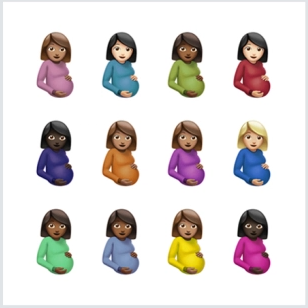 There are only a few people I can credit that got me interested in rap, and Canadian rapper Drake influenced me the most. With his recent album "Certified Lover Boy (CLB)," Drake has the music industry on its toes. 
Just by looking at the album cover, you don't get much of an answer about the meaning of the album. The cover consists of 12 pregnant lady emojis in front of a white background. From an outsider, it looks very odd but there is a meaning behind why he chose this. Drake was originally supposed to drop CLB in January of 2021, but it ends up being nine months late, and since pregnancies last nine months he found the perfect correlation, allegedly. The idea of the pregnant ladies and the album being nine months late is just a fan-made conspiracy. The downside to his cover is it has no relation to any of his songs. Drake has not confirmed nor denied these fan assumptions of the emoji chosen though. 
Drake is known for messing with his fans before an album releases so he can promote it more. Before the CLB dropped, Drake released multiple billboards across the nation hinting at who is featured on the album. In New York, a billboard states, "Hey New York the goat is on CLB," which immediately sparked controversy on who the "goat" is. Drake put up other billboards in Atlanta, Houston, California and Chicago. He also had a few in his hometown, Toronto.
CLB starts very strong with "Champagne Poetry," and this is one of the few songs in the album that don't have another featured artist. The beat has a very mellow vibe, and it almost sounds like Alvin and the Chipmunks are singing in the background. I think it was a perfect start to the album until he started to rap. It almost felt unfit for a rapper to be on this beat.
With another odd background beat, "Fair Trade" is towards the top of my list. A needed feature, Houston rapper Travis Scott finished the second half of this song. In 2018, this duo had the number one spot with the song "Astroworld" for over four months. Sadly, "Fair Trade" does not match "Astroworld" hype but it is easily top five in CLB.
In the fifth track, we figure out who the goat of New York is: veteran artist Jay-Z featured on "Love All". Whether you know him from dating Beyoncé, or from his music, you know him. This beat is very slow and very Drake-like. It surprised me that Jay-Z was on CLB and as a current music fan, I don't know much about him. He did produce very well and he may convince the younglings, like me, that he still can compete in this day and age.
There are multiple skips in CLB: for example, "N 2 DEEP,"" Pipe Down," "No Friends In the Industry" and "Fountains." Those songs could be some fan favorites but for me, they drag on. Along with most of the songs in CLB, they start strong but I seem to get bored over a minute into the song and some songs are over five minutes. Most of the songs could finish in under three minutes but Drake repeats the same verses multiple times. The beat also changes a lot during the song so it almost sounds like a new song, so why wouldn't he just make another song and not extend the current song?
Pushing through the end of the album was very hard because of how long it was, but when "IMY2" came on, I got chills. The beat has a very heaven-like feel and there is a reason for it. After 10 seconds a very familiar voice begins to speak. I knew the voice right away: rapper Juice Wrld. Juice Wrld died in 2019 after overdosing, and for me, I took it very personally. I have always been a huge Juice Wrld fan, so unexpectedly hearing his voice was magical, and I truly did get chills. The rest of the song is very good and also has veteran rapper Kid Cudi featured. This is the best song in the album hands down. The addition of Juice Wrld gave me so much respect towards Drake. 
Within 24 hours Drake broke the record for ​​Apple Music's most-streamed album. Just a few days earlier Kanye West held that record with his album "Donda". This proves how hyped up this album was, and when Drake set a date he actually released it then. Unlike Kayne West, who was very inconsistent when it came to a release date. 
There has been a huge debate on "Donda " versus CLB and I am on Drake's side here. Although there are multiple skips on the album there are also multiple songs I would have on repeat. CLB is a 7/10 and I feel like I am low-balling it. With Drake breaking the Apple music most-streamed album in 24 hours it deserves a high rating. If the songs were shorter and if the songs had a little bit more variety it could easily be one of the best albums. I do think Drake will get the best album of 2021 though. 
About the Contributor
Christian Naujokaitis, Staff Reporter
Christian Naujokaitis is kicking off his senior year at Millard West and this will be his first year on the journalism staff. Christian is a year younger...