Ending the world a second time
New season of The Umbrella Academy clears up unanswered questions but leaves many in return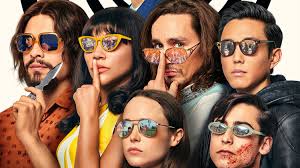 Back in 2019, Netflix launched another adapted comic series titled "The Umbrella Academy." Over 45 million people took an interest in the new show during the first month of release. Due to popular demand from fans, Netflix continued the series with a second season that put the first to shame.
(Warning: If you plan on watching the series for yourself, beware of spoilers ahead. Other warnings include sensitive and graphic content.)
The show follows the chaotic lives of seven non-biological siblings. After being adopted by Sir Reginald Hargreeves (Colm Feore), they become known as The Umbrella Academy. Each child possesses a different ability. Luther (Tom Hopper), also known as Number One, has super strength. Diego (David Castañeda), Number Two, is able to bend metal and have perfect aim using metal weapons. Allison (Emmy Raver-Lampman), Number Three, can control the minds of others using the phrase "I heard a rumor". Klaus (Robert Sheehan), Number Four, can communicate with the dead. Number Five (Aidan Gallagher) can teleport and travel through time  (Unlike his siblings, he doesn't have a real name. He was missing for so long it was forgotten). Ben (Justin H. Min), Number Six, is able to summon tentacled monsters from his body. And lastly, Vanya (Ellen Page), Number Seven, can convert any nearby sound into a destructive force. 
During the first season, the siblings are faced with saving the world from the apocalypse. Instead of stopping the end of the world, they initiate the disaster. Last-minute, Five was able to make a final jump into the past in an attempt to give the siblings a redo on saving the planet. The audience was left to wonder where, or when,  Five teleported his siblings to. At the beginning of season two, this question was answered.
Each one of the siblings ended up in Dallas, Texas, but the catch was that they each arrived in the city at different times within the early 1960s. Because of this complication, they all went their separate ways. Vanya lost her memory and was living on a farm with the Cooper family. Klaus became the leader of a cult, along with Ben. Diego was put in an asylum due to his aggressive behavior and talk of the upcoming murder of John F. Kennedy. Allison married Raymond Chestnut (Yusuf Gatewood) and fought for African American rights, and Luther became a bodyguard and fighter for Jack Ruby (John Kapelos).
While everyone else had been stranded in Dallas for over a year, Five appeared only a few days before the world was about the end, again. He attempted to get the siblings to band together to stop whatever disaster was about to occur. However, they became so adjusted to their new lives they refused to help Five in his search. The only one willing to help, at first, was Diego, because of his obsession with saving JFK from his assassination on November 22, 1963.
The season overall was astonishing. It was able to clear up questions left behind during the first season. One such question was, who is Sir Reginald Hardgreeves? Throughout season one, the main focus is the children and their backgrounds and experiences. The audience doesn't get a peek into Sir Reginald's life or past. In the second season, some of his past is finally revealed, and because of this, many of Reginald's actions during the first season were explained, such as the look of the robotic mother Grace (Jordan Claire Robbins).
One part that I especially enjoyed was the input of many social concerns that were evident during that time period. During the season issues such as segregation, oppression of the LGBTQ+ community, the hardships faced by those with mental disabilities and much more were introduced. Each actor was able to perfectly portray how the effects of those concerns held over their character, such as Justin Paul Kelly who played Harlan Cooper. Harlan had a mental disability that made it hard for him to communicate with others called autism. Kelly didn't have the condition himself, but with some research he was able to depict the condition perfectly.
The season took me on an emotional rollercoaster. At one point I would be laughing at an idiotic Klaus, and next, I was crying over the departure of Ben. By playing to the emotions of others, the show made viewers feel more connected to the characters themselves leaving a larger impact on them.
One drawback of the new season was how hard it was to follow at times and the unrealism of certain situations. The show continues to jump from past to present to future in a very unorganized way. Some things that were better suited to be revealed during the first season made its way into the second without a reasonable explanation. Not to mention that Five wears the exact same outfit every day. Each other sibling has a change of clothes within the season, while he continues to wear the academy uniform. He is basically a living cartoon character.
I would definitely recommend this series to those who are looking for a new, exciting and quick show to binge. The series is not only action-packed but full of drama and family issues which make the plot more interesting. A third season has been hinted at and hopefully will make its way to Netflix.
4.5/5
About the Writer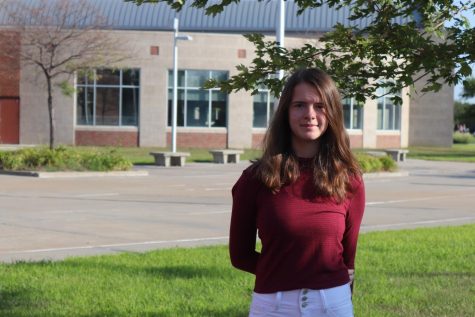 Alexis Bahensky, Cartoonist
Alexis is a junior starting up her second year on the journalism staff. She enjoys getting her opinion out in the world. In her free time, you can always...