The real side of cheer
Netflix's new docuseries shows viewers what really goes into this sport
There are many stereotypes that come to mind when one thinks about cheerleading. Most being that cheerleaders are pretty, popular girls that stand on the sidelines yelling chants for their team, but in reality, it is so much more than that. Although girls do dominate this sport, many guys also partake in it as well. Cheer requires incredibly hard work and stamina that most people wouldn't understand. Netflix's new docuseries Cheer gives this sport remarkable representation and shows the audience what being a cheerleader really takes.
Cheer follows the Navarro junior college cheerleading team on their road to NCA college nationals in Daytona, Fla. The team is coached by the stern, but loving Monica Aldama. She will stop at nothing for her team to win, and it's clear that she genuinely loves her athletes. The team encounters obstacle after obstacle but is able to push through. This show is such a raw and honest interpretation of cheerleading, which is amazing to see.
The series, directed by Greg Whiteley, is six episodes long with each being about an hour. Whiteley previously worked on Last Chance U, another sports docuseries. He did a beautiful job with this series. The camera angles, interviews and stories brought the episodes together and made it easily enjoyable. Cheerleaders could not ask for a better showing of the sport.
Although Cheer features many interviews of team members, coaches, alumni, faculty, family and people in the cheer world throughout, it mainly focuses on five of the cheerleaders and how they came to be at Navarro. Jerry Harris turned to cheer after the death of his mom. He doesn't tumble, but works incredibly hard to keep up any girl he is asked to stunt. Lexi Brumback had a troubled past, as she dropped out of high school and has gotten in trouble with the law. Cheerleading has been her safe haven and helped her improve as a person. 
Gabi Butler is well-known in the cheer world and she has to juggle college cheerleading with keeping up her social media presence. La'Darius Marshall has a lot of personality. He was basically raised by his older brothers who made fun of him for wanting to participate in cheer, but his passion for the sport is clear. Morgan Simianer was raised by her grandparents after her dad leaving. Cheer has brought her a sense of security and a true family. 
All five of them had difficult pasts, but they have all found a home at Navarro and in the cheer program. The stories touch the audience and show what this sport can do for people. I think incorporating backgrounds for some of the athletes gives the show more depth and allows for people to connect with the cheerleaders.
The main goal of the team members is to "make mat." This means they want to be on the floor for Daytona and not cheering on the sidelines as an alternate. Within the first few episodes, the team is finalized, however, injuries, bad attitudes and stamina issues open spots throughout and keep the audience guessing who will be competing at Nationals. 
The person that most people root for to make mat is Harris. This is clear through the endless social media posts I have seen supporting him. He never stops working, asks how he can improve and motivates the team to get better. Being one of the people who only stunts lessens his chance of making mat. Cheer routines are a combination of stunting, tumbling, jumps, baskets, pyramid and dance. Not having tumbling already puts an athlete at a disadvantage, as those sections factor into the final score. Harris cannot do this element, but his positive spirit and talent in stunting make the audience root for him. 
Seeing the true interactions between the athletes shows the bond they feel with each other. Their team is a family and they rely on each other. There's a level of trust with this sport that other sports don't have. The flyers and top girls trust their bases to keep them up and catch them if they fall and the bases trust the flyers to do their jobs in the air. Seeing real interactions between the cheerleaders and how close they are is heartwarming.
The last episode brought people behind the show trouble, as the company that runs NCA wouldn't give Netflix the greenlight to film the competition itself. They had to rely on iPhone footage to capture the event. Although it wasn't intended to be this way, the episode shot like this made it an interesting watching experience. The audience got to see the perspectives of those competing and watching the event, which made it even better to take in.
Cheer is the best representation cheerleading has ever gotten. 
Personally, I have been cheering for 11 years and this show gives a view into everything we go through. It is extremely dangerous with the risk of catastrophic injuries at any moment, which is shown through how many people get hurt as the season progresses. The falls can be terrifying and hard to see. Catching another person as they fall to the ground is nerve wracking. The routines are demanding and take every last bit of energy to get through. Being able to tumble and stunt so much in a short period of time takes a toll on the body. Even with all the risks, cheerleaders love this sport with everything in them. This is clear in the show and true to my life. Just watching this made me want to be a better leader at practice and get my team where we need to go. 
It's inspiring to people who cheer to see their sport in such a positive light. As a cheerleader, I am used to seeing people making a joke out of what we do and saying that it isn't a sport. After watching this, I don't think anyone can say that. We put their bodies through the worst to participate in a routine that is only a little over two minutes. Doubters of this sport should watch the show to see what really goes on at a cheer practice. It is much more exhausting than most would think.
Anyone and everyone should take the time to view this series. It shows how much cheerleading means to people and what these athletes go through to get to the top. Even through troubled pasts, this sport and having a team that is more like family makes these athletes into the best people they can be. Cheer is exhilarating, no matter if one is a cheerleader or not.
5/5
About the Contributor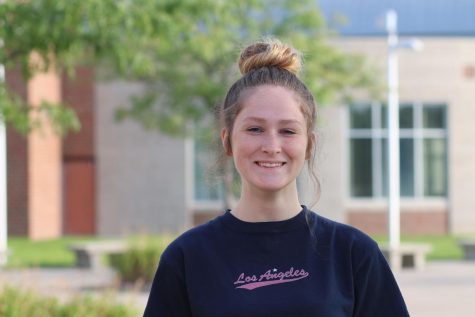 Elizabeth Hahn, Entertainment Editor
Ellie is a senior and this is her second year being on staff. She loves to write in general, but specifically, she likes to write reviews and Opinion stories....