Into the mind of a killer
You Season Two brings even more madness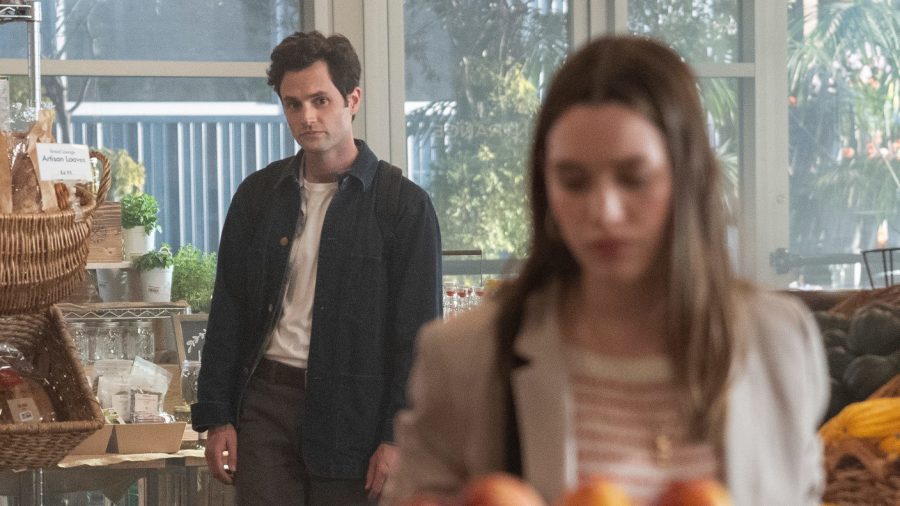 Most agree that love can make people do crazy things, but nothing terribly out of the ordinary. However, for the sociopath that audiences love to hate, Joe Goldberg (Penn Badgley), lust brings out the absolute worst in him.  Netflix released a second season to their psychological thriller, You, with even more love, deception and bloodshed than the preceding installment. 
In the aftermath of the first season, Joe decides to move to Los Angeles to start a new life with less stalking and killing than his life in Brooklyn. The move causes Joe to meet new people who are completely engulfed in the LA lifestyle. His landlord, Delilah (Carmela Zumbado), is untrustworthy of those around her, being that she is an investigative reporter. Her younger sister, Ellie (Jenna Ortega), serves as possibly the only person Joe actually cares about protecting, as she is a teenager living without a father figure. The main object of Joe's affection this season is Love Quinn (Victoria Pedretti), a chef at the bookstore where Joe works. Love's brother, Forty Quinn (James Scully), befriends Joe in an effort to get his help on a screenplay he's writing. Throughout the season, Joe is running from his ex, Candace (Ambyr Childers), who wants revenge on him for how he treated her.
A unique aspect of this show is that most of each episode's plot is told in voiceovers by Joe. This made it interesting, as the audience got to hear Joe's inner thoughts about the situations unfolding around him, whether it be trying not to fall into the same patterns as he did in Brooklyn or his desperation to keep Ellie safe. The voiceovers also give the audience the feelings of Joe following the gruesome actions he partakes in. He can never see that what he is doing is wrong, as he believes he carries out these gruesome acts in the name of love. Joe thinks that because what he does has a bigger purpose, it doesn't matter if he hurts the people in the way of his obsession for the girl he has his eye on. Telling the story in voice overs gives the audience a new perspective that was engaging throughout the season.
The first season of You rarely contained humor, however the second one incorporated this aspect more in order to make the binging sessions more enjoyable. Much of the humor came with the introduction of Forty. He has a unique view on life, which gives way for many iconic lines and interesting situations. He was definitely a favorite character of mine. 
Surprisingly, there were also many instances of comedy in Joe's voiceovers, with him trying as hard as he possibly can to not do what he did in the past. For example, he saw Love and said "Hello, You" and immediately told himself to stop in voiceover. This was a callback to how he met his previous love interest, Beck, in season one before all the craziness ensued. It was surprising that the creators of the show decided to include lines and actions that would result in laughs, but it made for entertainment episode after episode. 
Comedy wasn't the only part of this season that made it watchable. 
The constant twists and turns glued eyes to the screen. There were so many different events happening at the same time, and each episode answered questions the previous one left. There were many interesting plots throughout, but the most significant ones came in the final two episodes. Nobody could foresee what happened in the end, especially what happened with Joe and Love. It blew my mind and made me think about the entire season to piece parts together. Flat, boring storylines get old quick. It is refreshing to see a series pushing boundaries with how many unexpected events occur. Most shows don't even come close to the insanity of You.
Badgley did an incredible job of portraying someone who is so damaged but believes they are always doing what is best for the people around him. This season gave background into Joe's past and his difficulties with his abusive father. The events that unfolded in the flashbacks gave insight into why he is the way he is. This show tries to make the audience feel bad for Joe and what he's going through. He proves again and again that he is not a good person, but Badgley's acting and the impressive writing creates a confused feeling within the audience. People watching don't know if they should love or hate the character. This makes for many different emotions while watching and really cause one to think about Joe's actions and goals.
There are 10 episodes in the new season and each one is about 50 minutes of jam-packed action. This show became a meme on Twitter, which increased the audience even more. Many people posted reactions to the events that happened and used other elements of it to fit today's meme formats. The social media popularity boosted this show and gave it an even more broad audience.
While much different from the preceding season, You season two adds more interesting elements to the story of Joe. He is someone who has been through a lot of hurt and feels the need to fill the hole inside him with love. Joe is a very passionate person and seems to take it too far on many occasions. The humor and plot twists made it bingeable, as each episode left me on the edge of my seat, wanting more. However, how Badgley played Joe was the stand-out reason to watch the show. He was very convincing when playing such a twisted character. This show serves as not only an amusing watching experience but also a look into the mind of a killer. Overall, it is worth the binge.
5/5
About the Writer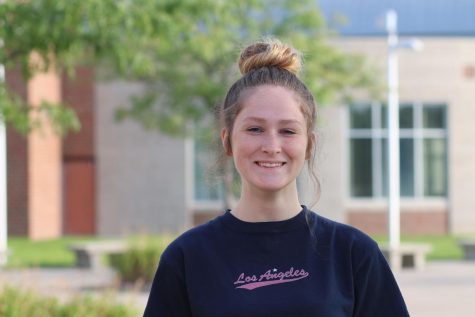 Elizabeth Hahn, Entertainment Editor
Ellie is a senior and this is her second year being on staff. She loves to write in general, but specifically, she likes to write reviews and Opinion stories....