Saying cello to a new role
Senior conducts a piece of music for the winter orchestra concert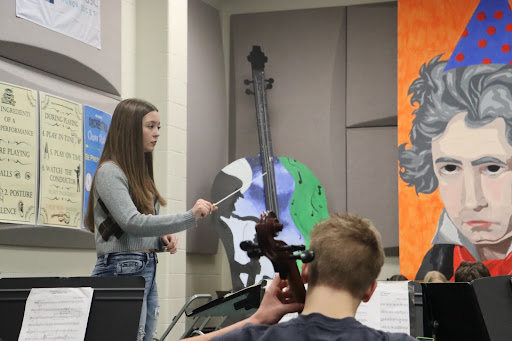 Kaden Roth, Catalyst Online Editor-in-Chief
December 9, 2021
At the high school level, many musicians get a feel for what it's like to be a member of an ensemble working towards mastering their instruments, but once that goal is achieved, what comes next? For senior Sophia Ollis, the answer was simple: she would transition from orchestra member to conductor.
Ollis, a member of orchestra, choir, Tri-M (Millard West's honors music society), show choir and the president of the Orchestra Leadership Team is no stranger to the music department. However, after three years in orchestra, her position has evolved. Throughout the second semester of her senior year, she has been working with the Philharmonic Orchestra on a piece of music she had the opportunity to select and conduct.
"My love for music and ambition to constantly learn more about each aspect of music are what originally made me want to get involved," Ollis said. "I talked to Mr. Zeleski one day and he offered me this opportunity, so I was super excited because I'd never done anything quite like this before. More than anything else though, I wanted to hear the music from a different perspective. In orchestras, choirs, show choirs and other music-related opportunities I've experienced, I've always been one of the people performing, so this has been an entirely new experience for me." 
Although Ollis brought with her years of experience as a member of the orchestra, there were still aspects of the conducting role she had yet to learn. However, that did not slow her down. In fact, she's taken to these obstacles in a fervent way with the hope of learning from them which was apparent to orchestra director Samual Zeleski.
"She's overcome the challenge of having to make all her mistakes in front of a group of people and still command their respect and learn," Zeleski said. "The only way to learn how to lead an orchestra is to lead an orchestra. No amount of preparation will be perfect the first time. Something unexpected almost always happens and as a conductor sometimes those mistakes are your fault. Learning to accept that, own the mistake, improvise a better plan and then execute it, all with 30 sets of eyes on her is a monumental social challenge of which I am particularly proud of her for accomplishing."
Zeleski works with Ollis to find more precise ways for her to lead the group. The guidance he provides is a strong foundation for her to learn through trial and error, and it has been crucial to her success as a conductor.
"We've had several sessions after class where we planned new rehearsal strategies and made adjustments based on what the orchestra did that day," Zeleski said. "Most recently, I've been working with her while she's conducting the group to make sure she is clearly communicating through her body gestures what she wants the orchestra to do. The rest is a lot of trial and error and helping her reflect on what she's doing and how that affects the orchestra."
Even with the switch from member to conductor challenging Ollis, her hard work and dedication to mastering the role can be seen and felt by many. Whether it be in big or small ways, the guidance she provides is appreciated by each member of the orchestra.
"I love how when Sophie teaches the class she is very understanding and is always very happy," freshman Philharmonic member Tatum Shoemaker said. "Even if the piece isn't sounding the best that day she always keeps a positive attitude. Sophie has helped me personally with this piece by taking it at a slower pace. In my section she has helped us when we are rushing on our part, focusing on just our group and helping us do it multiple times correctly to know for sure that we have it down."
As the group gets closer to their performance date on Dec. 14, Ollis is able to reflect on her time conducting the group.
"I think that overall it's helped shape me to become a more well-rounded musician," Ollis said. "I was able to pick the piece and direct the entire song, so it has been a very rewarding process to see everything coming together. I still have a lot to learn, but I know that the skills I've picked up from this class will greatly shape how I work with all music and other musicians in the future."
What Ollis is able to take away from her time conducting will most definitely set her apart from her peers. Having the experience of both an ensemble member and conductor will surely open up her approach to music in the future.